Council: Community rejects Three Waters reform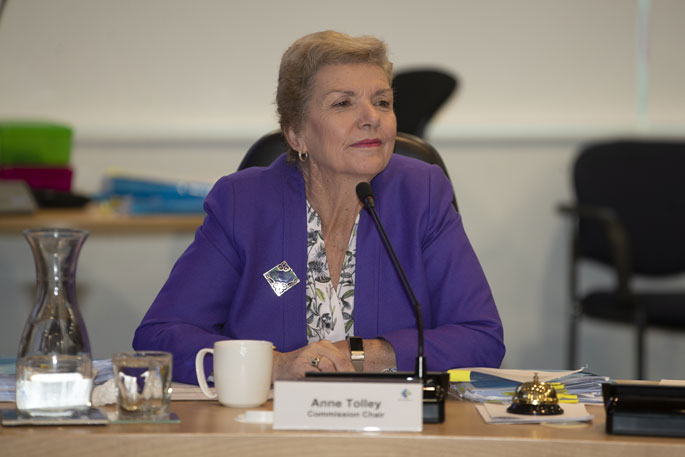 The Tauranga community has sent a clear message regarding Three Waters reform, with the majority opposed to the current proposal.
Tauranga City Council has conducted feedback with residents which shows an overwhelmingly negative response to the plans, information which has now been passed on to Local Government Minister Nanaia Mahuta.
Councils across New Zealand were required to give their initial feedback on Three Waters reform proposals by the end of September.
The proposal is for New Zealand's three water services - drinking water, wastewater and stormwater - to be transferred into the management of four regional entities, rather than the current 67 local council control.
However, the reform ideas have been met with widespread push-back across the country, including in Tauranga.
A group of roughly 50 protesters gathered in the rain outside Tauranga City Council buildings on Monday morning, ahead of a Council meeting in which Commissioners were due to unveil their feedback to the Government.
These late pleas from protestors were indicative of the feedback heard from the community in the discovery phase of the Three Waters proposals, as Commission Chair Anne Tolley made clear to Minister Mahuta last week.
"What we're hearing loud and clear from our communities is that they don't understand the reforms and would like Tauranga City Council to reject them," says Tolley.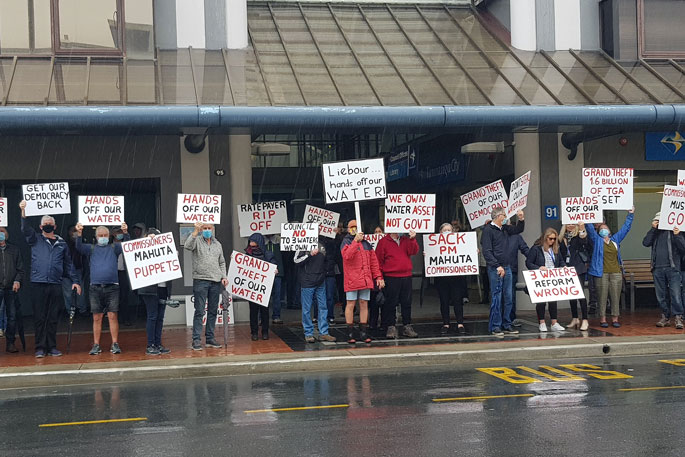 Protestors gathered outside the Council buildings on Monday. Photo. Supplied.
Concerns over a lack of information, opportunities for community input, loss of local control, ownership of assets, iwi involvement and efficiency and cost of services were just some of those which were raised by Tauranga residents.
Of the responses Council received relating to Three Waters reform, 62 per cent were opposed whilst 33 per cent raised initial concern. Just five per cent were supportive of the reforms.
"There's simply not enough factual information available about the current proposal for Council or the community to provide definitive feedback or make an informed decision at this stage of the process," says Tolley.
Tolley does point out that the reforms could strengthen Council's financial position, by removing current three waters debt from the balance sheet.
Climate change pressures also raise concerns that may require a more centralised approach, according to Council.
However, with Tauranga City Council one of the current top five entities in New Zealand regarding the delivery of drinking water, wastewater and stormwater services, the local community has made their opposition clear to Council representatives.
Tolley is thankful for the engagement received from Tauranga residents over the issue.
"Thanks to everyone who shared their thoughts," she says.
"We really appreciate your input and will let you know when we hear what the Government's next steps are going to be."
Minister Mahuta has acknowledged the feedback councils have provided over the engagement period but has made it clear that changes are coming.
"The challenges facing our water system and services have been around for more than two decades and we need to address them now," she says.
"We are taking feedback on board, while reaffirming the status quo will not continue."
The Water Services Act bill passed last week, giving Taumata Arowai its legal authority as the new water services regulator for New Zealand.
The bill was initially enacted after a review into the Havelock North drinking water contamination event of 2016, in which four people died and approximately 5000 others became ill after a campylobacter outbreak.
These events helped to trigger the Three Waters Review.
"This is not the end of discussions between local and central Government on these reforms," says Mahuta.
"We are committed to continuing this partnership over the course of the reforms to ensure that present and future generations of New Zealanders have water services that are safe, reliable and affordable."
More on SunLive...