Season ends with emotional title win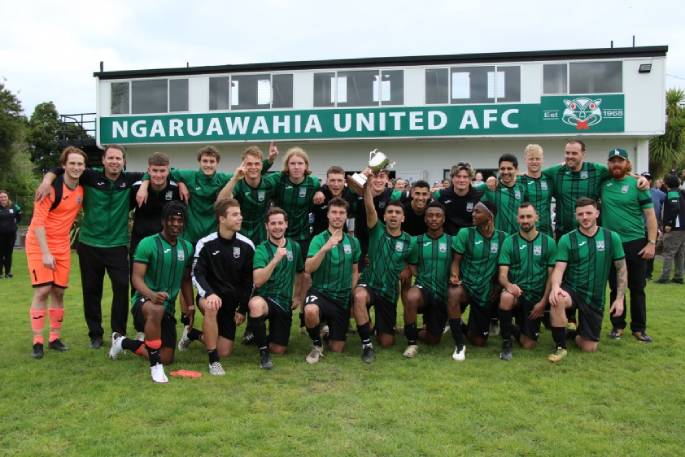 This year's winners of the WaiBOP Premiership have been confirmed after Ngaruawahia United claimed a deserved 2-0 win over Waikato Unicol to leapfrog their rivals and claim the title.
First-half goals from Jonathan Konings and Liam Shackleton were all that was needed as Centennial Park on Saturday as the Green Machine claimed the three points needed.
Coming into Saturday's game, Ngaruawahia trailed their opponent's by two points following Unicol's 5-1 midweek rout of West Hamilton United.
So only a win would do and Konings got the party started in the 14th minute. His looping near-post header evaded James Field in the Unicol goal to send the gathered fans into raptures.
A little over five minutes later, and the lead was doubled. Former Tauranga Boys' College standout Alfie Cole produced some excellent build-up play before laying the ball on a plate for Shackleton to score his 18th goal of the season.
The home side, co-coached by Kyle Park and Marcelo Sosa, held onto that two-goal advantage until the final whistle when fireworks erupted to celebrate their success.
The club worked with local authorities and the Federation in order to allow access to as many supporters as possible whilst still adhering strictly to Covid-19 protocols.
The result was several pods of fans gated off from one another, creating what first-team coach Kyle says was an "insane atmosphere for an amateur football match"
"It was huge," he says. "A massive effort from a lot of volunteers to make it a wicked day."
The game was squeezed in just one day before lockdown hit the region, following cases of Covid-19 in Waikato, so the celebrations which ran into Sunday were soon cut short but Kyle is still elated at his player's achievements.
"Either way it was going to be an experience to remember but we were stoked with the win," Kyle says.
"It is not often you get the two teams that are fighting it out going head-to-head on the final day.
"We are quite a young team and we learnt from the experience of finishing second last season. Our target was to win the league so we are pretty ecstatic."
Kyle, says the club intend to honour promotion to the Northern League, although a play-off fixture still stands in their way. Due to current Covid restrictions, any play-off would likely be played in early pre-season.
The title success was even more poignant given the sad loss of club president Jared Williams in July. A Ngaruawahia stalwart, he passed away after a second brave battle with cancer aged just 39.
The Jared Williams Memorial Cup was unveiled shortly after and will be presented to winners of the Waikato Men's Over 35s League going forward, a competition Jared was integral in establishing.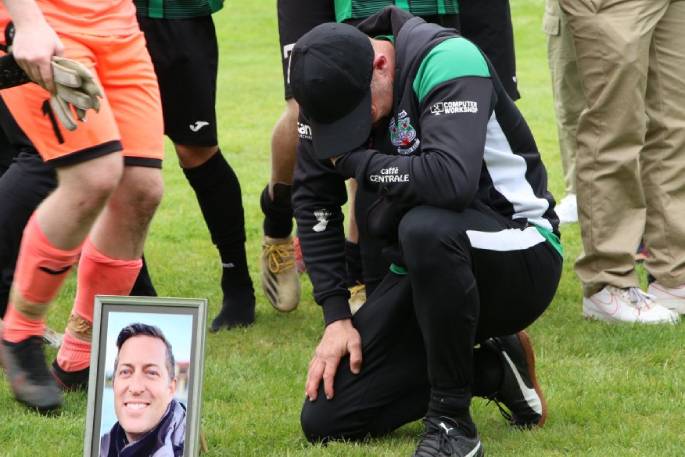 The club remembered late president Jared Williams, who passed away in July, on an emotional day. Photo. Ngaruawahia United FC.
Jared gave Kyle, who at just 21-years-old is one of the nation's youngest senior coaches, a chance when he was just 19 along with Marcelo and Kyle says the win carried extra significance knowing how much it would have meant to Jared.
"It was our goal together, to go get the title, so it has been a really emotional year," says Kyle.
"He was able to hang on and see our Chatham Cup run but he was just super proud of what we were doing. To be able to win the league and think of him up there watching us was quite special."
The WaiBOP Premiership, which contains Bay of Plenty sides Pāpāmoa, Otūmoetai, Ngongotaha and Tauranga City's Federation team, has now concluded for 2021.
Pāpāmoa finished the season with a 1-1 draw against Matamata Swifts which consolidated a fifth-placed finish for last season's winners.
Otūmoetai had a season which shows potential promise for the future, with the Fergusson Park-based side finishing sixth.
Ngongotaha lost their final fixture of the season 4-3 to West Hamilton but the Villagers will be happy to have escaped the bottom three, finishing ninth.
Tauranga blooded plenty of younger players into the senior game and finished their season with a shock 2-1 win over fourth-placed Otorohanga.
However, it was not enough to stop City from finishing second from bottom.
Tauranga Old Blues secured Bay of Plenty success in the WaiBOP Championship last weekend and will be promoted to the Premiership for the 2022 season.
More on SunLive...