NZ science experts comment on Waikato cases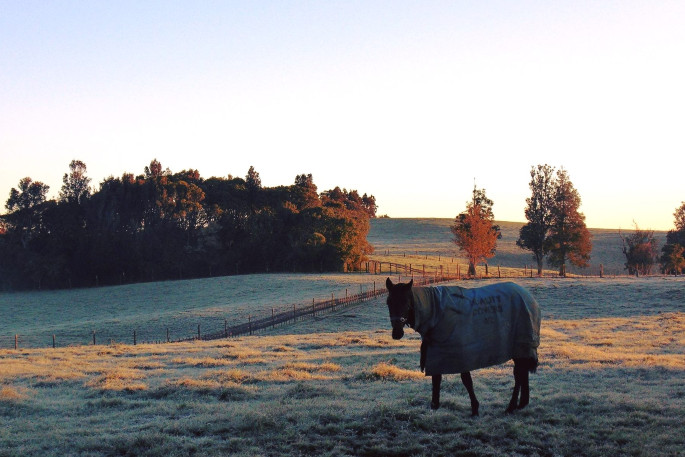 Parts of the Waikato region entered Alert Level 3 on Sunday night in response to two recently confirmed cases in Raglan and Hamilton.
The two cases are known contacts of each other, but they have not yet been linked to the ongoing outbreak in Auckland.
The areas of Raglan, Te Kauwhata, Ngāruawāhia, Hamilton City and Huntly are covered under the bespoke lockdown settings, which will be reviewed again in five days' time.
On Saturday night, an Auckland-based truck driver who travelled to Palmerston North also tested positive for Covid-19.
Some of NZ's top medical and science experts have commented on the Government's announcement of parts of the Waikato region entered Alert Level 3.
"The new Alert Level 3 areas in the Waikato region seem to have been created with a slightly different purpose, and with somewhat different rules and expectations, compared with the Auckland AL3 region," says University of Auckland Physics Department Lecturer and Te Pūnaha Matatini Principal Investigator Dr Dion O'Neale.
"The Auckland region Alert Level 3 area serves two purposes: it requires behaviour changes of people in the region --- supressing local spread --- in addition to limiting movements in and out of the region through a relatively hard boundary with enforced checkpoints --- reducing opportunities for transmission to other parts of the country.
"The use of small areas at Alert Level 3 within the broader Waikato region seem more geared towards the behaviour change aspects of AL3 than on limiting inter-regional movement and reducing wider transmission risk," says Dr O'Neale.
"The density of interconnecting links within Auckland make it necessary to include all of the supercity, and some of the surrounding areas, within the Alert Level Boundary. Within the wider Waikato region there is a similar pattern of interconnecting links, but in the case of Waikato these links are spread over an area that is much larger than just Hamilton City.
"Hamilton City itself is relatively geographically small, with large numbers of people moving in and out of the area each day.
"This makes it infeasible to define only a small area around Hamilton (and nearby areas such as Huntly and Ngāruawahia). Part of the reason for this is the large number of road connections through the Waikato, but another factor is making sure that people can still access essential services such as shops food and healthcare and can get to work, where appropriate," says Dr O'Neale.
"In such a situation, one possibility is to ask people within an area of concern, like Hamilton city or Raglan, to change their behaviour locally and to limit their movements where possible, but without imposing harder restrictions on travel. In such a case, one has to hope that there is limited community transmission and that contact tracing can be used to rapidly ring-fence any infection before it can spread to other regions."
Dr O'Neale co-authored a paper on the regions' most vulnerable to Covid spread from Auckland during the early stages of this delta outbreak.
"The alternative to a geographically limited area around the currently known Waikato cases would be to define a much wider regional boundary with the goal of also preventing spread to other regions. In this case, data on people's regular movement patterns suggests that the region would likely need to include almost all of the Waikato district, and maybe even part of the Ruapehu region," says Dr O'Neale.
"One important factor in preventing spread, is that people when people are moving between regions, they need to 'take their Alert Level with them' and always act as if they are at the highest alert level for any area they have visited in the last two weeks. A person moving between AL2 and AL3 still has an AL3 risk profile, even when they move into an AL2 area. This means they need to be limiting their contacts to their bubble, wearing a mask, and not going to cafes or bars, even when such things would otherwise be acceptable at the lower alert level.
"People who have been in any of the Waikato AL3 areas in the previous week will need to be acting like they are at AL3, wherever they happen to be now. This includes people who might have travelled recently, with the start of school holidays, where we typically see a surge of people travelling from Hamilton and surrounds, to other locations," says Dr O'Neale.
"I haven't seen any details added to the map on the MoH website for the new AL3 areas yet, but given the proposed 'soft' boundaries they seem like they might be more relevant to helping guide people when they should be acting like they are at AL3 --- even if they aren't currently within those areas --- than to preventing inter-regional spread."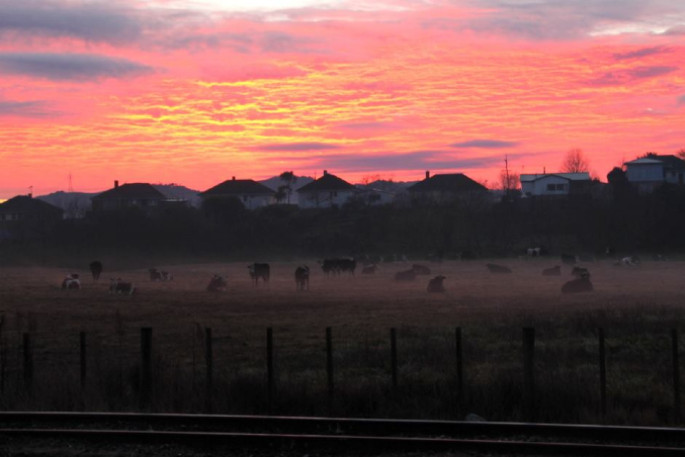 Sunrise in Huntly. Photo: Darin Campbell.
University of Auckland Te Kupenga Hauora Māori Associate Professor Donna Cormack says that Sunday's new of positive cases in the Waikato region is concerning.
"As always our aroha is with those whānau who are impacted by Covid-19, and with all of those in the broader community who are working hard to keep us safe," says Prof Cormack.
"Te Rōpū Whakakaupapa Urutā supports parts of Waikato moving to at least Level 3 for a period of time, until we know more about the situation. We need time for communities to be able to access vaccination and to acheive an equitable vaccination rate as a result of the inequity that was built into the initial rollout.
"As the numbers of people in our communities that are testing positive for COVID-19 increases, it is also important that whānau are vigilant – kia mataara. There are important things we can each do to play our part to slow the spread of this virus to our whānau, and to the wider hāpori. These are things that we can do, irrespective of the government's decision about levels, to protect and support our communities," says Professor Cormack.
Professor Cormack advises that:
• If you are sick, have been to any location of interest, or are living in a suburb with cases - get tested. This is how we about where COVID is in our communities, slow the spread and individuals and whānau impacted by the virus

Keep your bubble as safe and as tight as you can and avoid social events with others outside of your bubble

If you are able to, stay at home or work at home – especially if you have health conditions that could be more of a problem with COVID

If you do go out, wear a mask, physical distance from others, and remember to regularly wash hands or sanitise to reduce the risk of spreading the virus

If you do need healthcare, it is important to know that this is still available – hospitals are open for emergencies, and primary care is still operating
"Vaccination remains an important tool in our response. If you can, get vaccinated. If you have been taking a 'wait and see' response, it is okay to change your mind. Times like this are a reminder that it is important that we support all our whānau, check in on how whānau outside your bubble are doing, show care and manaaki for those who test positive and to all those who have not been vaccinated," says Professor Cormack.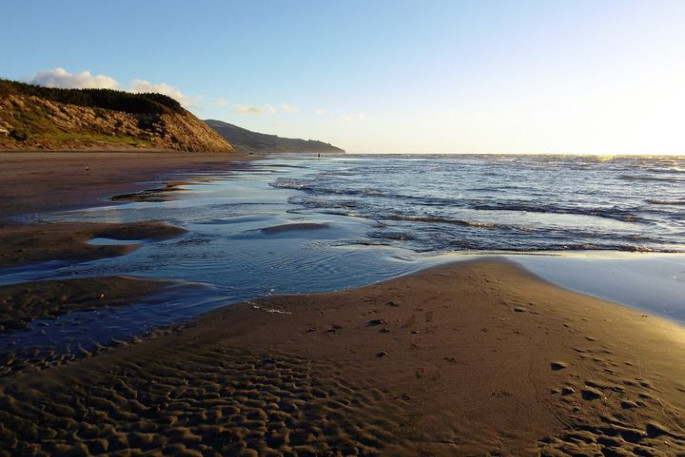 Raglan beach. Photo: Marty Wells.
Dr Dianne Sika-Paotonu, who is an immunologist, and Associate Dean (Pacific), Head of University of Otago Wellington Pacific Office, and Senior Lecturer, Pathology & Molecular Medicine, University of Otago Wellington says that Delta is still transmitting and continues to move beyond borders in New Zealand.
"Although vaccination rates have improved, focus and momentum must continue, with work underway to increase accessibility and reduce barriers for those needing the Covid-19 vaccine still needed – this also applies for Covid-19 testing and prevention efforts," says Dr Sika-Paotonu.
"The recently identified positive Covid-19 cases prompting the shift of Raglan, Te Kauwhata, Ngaruawahia, Hamilton city and Huntly into Level 3 restrictions, indicates how easily the Delta variant can still spread across regional borders and into other areas at this time, and that without higher vaccination rates, the risk of further outbreaks remains.
"As it stands, unlinked mystery cases of unknown origin have continued to appear throughout the current Alert Level restrictions, which is also of further concern and highlights the need for all to remain vigilant, get vaccinated, get tested, follow the alert level rules and importantly, to reach out and help and support others do the same," says Dr Sika-Paotonu.
"Any Alert Level shift planning moving forward for the Auckland Region will require careful scrutiny as a high degree of risk remains for all – especially for our most vulnerable communities in Aotearoa New Zealand.
"Moving forward, the adverse health outcomes in Aotearoa NZ already seen with Covid-19 and that are impacting our most vulnerable groups in particular, will require ongoing careful consideration and appropriate responses, so as to prevent any further exacerbation of these inequities.
"Pacific-targeted and -tailored vaccination events and activities recently held that have been Pacific-led and community driven, together with Pacific health providers, have helped improve vaccine accessibility, and vaccination rates and are examples of Pacific-led solutions for Pacific peoples and communities."
More on SunLive...