Covid-19 update to be delivered at 1pm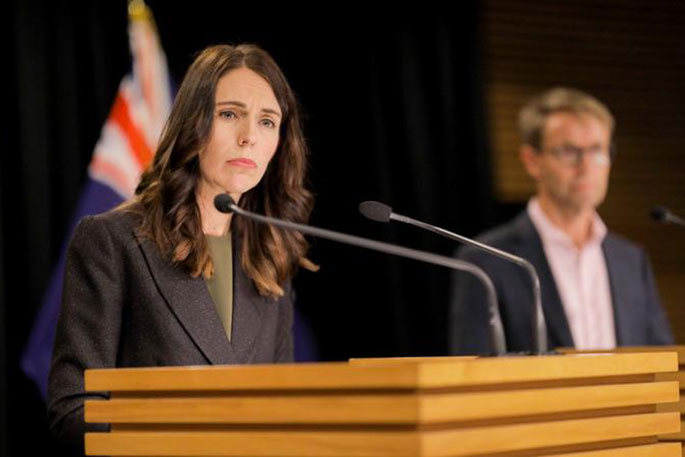 Prime Minister Jacinda Ardern and the DirectorGeneral of Health Dr Ashley Bloomfield will be speaking at a live press conference at 1pm today following the announcement of new community cases of COVID-19.
An Auckland truck driver who travelled to Palmerston North for work has tested positive for Covid-19 and there are two new positive COVID-19 community cases in Waikato.
A number of fast food restaurants, petrol stations and truck stops have been added as locations of interest after the truck driver's trip during the week.
The Ministry of Health spokesperson says the case was detected as part of routine surveillance testing.
The Ministry of Health has been notified of two new positive COVID-19 community cases in Waikato. One case is in Raglan and the other is in Hamilton East.

The case in Raglan is self-isolating at this stage and will be moved to a quarantine facility. The Waikato District Health Board is today carrying out further interviews with this person.
There are fears Brian Tamaki's anti-lockdown protest in Auckland, which attracted thousands to Auckland Domain on Saturday, could spread the virus.
The protest, organised by the Freedoms and Rights Coalition of which Tamaki is a member, began at 11am and was attended by motorcyclists and families with children, who set up picnic blankets on the grass.
Meanwhile, after seven weeks of restrictions and the country's longest lockdown, Auckland is struggling.
Businesses say they are buckling under Covid restrictions, and may not survive another lockdown extension.
Epidemiologists warn dropping to alert level 2 while there are still unlinked cases emerging in the community could have dire consequences.
Unfortunately, despite vaccines being touted as the way out of future necessity for lockdowns, rates of uptake are slowing.
More people had first doses in the first two days of September than its last seven days and forward bookings for first doses are essentially stalled, growing by just 5000 people a day.
As of midnight on Friday, 76 per cent of those aged 12 or over had received a first jab, while 45 per cent had received both doses.
Global toll
The number of confirmed Covid cases worldwide has passed 234.4 million, according to Johns Hopkins University. The number of deaths attributed to Covid is just shy of 4.8m.
The US has more than 43.6m cases and over 700,000 deaths. India has more than 33.79m cases and more than 448,500 deaths, while Brazil shows more than 21.4m cases and nearly 597,225 deaths.
Nearly 6.28 billion vaccine doses have been delivered.
New Covid-19 modelling suggested New Zealand could see up to 7000 Covid-19 deaths a year, even with a high proportion of the population jabbed. That number is based on UK data from this year.
More boaties are putting their hands up to help ferry Kiwis back from Australia, avoiding the long waits for managed isolation and quarantine.
After sailor David Mason floated his plan to assemble a crew of stranded Kiwis to sail his boat across the Tasman, other skippers and crew members are being married up for similar voyages.
What should I do?
Anyone who wants to get tested can find their local testing centres by visiting the Ministry of Health website.
People should use the Covid-19 tracer app.
If you are sick, call your GP before you visit, or Healthline on 0800 358 5453.
To avoid contracting and spreading the virus, wash your hands properly, cough and sneeze into the crook of your elbow and throw tissues away immediately.
Reach out, find support from people who care, connect with your community or help a neighbour in need.
More on SunLive...