Virtual marathon effort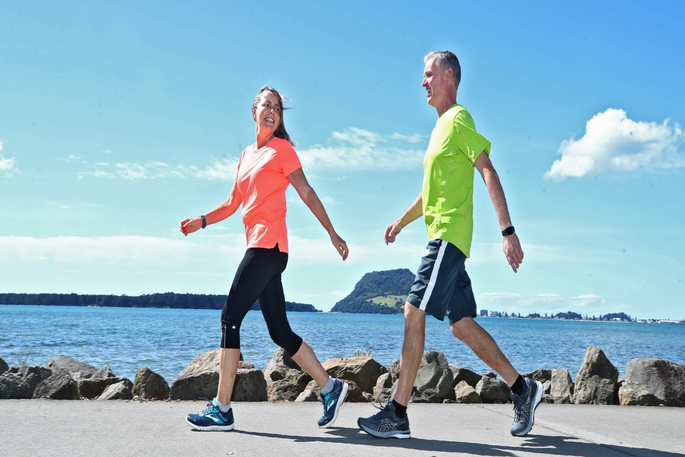 Claire Haywood and her husband Peter have been impacted by cancer more than once, and with last month's Daffodil Day Street Appeal cancelled due to Covid-19 restrictions, the couple decided to take action.
The pair will be walking the distance of this year's London Marathon in Tauranga this weekend, over 18,000km away from the English capital, to coincide with the actual event.
Peter is a cancer survivor, as is his mother, while his father also passed away from the disease.
Claire's father was then diagnosed with bladder cancer earlier this year and is currently in the UK. With Covid-19 travel restrictions making a return home difficult for Claire, this is a chance for her to do something positive in response.
"Dad was diagnosed at Easter, so it's been quite a difficult time," says Claire.
"My sister lives in the UK and she turned 60 this year and wanted to do the London Marathon.
"She's never done it before or anything like that, so she mentioned the virtual one so we can do it together and raise funds for cancer. She is doing it in the UK and we are doing it here."
Whilst Claire says she has run three marathons in the past, the couple decided to walk it on this occasion, so they could be alongside each other for the duration of the 42km trek.
"If we run it we can't be together because he goes too fast," Claire jokes. "But if we walk, we can do it together."
Whilst walking might seem easier, it does add considerable minutes to their effort.
"Walking it is even worse in one way," Claire remarks. "It's going to take forever. It will take a good eight hours, but hopefully not much longer."
Team 'Virtually There', as Claire and Peter have aptly named themselves, will start the walk from their Otūmoetai home at 12pm on Sunday, October 3, before walking the Waikareao Estuary and Sulphur Point on their 17km first leg.
Fergusson Park and the Saltmarsh occupy much of the second leg before what Claire plays off as "just a 10k final leg" home.
A finish line will be set up with friends at the end to congratulate them on their day-long excursion, with the hope being to raise some much needed money to help those going through a similar battle.
"It has been a difficult time for our family, and I know we are not alone in this," says Claire.
"Cancer impacts so many of us in New Zealand, affecting one in three people.
"As the annual Daffodil Day Street Appeal couldn't take place this year, the Cancer Society need fundraising from other sources, so every donation we receive will help them to continue their cancer research and prevention, and provide support services for people with cancer and their whānau when they need it most.
"If you see us in Tauranga on the day, give us a wave."
To sponsor team 'Virtually There' visit: www.youcanforcancer.org.nz/virtuallythere
More on SunLive...