Maungatapu mums warn of accident waiting to happen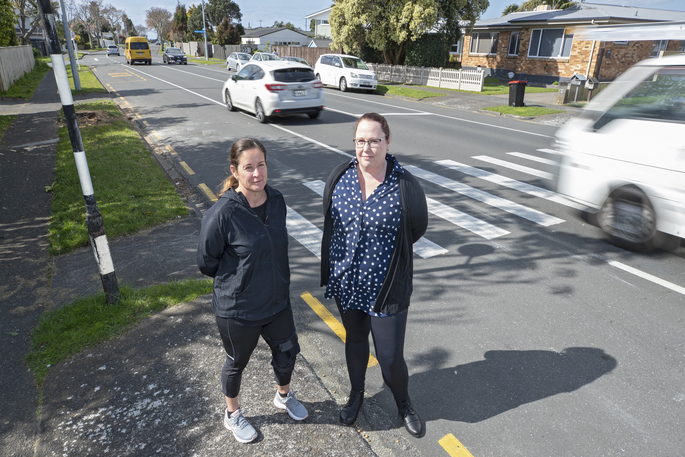 Two Maungatapu mums have voiced their concerns about children's safety after numerous near misses at a pedestrian crossing.
The crossing is close to the shops on Maungatapu Road, and Natalie Moon and friend Kelly have seen cars failing to stop far too often.
"I've been halfway across the crossing on three separate occasions and had to turn back because someone was going to hit me," says Kelly.
A large number of children use the crossing to get to school every day, and Kelly and Natalie worry that someone might be hit.
"All the kids are taught to stop and wait for the cars to stop, but some kids get distracted pretty easily," says Kelly. "I feel like it's only a matter of time before something happens."
Both Kelly and Natalie say the crossing is unsafe because there are poor sight lines leading up to it, especially from the Tauranga-bound side, because of parked cars along the road.
"You can't actually see people standing waiting to cross," says Natalie. "It's an accident waiting to happen."
The lights and poles aren't distinct enough to signal the crossing either, she says.
A few months ago, a person on a mobility scooter was hit while using the crossing, says Natalie. She says they weren't hurt, but it shows how dangerous the crossing can be.
Drivers often speed along the 50km per hour road as well, increasing the risk of accidents, says Kelly.
Kelly and Natalie want to see the crossing upgraded to increase visibility, and measures put in place to help slow down drivers, such as a raised crossing or speed bumps. Better still, the pair would like to see the crossing moved to safer spot on the street.
The mums have contacted Tauranga City Council with their concerns, and have been told council is designing improvements for the crossing. So far, they are yet to see any action.
Council director of transport Brendan Bisley says they have previously reviewed driver visibility of the zebra crossing near the shops on Maungatapu Road, and found that the angle parks outside the shops allow adequate visibility.
Council has a minor improvements project planned for the zebra crossing near Maungatapu School in response to concerns raised by residents and the school, and say they will add a review of this crossing to the project.
"The project is in an early design stage that will be worked through with the school and residents," says Brendan.
"Construction is likely to go ahead towards the middle of next year.
"As Maungatapu Road is a main road with a large volume of traffic and buses, we may consider raised safety platforms for crossings, but speed humps are less likely due to the buses and likely issues with noise and vibration."
He says speed cameras could also be installed if new legislation enables them.
There have also been a number of accidents on the road – most recently on Saturday morning when a car smashed into a tree near the crossing.
In another crash a car rolled over, and there have also been number of cars hit while parked on the road. A car has also crashed through someone's fence, says Kelly.
She would like to see police patrolling the street or a speed camera installed to help deter speeding drivers.
"We are sick of being woken up to accidents and having to pull intoxicated people out of their wrecked cars," says Kelly. "One day they won't be so lucky."
Brendan says council has received complaints about speeding and poor driver behaviour on Maungatapu Road, particularly at night, and they have been shared with New Zealand Police.
More on SunLive...