Water safety floods into local schools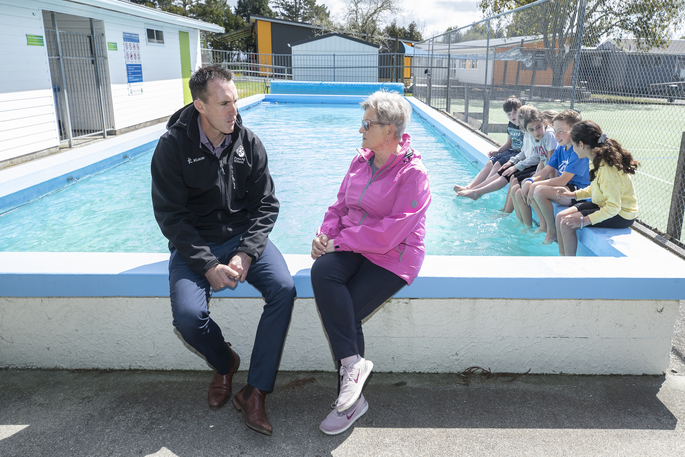 Pyes Pā School is participating in the first Water Skills for Life Plus pilot programme.
The programme aims to teach children lifesaving skills and knowledge surrounding the water in order to help children to not only survive, but thrive in the region's waterways.
Pyes Pā School principal Blake Carlin says the programme is an awesome initiative.
"We feel fortunate, privileged and very lucky that we get to be a part of this."
The school is one of ten in the Bay of Plenty participating in the programme.
"I just think survival skills in the water are so important. They are as important, if not more important than any academic skills you can pick up.
"Living in the area that we live in and the accessibility of the water, not just the ocean but the lakes and rivers as well, shows that being safe and surviving in the water is key."
Blake himself grew up next to the beach and water safety skills were as important to him then, as they are now.
"I grew up in Raglan and so water was always a part of my upbringing.
"I was certainly brought up with an awareness of the water and how conditions can change very quickly.
"Due to my personal upbringing, and now as an educator, you could say I've got a bit of an affinity with water safety.
"I'm a keen surfer myself, so safety in the water is a massive part of my life."
Blake, who has been the Principal of Pyes Pā School for almost four years, says swimming is a big part of the curriculum, with the school pool being open in terms one and four.
"We're one of those schools that are lucky enough to still have a school pool.
"With our job as educators we are always imparting knowledge and if we can impart this knowledge and it saves a life in the future that's incredibly important.
"I think that if kids at any point feel compromised in the water, or their safety is at threat that they have the confidence and skills to know what to do, even if it's just as simple as knowing how to float.
"With the rise of tragic events resulting from incidents in the water, we as educators have an obligation to try to help reduce that number and that's something we can start early in schools."
More on SunLive...