Clear increase in Port vaccination rates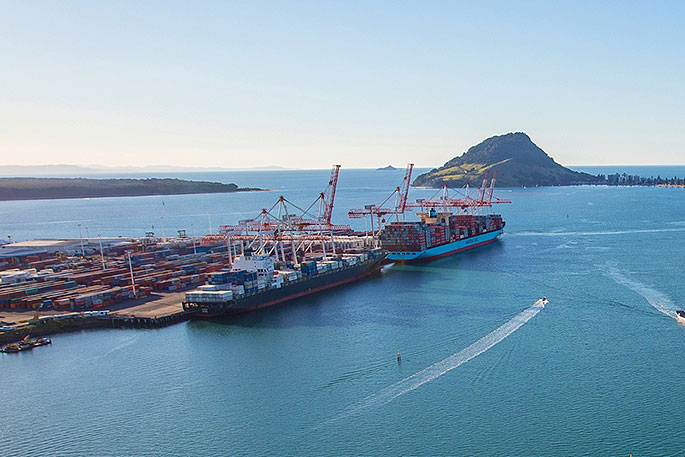 Work is ongoing to vaccinate the remaining Bay of Plenty border workers, including those at the Port of Tauranga, before a new mandate requiring vaccination kicks in.
Vaccination rates among port workers in the Bay of Plenty DHB region is lower than the overall national figure for border workers, but has improved since concerns were raised in August.
After cases of Covid-19 were discovered on the Tauranga-berthed Rio de la Plata container ship questions were asked over poor vaccination rates at the Port of Tauranga.
At the time, it was revealed that 60 per cent of border workers in the Bay of Plenty were unvaccinated.
However, as of 9pm on Tuesday, 91 per cent of port workers in the Bay of Plenty have received at least their first dose, a 41 per cent increase.
Port of Tauranga expect 96 per cent of their directly employed workers to have received their first dose by midnight. Private contractors ISO and C3 declined to comment when approached by SunLive.
Christine Nolan, the Ministry of Health's acting group manager of Covid-19 vaccination operations, is happy with what she calls a significant milestone in vaccination numbers amid border workers.
"Protecting our borders remains a top priority for New Zealand's ongoing response to Covid-19," says Christine.
"As part of that work, the Ministry of Health has been working throughout the rollout programme with the wider border sector to lift vaccination rates.
"We have also been focusing strongly in recent months on working with port companies, the maritime industry, sector agencies and DHBs to increase the vaccination uptake by workers at the maritime border."
A mandate announced by the Government in July enforced all privately employed border workers to have had their first jab by September 30.
At the time, just 54 per cent of active port workers nationwide had been vaccinated. That figure is now 95 per cent.
"Border workers who remain unvaccinated after the requirements come into effect will need to discuss options with their employer," said Covid-19 Response Minister Chris Hipkins at the time.
"They will not be able to continue working in a high-risk border environment until they are vaccinated."
Christine admits those who remain unvaccinated will no longer be able to work in affected roles at the border after tomorrow and believes port employers and employees are aware of this fact.
"The Ministry of Health is confident all employers included in the Border Workforce Register are aware that is against the law to have unvaccinated workers in roles that fall under the Order after September 30," she says
"They also know that any new workers must have at least one dose of Pfizer/BioNTech vaccine before starting work in roles that fall under the Vaccinations Order.
"Further support, including the option of redeployment or re-employment is being offered for unvaccinated workers who may no longer be able to perform their role after tomorrow."
With the mandate coming into effect from tomorrow, Christine also makes clear that work will be ongoing until the last minute to ensure as many border workers as possible are vaccinated by the deadline.
"Work to vaccinate the small number of remaining workers by the end of September is continuing, with all DHBs with major ports in their regions continuing to actively work to ensure 100 per cent vaccination first and second dose rates by the deadline."
More on SunLive...