Pockets of caustic soda likely after Kaimai spill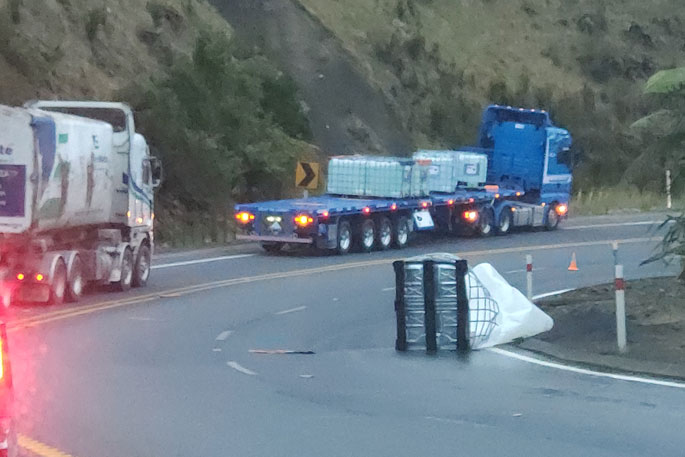 Six thousand litres of sodium hydroxide that spewed from a truck onto a major highway is likely to continue to spill into a nearby stream and experts unable to rule out "further pockets of the chemical".
Six containers – filled with 1000 litres of sodium hydroxide each – fell off a truck on the Kaimai Ranges on State Highway 29 on Tuesday morning, closing the highway for much of the day while contractors cleared the site.
Most of the substance ended up on the road or ran onto adjacent land, but some travelled about 2km down hill to Māhina-a-rangi Stream.
Waikato Regional Council's cleanup team is satisfied most of the chemical is now gone – diluted in the first few kilometres – but it can't guarantee more won't arrive downstream after heavy rainfall.
"It's been estimated that around 2000-3000 litres would have travelled towards the nearby Māhina-a-rangi Stream, but it's difficult to be more accurate than that at this point," Incident response team leader Wayne Reed​ says.
The truck is understood to have lost its load between Rapurapu Kauri Track and Kaimai Mamaku Lookout, and the containers blocked the westbound lane, roughly five-hundred metres south of the summit.
Five of the closest water take consent holders were informed of the expected path of the spill on the day, but Reed says the team is now satisfied that the risk to water users has been significantly reduced.
On Wednesday morning, council staff carried out pH testing indicating that the majority of the contaminant had been diluted, with the test coming back as neutral.
"Obviously it would have travelled a very long way, but would have been diluted in the stream over the first few kilometres we believe.
"We can only base this opinion on the fact that we completed pH testing some 4km downstream of the spill and several hours after the incident.
"This was neutral, indicating that the pH was within the normal range for a stream at that time.
"However, we can't rule out there being further pockets of chemical that may still flow downstream when there is heavy rainfall."
Sodium hydroxide, or caustic soda, is a strong alkaline that can range in a pH level from 0-14. It's used in a range of manufacturing industries including pulp, paper, drinking water, textiles, soaps and detergents.
WRC senior scientist Jonathan Caldwell​ says the concentrated sodium hydroxide solution that was spilt had a pH of 14 – a base level normally found in toxic cleaning products.
"It is very high in alkalinity which is toxic and harmful to fish and plants that live in streams," Caldwell says.
Fortunately, he says the effects of sodium hydroxide tend to be very short term.
"The sodium hydroxide will become diluted as it mixes with larger flows of water downstream, and it will also react with naturally occurring acids in the stream to form harmless salts."
This will result in the water quality being brought back within a protective pH range for stream life, he says.
More on SunLive...