D-day for Port vaccinations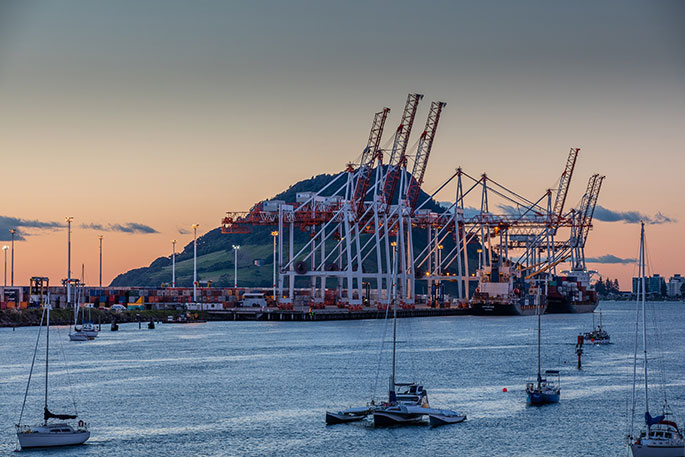 The clock is ticking on Port of Tauranga workers to receive a Covid-19 vaccination, with a mandate for all border workers to be vaccinated coming into effect at midnight.
However, despite a small number of workers set to risk their employment by refusing the jab, operations at the Port are unlikely to be significantly impacted.
All Government border workers are already required to get vaccinated but that mandate now applies to those privately employed.
They must have received a first dose of the Pfizer vaccine by the end of today and will then have 35 days to receive a second dose.
Figures released by the Government yesterday show that nationwide, as of 8am September 29, 93 per cent of all border workers are double-vaccinated.
Five per cent have received one dose and just two per cent have received none.
However, maritime border workers figures are significantly lower than others with 80 per cent having received both doses, 15 per cent one and five per cent unvaccinated.
The nationwide figure of 95 per cent at least vaccinated with one dose is expected to ease some fears over vaccination rates at the Port of Tauranga.
Concerns were raised after a positive case of Covid-19 was identified on the Rio de la Plata container ship in August.
Just nine of the 94 workers told to isolate as a result of the case were vaccinated at the time and it soon emerged that 60 per cent of frontline workers at Tauranga's port were unvaccinated.
A port worker, who remained anonymous, told SunLive at the time several workers were prepared to lose their jobs, rather than get vaccinated.
In August, ISO Limited, who employ stevedores and marshalls at Port of Tauranga, released their vaccination rates.
Four per cent of their workers were a "firm no" on getting vaccinated and a further 24 per cent undecided.
ISO offered no comment when asked for an update on those figures ahead of today's deadline. SunLive has reached out to several other companies regarding their figures but have received no comment.
However, regarding workers directly employed by the Port of Tauranga itself, most are vaccinated with conversations underway on how to address the small minority which will not make the cut-off.
"We expect about 96 per cent of our eligible employees to have received their first dose by midnight tomorrow," says Port of Tauranga communications manager Rochelle Lockley.
"We are discussing options with any workers that remain unvaccinated."
She adds that the Port of Tauranga is not aware of the overall vaccination rates for workers at the port, including independent companies.
However, any staff shortages related to the mandate coming into operation will be of minimal significance.
"We don't expect any major impact to operations," says Rochelle.
The Bay of Plenty District Health Board has been providing on-site vaccination opportunities for port workers in Tauranga. Those came to an end last Friday.
"Port workers can now access priority appointments at the community vaccination centres," says Rochelle, regarding any workers who wish to get vaccinated before today's cut-off.
Covid-19 Response Minister Chris Hipkins says that the border worker figures, across the board, are promising and an improvement from the 82 per cent figure of double vaccinated workers in July.
Maritime border workers were previously at 53 per cent double vaccinated on July 14, so the current figures represent a 27 per cent increase.
"All Government employed workers are now vaccinated, and this week's deadline brings private employers in as well," says Hipkins.
"This is a significant step towards protecting New Zealanders from Covid-19 now and into the future.
"This is increasingly important as we look to how we reopen to the world. The border will continue to be our first defence against Covid-19 and the people who work there must be protected.
Hipkins is encouraging anyone who has not yet received their first dose to ask any outstanding questions and receive their first dose today.
"You will then have 35 days to get your second one following the deadline," he says.
"I encourage you to do this. It will keep you safe. I am extremely pleased and relieved this order comes into effect this week."
More on SunLive...