Jumping dolphins delight at Pilot Bay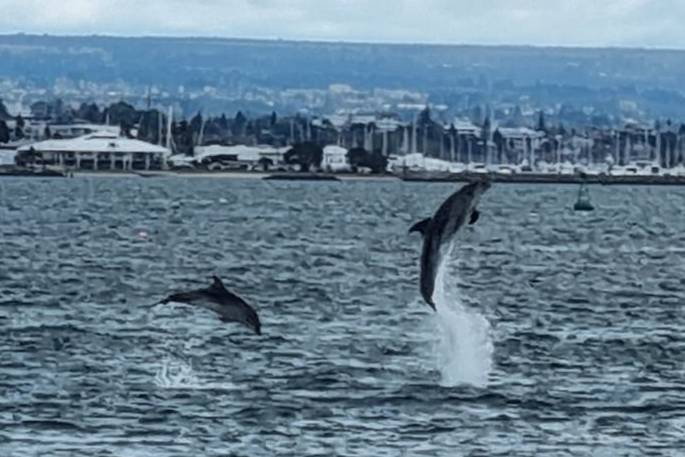 A pod of dolphins have been putting on a show for lucky bystanders at Pilot Bay this week.
The cetaceans were seen hopping out of the water on Tuesday and one local even managed to catch it on camera.
Leanna Dorothy is over the moon to have experienced the dolphins enjoying a skip in the sea.
"It's my first time seeing dolphins up close," she says.
"It was an honor to watch them casually frolicking at Pilot Bay."
Dolphins are known to be frequent visitors to Pilot Bay and the wider Tauranga area.
A number of dolphin species can be found in New Zealand waters including Bottlenose, Māui and Hector's.
The dolphins are not the only marine animals who have been putting on a show around the region recently.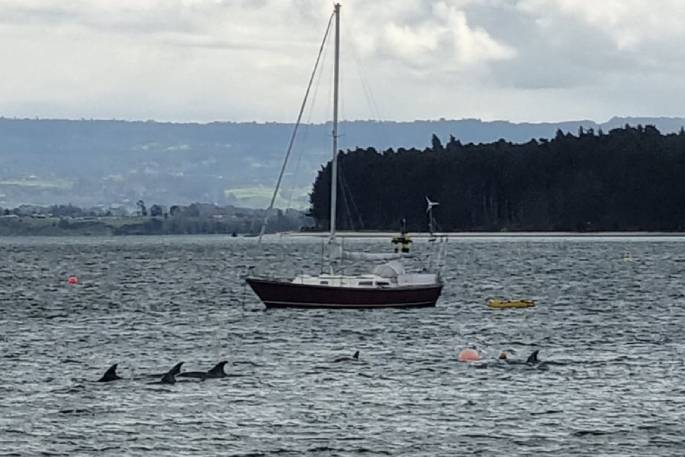 A pod of orca have been entertaining beachgoers and mariners in Mount Maunganui over the weekend.
Around 5pm on Sunday, Steve Morris, from the Seamen Ocean Swim Squad, received a message from a friend saying Orca were swimming along the shore by Rabbit Island heading towards The Mount.
"I drove to Leisure Island with my girlfriend and we saw them very close to the beach in 'Shark Alley'," Steve told SunLive.
"They headed around Leisure Island and we got another good look at them there before they swam towards The Mount.
"We decided to try our luck and drive to Pilot Bay and walk around The Mount from there hoping to spot them coming in the other direction. We did and that is when I took the videos. It was on the sand by the Maori Warrior."
The Department of Conservation advises that wherever you encounter marine mammals you must protect them from stress or displacement.
Make sure to not not disturb, harass or make loud noises near marine mammals, cease contact if marine mammals show signs of being disturbed or alarmed and do not feed or throw any rubbish near marine mammals.
Keep marine mammals and their young safe by following the right rules for the environment and species. This will make sure you and the animals have an enjoyable experience.
If you notice a marine mammal being harassed, severely injured or entangled, contact us immediately on 0800 DOC HOT (0800 362 468).
At sea
If you're travelling at sea near marine mammals:
• travel no faster than idle or 'no wake' speed within 300 m

• make sure there are no more than three vessels within 300 m, including any aircraft

• approach from a direction that is parallel and slightly to the rear

• do not circle the marine mammals, obstruct their path or cut through any groups

• idle slowly away.
For whales:
• stay at least 50 m away from any whale

• stay at least 200 m away from any baleen or sperm whale mother and calf

• do not swim with whales.
For dolphins:
• you may gradually increase speed to outdistance dolphins

• do not exceed 10 knots until more than 300 m away

• do not swim with dolphin pods containing juveniles. Juveniles are half the size or smaller of an adult.
All seals, sea lions, dolphins and whales are protected under the Marine Mammals Protection Act 1978. It's an offence to harass, disturb, injure or kill marine mammals.
Anyone charged with harassing, disturbing, injuring or killing a marine mammal faces a maximum penalty of two years imprisonment or a fine to a maximum of $250,000.
The DOC says to call 0800 DOC HOT (0800 362 468) immediately if you see a southern right whale, a Māui dolphin or an entangled or stranded marine mammal.
More on SunLive...