Remote control volcano research gets $1m grant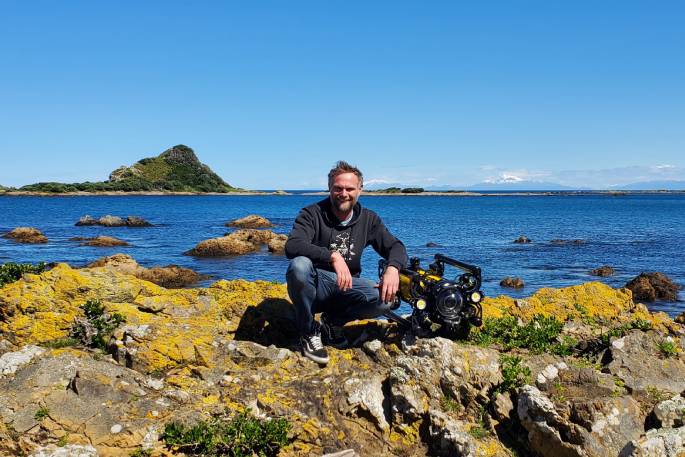 A $1 million grant awarded to Victoria University of Wellington will go toward a state-of-the-art remotely operated vehicle which will investigate relatively unknown areas of Whakaari/White Island.
It is hoped the work will allow previously impossible access to be unlocked for analysis that can assess volcanic activity and hazards.
The project has just been awarded its million-dollar funding through the latest round of Ministry of Business Innovation and Employment Endeavour funding.
Dr Ian Schipper, a senior lecturer of geography, environment and earth sciences is the project leader and believes the result of the work will be a better understanding of underwater volcanic activity.
"Although an estimated 90 per cent of the world's volcanoes are underwater, they have long been difficult and expensive to access and study," says Ian.
"By harnessing new developments in portable, economical, submersible technology, we now hope to expand our access to and understanding of underwater volcanoes."
Ian and his team aim to create the world's first portable ROV-based instrument to investigate underwater volcanism.
"The grant will enable us to equip a new portable ROV with instruments for the analysis and collection and analysis of volcanic gases that are discharged into the overlying water columns in lakes and offshore regions," he explains.
"Once equipped, we will deploy this instrument suite to make the first comprehensive measurements of the amount and chemistry of gases and fluids that are being emitted from underwater volcanic vents.
"This will mark a significant change in our understanding of the levels of activity and potential hazards associated with underwater volcanism in New Zealand."
The ROV itself was designed and built by BoxFish Research in Auckland.
Equipped with 4k video capability and able to operate at depths up to 300 metres below the surface it can offer a live video stream back to the surface.
The project will integrate a CO2 sensor, a gas/fluid collection device and a robotic arm.
"This will allow us to calculate the amount of CO2 being emitted to and stored in the water, obtain undiluted samples from any underwater vents, and allow us to measure their chemistries back in the laboratory at Vic and to gather solid samples of minerals and deposits associated with the underwater vents."
Initial work will be undertaken to measure gas fluxes in Central North Island lakes "before pushing boundaries into the more dynamic offshore environment" in the Whakaari volcanic area.
"The Bay of Plenty includes several known sites of submarine volcanic gas emissions," says Ian.
"The shallowest of these vents have been studied sporadically by divers, but we have not had the technology and methodology to fully characterise these emissions with any regularity.
"This will be technically challenging and difficult work, but the chemistry of gases and fluids emitted from submarine vents around Whakaari have potential to yield geochemical clues to the vitality and extent of the magmatic system below the island."
The hope is for the work to yield new tools and methods for characterizing underwater emissions in New Zealand whilst also placing Kiwi companies and scientists at the forefront of underwater exploration technology.
More on SunLive...