LIVE: Everyone can be a vaccine influencer- Ardern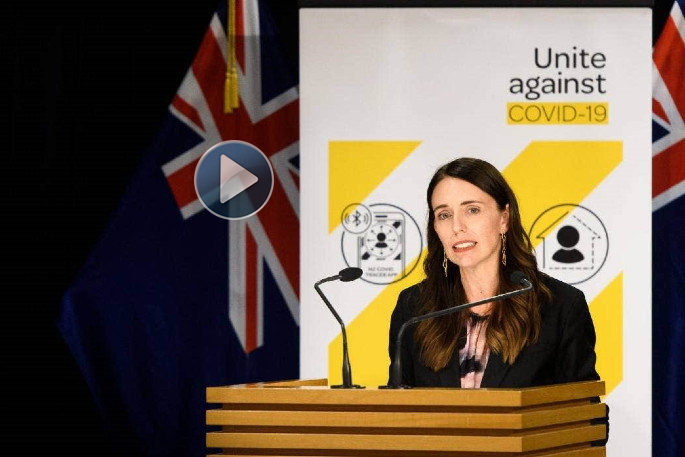 Prime Minister Jacinda Ardern and Director General of Health Dr Ashley Bloomfield have once again spoken about the importance of vaccines for New Zealand.
The pair spoke about the importance of high vaccination rates to New Zealand in terms of opening our borders and reducing restrictions.
Dr Bloomfield says the higher vaccinations numbers are the lower deaths and hospitalisations will be.
He says the delta variant increase the mortality rate as age increases.
It poses nearly double the risk of the alpha variant, based on data from the United Kingdom, says Dr Bloomfield.
"It's mission critical to achieve good vaccination rates. We've made a good start but we need to see it through," he says.
Ardern says of those 65 and older more than 90 per cent of them have had their first dose.
We need to keep going to help reduce restrictions and to change our border settings safely, she says.
People who are vaccine hesitant are likely to listen to family so she encourages those who have had the vaccine to talk to family about why they got vaccinated.
"Everyone can be a vaccine influencer," she says.
Ardern says Cabinet has made further decisions on what will be a staged approach to ease border settings, including the self isolation trial which will be an alternative to MIQ.
The pilot will involve 150 people with a focus on businesses and employees who are travelling internationally for work purposes.
It will also include a small number of government officials but will mainly focus on the private sector.
Participants are required to be a New Zealand citizen or holders of a resident visa with a right to re-enter New Zealand, be fully-vaccinated in New Zealand with the Pfizer vaccine, and not travel to or through very high-risk countries.
Those applying will need to arrive in New Zealand between October 30 and 8 December 8, with final travellers leaving isolation by 22 December, she says.
It will be combined with a monitoring and testing regime, Ardern says.
"It is not our intention that self isolation be only available to business travellers in the future. This narrow scope now, though, is for us to kick off safely while we begin the design work."
Expressions of interest open on Thursday and will remain open until 9 October, she says.
Minister Chris Hipkins will give more details about the pilot programme later in the week.
Ardern has also announced quarantine-free travel can begin for RSE workers from 4 October for Vanuatu and 12 October for Samoa and Tonga. They must have at least one vaccination and have their doses completed in New Zealand if they have not already done so.
They must remain in isolation on site at their workplaces until day five, and will be tested on day zero and day five.
Director-General of Health Dr Ashley Bloomfield says as announced earlier there were 12 new cases of Covid-19 in the community today, all in Auckland.
He says the seven-day rolling average of cases has dropping to 15 this week, compared with 17 last week and 19 the week before.
"We are making progress. Many of our clusters are now considered to be contained ... or clusters are dormant, that is they have not given rise to any new cases in the last 14 days."
Bloomfield says there are now just four active sub clusters.
Ardern says about 43 percent of the eligible population is now fully vaccinated.
EARLIER: Prime Minister Jacinda Ardern is expected to address New Zealand following cabinet meetings earlier this afternoon.
Today's update comes as the MInistry of Health announces 12 new cases.
All in the Auckland area.
To date, Auckland, including four cases in the Upper Hauraki, has recorded 1160 cases. Of those cases, 948 have recovered.
A total of 17 cases are from the Wellington area.
Ardern says about 43 percent of the eligible population is now fully vaccinated.
The Ministry says the total number of Covid cases in the current outbreak is now 1177.
Meanwhile, the Minister for Covid-19 Response Chris Hipkins says New Zealanders are continuing to step up and get vaccinated.
As of midnight Saturday, 5,020,900 doses of the Pfizer vaccine had been administered in New Zealand, 3,231,444 first doses and 1,789,456 second doses.
"The number of vaccines being given surged to more than 90,000 a day in late August and we are now steadily delivering around 50,000 doses every day. I want to thank people all over Aotearoa who have rolled up their sleeves to protect themselves, their whānau and their community," says Hipkins.
"Three months ago, we gave our 1 millionth dose and a month ago, we administered our 3 millionth dose. In the past 31 days, we've given out a further 2 million doses. On top of that, the National Immunisation Booking System has nearly 1.3 million future bookings at nearly 680 active vaccination sites around New Zealand.
"Our vaccination workforce is embracing innovative ways to ensure it's as easy and attractive as possible for people from all walks of life to get vaccinated.
"There's a huge range of options nationwide, including mass clinics, general practice and pharmacies, vaccination buses, pop-ups, drop-ins, drive-throughs, marae and hauora, ethnic and disability clinics, in-home vaccinations and even fly-ins to Mōtīti and the Chatham Islands. For example, in Auckland, more than 150 general practices and 75 pharmacies are vaccinating and more are due to start soon.
"We've got plenty of vaccine supplies on hand with more than 1.3 million vaccine doses in stock currently and shipments arriving regularly.
"Being fully vaccinated gives people a high degree of protection against Delta infection, severe illness, hospitalisation and death. A highly vaccinated population also gives us as a country more options for the future.
"Some people are unable to be vaccinated, such as children younger than 12 years old, but together, we can better protect them if our immunisation rates among eligible people are higher.
"It's critical we keep our collective feet firmly on the accelerator as our vaccine rollout continues. I call on everybody who is yet to get vaccinated and is eligible to please take this opportunity to get vaccinated now."
More on SunLive...