Calls for updated mail service answered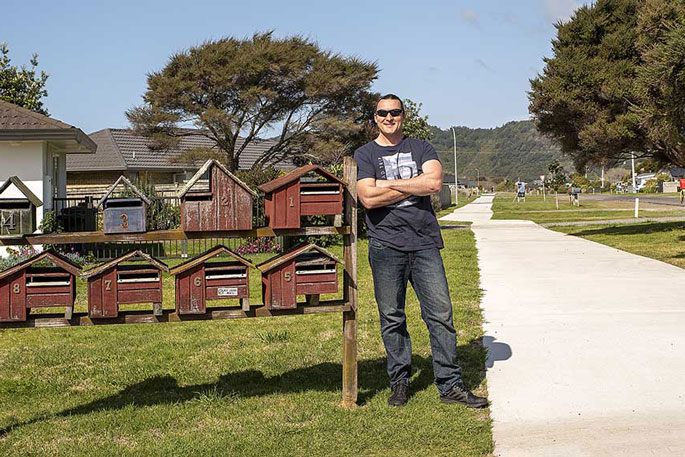 Almost 100 Eastern Bay of Plenty residents on Bunyan Road and surrounding streets can look forward to receiving urban postal services before the end of the year, thanks to one of their neighbours.
Bunyan Road, Prita Lane, Dawn Parade, Karanema Place and Piripai Rise will all be changing to urban delivery, possibly by the end of this month.
Rhys Berghuis and his family have lived close to the intersection of Bunyan and Ohuirere roads since January 2012, which has long marked the dividing line between the rural postal service to its east, and the urban services the rest of Coastlands enjoys.
They have been on rural delivery all of that time, as have some of their neighbours who have been there over 20 years. In July this year, after seeing lots of new houses "popping up like mushrooms", footpaths completed, roading and drainage upgrades and streetlights planned and the area being made a 50kmh speed limit zone, he decided it was time the postal service was upgraded as well.
"Our rural mail carriers are really great but being rural, things are delayed a few days and also they cost us more," he told the Beacon.
He says having a child with special needs had made the family reliant on postal services.
"Our youngest son has severe autistic spectrum disorder and we do rely on the postal service for delivery of certain items to help him with his special needs. We also still receive frequent communication from the Ministry of Health through the post.
"Up to this point, we have relied on having any urgent things delivered to family in town, which sometimes, in itself, can be a problem as we are not there to sign for stuff."
Mr Berghuis says some of his neighbours had their post sent to their businesses or workplaces, but not everyone had that luxury.
He started making enquiries a few months ago, to find out how to have the area re-zoned but quickly found himself being passed backward and forward between various entities
"Whakatāne District Council at first told me it was NZ Post's job to define boundaries, then NZ Post told me it was council's."
He's sure that this issue must have come up in other parts of the country and he wondered how they went about getting it changed. One of the people at the district council he contacted was geographic information systems manager Stephen O'Leary.
Mr O'Leary told Mr Berghuis that NZ Post were incorrect in sending him to the council as the council had no say in the rural/urban boundary definition. In spite of this, he did contact NZ Post himself on Mr Berghuis' behalf and eventually received the sought-after response.
While NZ Post has not stated that the change is due to Mr Berghuis' or Mr O'Leary's requests, the Beacon was told last week that "due to substantial development" some residential addresses in Coastlands, east of Ohuirehe Road, that had been previously categorised as rural, would soon change to urban, with 95 delivery points identified.
"While there has been a considerable amount of growth in the area, there were other reasons behind the change. One of those reasons was the amount and density of letterboxes in the area – which made it unfeasible for a rural delivery," says Whakatane Service Delivery Manager Kim Wilson.
Ms Wilson says it will take time for the change to occur.
"We hope to have the changes made by the end of October and want to thank Coastland residents for their patience."
Mr Berghuis says he's pleased the wider community will benefit from this change
"Living in a Covid world right now, there are many things far more important to be concerned about other than the mail, but my big thing was, if we are now urban why shouldn't it change?
"I want to give full credit to Stephen," Mr Berghuis says.
"He was the one from council who responded to my emails and actually followed up through NZ Post for me. Without him I would have probably had to send many more than the dozen or so I had already sent and I really appreciate the time he spent pushing an answer from them.
"And also thanks to Kim Wilson, who actually visited our area to determine if my request was justified."

More on SunLive...