Anglers gear up for new trout season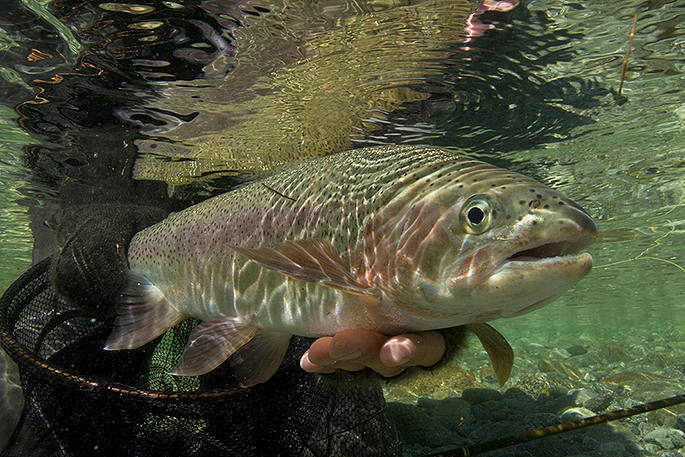 With the new trout fishing season just around the corner, anglers all around the country are busy preparing for a big day out.
Boats and all manner of fishing tackle is being readied for what many trout anglers consider the 'Christmas Day' of fishing.
The Rotorua lakes are a hot destination, especially Rotoiti, Okataina and Tarawera, where traditionally hundreds of people descend to spent time with friends and family and in pursuit of trout.
This season comes with a change in start date for Rotoiti, Okataina and Tarawera.
The Eastern Fish & Game Council have opted to commence the season on the first Saturday in October, that being Saturday October 2. The council hope this will enable people to fish the opening who wouldn't normally get that opportunity when the opening falls during the week, and with the hope of creating a carnival atmosphere of the day.
Other waters will open as normal on October 1 so anglers are recommended to check their regulation guides.
"Shallow trolling with a 'Tassie' and a smelt fly is often a successful way of beginning the day," says Fish & Game's Mark Sherburn.
"If it's sunny and there's lots of boat traffic, expect the fish to move a little deeper in the morning but initially begin in the shallows with mono or spin fishing gear and over the sandy areas where smelt can be found. A calm dawn can be an advantage because you can see the fish 'smelting' at the surface"
Mark suggests for later in the day, anglers adopt a deep fishing method such as trolling with lead line, wire line or a downrigger.
"It's hard to beat orange as a lure colour early in the season, or something with a touch of red and don't forget to try the 'old faithful' black and gold toby! Jigging too can work well early in the season with three flies- something darker on the bottom with two smelt flies above it is ideal."
Successful anglers are often those that try a few different methods and locations maintains Mark.
"Don't spend a long time doing the same thing if you aren't being successful, try another location, method or even simply another lure. Change things around until you find what's working at any time, and that applies to fishing right through the season"
Fish & Game remind anglers that it's worth investing time in some pre trip maintenance. Checking the boat and trailer is all ship-shape, life jackets are at the ready and everyone has their new season fishing licences which can be purchased online or from a local retailer.
"Anglers and other lake users need to think about the 'Check, Clean and Dry' message as we roll into summer also," says Mark. "Ensuring we keep waterways pest free is critical to our continued enjoyment of the resource and everyone needs to do their part.
More on SunLive...