Plastic plagues Omanu Beach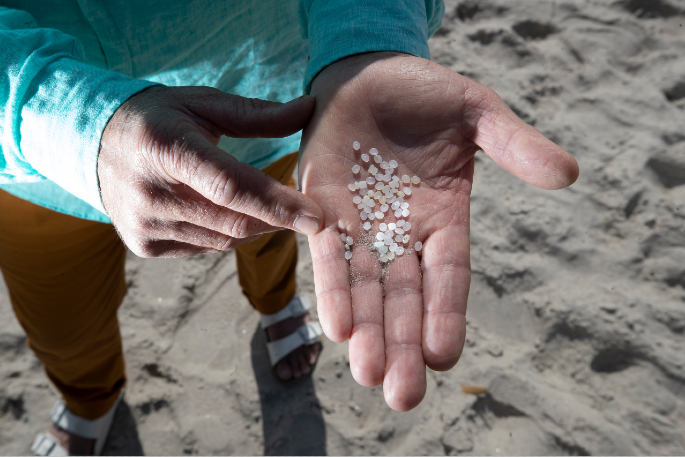 Tiny plastic beads that resemble sand particles are showing up on Omanu Beach once again.
Millions of the translucent beads, that are 2-3mm in size, line the high tide mark.
Willie Donovan has seen the beads while walking with his partner near their home this week, and notices them whenever there is a storm or high tides.
"We were down there again over the weekend and there are just millions of these things along the high tide line," says Willie.
They have seen them between 200 Ocean Beach Road and the Omanu Surf Life Saving Club, but Willie isn't sure how far they extend past that.
They look organic, like a fish egg, so they're hard to spot, he says.
"It's unbelievable how many are there when you start digging around. They're obviously all going to end up in the ecosystem, either via sea birds or fish."
Willie wants to know if there is process in place to remove the beads.
"I have not seen a single person on the beach cleaning up apart from local people," he says.
"Some locals will pick up a bread bag full of the pellets when they have a few hours to spare."
The beads don't appear to be breaking down either says Willie, although he's not sure if they're seeing the same pellets or new ones each time they're uncovered.
Bay of Plenty Regional Council compliance manager Stephen Mellor says after storm events council occasionally receive reports of plastic beads the beaches of Pāpāmoa and Mount Maunganui.
"When we receive reports of plastic beads within our region via our Pollution Hotline, we send a regulatory compliance officer out to investigate," says Stephen.
"Plastic beads have been a persistent problem in the marine environment for a long time, including before the Rena shipwreck."
Whilst it is unknown what the source of the beads are, the Rena was carrying a container of plastic nurdles when the ship grounded off the Bay of Plenty coast in 2011, he says.
"Given the beads are commonly noticed on the same beaches at the same locations, at the high tide line it is more likely that the plastic beads have become exposed with beach erosion rather than washing ashore from the wreck itself."
In terms of who is responsible for cleaning up the beads, Stephen says regional council is responsible for pollution events below the highest high tide mark.
One of the conditions of the resource consent for the Rena wreck to remain where it is was for a Shoreline Debris Management Plan to be developed, he says. This plan provides specific guidance and thresholds for council clean up responses.
Anyone who finds plastic beads along the coast can call the 24/7 Pollution Hotline on: 0800 884 883.
It is helpful if people can also provide a photo, so the volume of beads can be estimated and a compliance officer sent to investigate.
More on SunLive...