A tricky trade up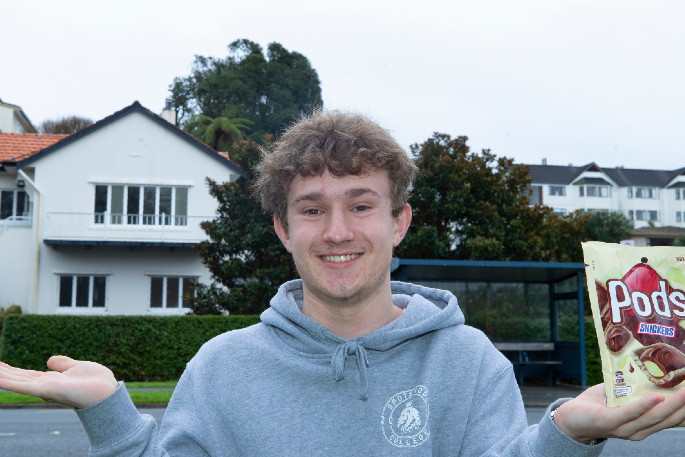 What do a paper clip and the tasty treat Pods have in common?
Both are being used as a trading tool to get a house.
Michael Gibbon is using a packet of Snickers-flavoured Pods as his first trade, in an attempt to trade them all the way up to a house.
Michael is studying in Tauranga, and during lockdown watched the video One Red Paperclip.
It shows how Canadian blogger Kyle MacDonald, through 14 online trades, bartered his way to a house in the course of a year back in 2005.
This inspired Michael to attempt to do the same, and a quick scan of his room revealed the hopefully sought after Snickers Pods, because the flavour has been discontinued.
"Considering how ridiculous the housing market is now, I might as well try it," says Michael. "It's worth a go."
The 18-year-old is in no rush to achieve his ambitious goal, and is quite happy for it to take up the entire time he is studying - another two-and-a-half years.
"I don't want to put stress on myself to try and do it in a year like the bloke from 2005.
"I think that's quite unachievable."
People are getting on board with his challenge, and so far he's had quite a few offers.
A lawn mower, wetsuit and snorkel set, broken bedside drawers and aquarium gravel are just a few of the quirky things he's been offered.
He has settled on a brand new digital photo frame for his first trade.
"I want to trade to something that's going to be quite easy to move on from," he says.
Michael is being tactical with his trades, ensuring the items he exchanges will be desirable.
"I think the guy that did it in 2005 was very strategic and had brilliant connections."
The Waikato University student is also documenting his journey through TikTok videos as well as Instagram, and is using Facebook Marketplace as his trading platform.
He plans to make a documentary from of all his videos once the challenge is complete.
Michael's dad is also on board with his vision but his mum is a bit more sceptical, saying he should be focussing on his studies.
"The main thing she said to me is 'nothing is free, there's always a catch'."
Michael has shown her Kyle MacDonald's video and brought her around a bit, he says.
The plucky teen will be quite happy if he doesn't end up with a standard house - it could be a portable cabin, tiny home or campervan so he can travel around New Zealand.
You can follow Michael's journey on TikTok @tradingpodstoahouse or Instagram; his account is tradingpodsforahouse.
More on SunLive...