Zespri kiwifruit tests positive for Covid in China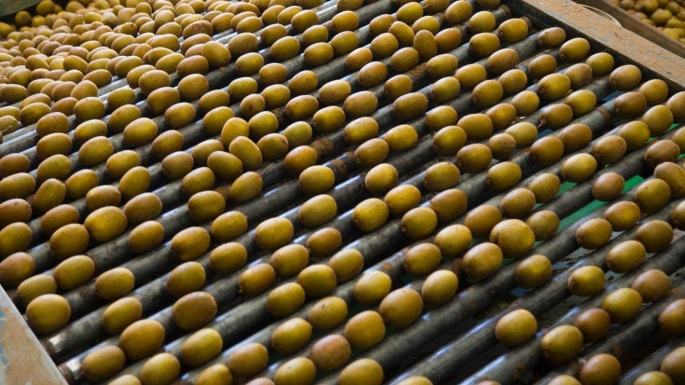 Zespri has launched "emergency management plans" after kiwifruit shipped from Tauranga tested positive for Covid-19 in China.
Samples from a batch of New Zealand kiwifruit being sold in a supermarket in the Jiangsu province of China had tested positive for the virus, according to a report published in the Global Times, a nationalist tabloid with strong ties to China's Communist Party, on Friday.
Zespri chief executive Dan Mathieson, in an email to the kiwifruit industry, confirmed it was Zespri fruit exported last month which tested positive, and all subsequent tests had come back negative.
"We are taking this matter extremely seriously and immediately launched our emergency management plans and actively cooperated with the relevant government agencies to trace the product shipment," Mathieson says in the email.
"We do expect some challenges from Chinese consumers and we are prepared to address those concerns directly.
"The New Zealand Government is also supporting us while our constructive relationships with authorities in Shanghai have also helped us as we have moved through the situation."
Mathieson says the fruit had been exported from Tauranga, where there is no community transmission of Covid-19, on August 16.
It had tested negative for Covid-19 in Shanghai, and was "disinfected as per standard China customs protocols before being cleared and distributed."
The positive test came from fruit held by a second-tier distributor in Hefei province, neighbouring Jiangsu province.
"While all subsequent investigative tests of the remaining fruit from the batch in stock have come back negative, local authorities in areas where the fruit was distributed have taken steps ranging from temporarily removing fruit from shelves through to testing customers who purchased fruit from the retail outlets where the affected batch was sold," the email reads.
"The team is working incredibly hard to manage the situation which is moving very quickly."
A Zespri spokesman says the company's exports to China would not be affected by the positive Covid-19 test.
The spokesman declined an interview request on the matter.
The Global Times reported the fruit had tested positive on Wednesday and the local health authority had immediately worked to identify "close contacts and sub-contacts".
"Control measures have been taken for the close contacts while nucleic acid samples of 14 staff and environment samples exposed to this batch of kiwifruit have been taken, test results were all negative."
Authorities were urging people who had been to the supermarket, or who consumed or handled fruit from the store between September 12 and 23, to comply with health measures.
Ministry for Primary Industries deputy director-general Julie Collins says the ministry had been notified of the issue by Chinese authorities on Friday afternoon.
"MPI has received contact from the Chinese authorities, they've also reached out to Zespri to see if they could assist in any way," she says in a statement.
She says New Zealand had strongly controlled Covid-19, and food manufacturers and exporters had hygiene measures in place.
"The scientific literature and experience of global public health authorities is that transmission by airborne droplets and aerosols is the dominant pathway for Covid-19 infection."
Trade and Agriculture Minister Damien O'Connor was aware of the matter and was awaiting more information, a spokesman for the minister says.
The Ministry of Foreign Affairs and Trade has been contacted for comment.
New Zealand Kiwifruit Growers Incorporated chief executive Colin Bond says today's news will be unsettling for growers.
"China is a very important market for our kiwifruit. We have a reputation for delivering the highest quality kiwifruit to the world," he says.
"We are confident that Zespri is taking this matter extremely seriously, reviewing processes and engaging with the relevant authorities."
More on SunLive...