Blindspott ready to reclaim rock throne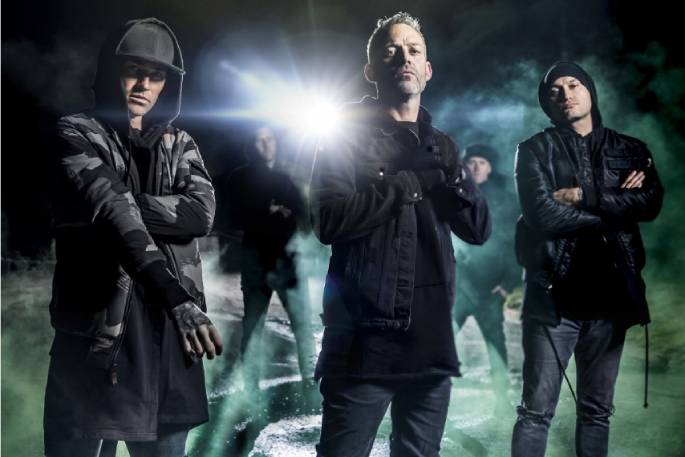 Today, multi-platinum New Zealand band Blindspott are releasing their first single in 15 years, and have announced a tour and a four-volume album.
The single 'R.I.P' is out today, Friday, September 24 and is the first music the band has made together in 15 years.
Whether you want to think of the song's title as "Rest in Peace", or as the lyrics actually say: "Rest in Pieces", Shelton Woolright, founding member and drummer in the band "don't give a f**k."
Sitting in a cafe in Mount Maunganui, which he has called home for the last three years since returning from 12 years in London, Shelton says the music might be created by the band - but it's the fans who "own it and take from it what they need."
"That is the beauty of music," he says.
"What might have been to the artist a particular concept such as a love song, might be interpreted by the listener as something else if that's what they need in that time in their life, and I want them to absolutely have that. Even if people are singing the wrong lyrics, keep singing them."
Shelton says the single reflects how the band has progressed from the era where their music was described as "nu-metal" in the early 2000s and matured to hard alternative rock.
The new music is a collaboration of the three original core Blindspott members who have been the creative engine of the band since the beginning - Shelton on drums, singer Damian Alexander and guitarist Marcus Powell.
"We all have our own connection to a song so we all collaborate in the writing process," he explains.
"It starts with myself and Marcus in a room to nut out the bones of the song so that Damian has a structure to hang melodies off. From that we identify what the chorus is and what the verses are. Then we go into the studio and have a jam from there. That's where we cement the structure. Then we will go in the studio and record."
He says it has been exciting to be writing the new music which is "our best work ever".
While Shelton says 'R.I.P' could be a love song, or a song about a break up, it is also a clapback to those who have put the band down or "talked s**t on us".
The ups and downs and internal fights in the band over the years have been well-documented but Shelton says it has made them stronger, and they have harnessed some of the "dark energy" from the past and used it as creative fuel for their new material.
"To those who say we haven't made new music in 15 years and doubt us, we have come back and we are confident that this is some of our best work," he says.
"I genuinely believe we have come back stronger from the songs from the last album we did way back in 2006. When people listen to our new music it is a reminder - we still own this shit. We are reclaiming our throne!"
The new single has already been getting many votes in The Rock radio's 1000 countdown, which is an incredible feat given that it has not been released or heard by the public until today.
"Blindspott songs always used to be the highest New Zealand music in the countdown - always in the top ten. But for people to be voting for R.I.P before they have even listened to it putting it already in the top 100 is fucking incredible, really cool."
The band have also announced a nationwide tour in December starting off on December 3 in Hamilton and finishing up in January at both Mt Maunganui and Nelson's Bay Dreams Festivals on January 3 and 5, 2022.
"We haven't had the luxury to play new music for such a long time. As much as we love our old songs and how our fans connect to them, it's going to be refreshing to play new music and build new memories with our fans."
Shelton says he thinks there is no 'typical' fan of the music.
"We have young people who have got into the music that their parents were listening to which is f*****g out of it. It's been an interesting journey getting back together. People have been coming up to me daily, and I think I am only just realising how much our music meant to people. Fans come up and tell us their life experiences that relate to our music, like a relationship breakup. I had a chat with a person recently whose friend had passed away and they played Blindspott at their funeral. And at weddings too! It's a privilege to create music that is significant in people's life stories."
Shelton has also gathered new fans from his other musical ventures - I Am Giant, which Shelton formed in London in 2014, and Deadbeat, which has a huge loyal following for his high energy sets with theatrical performances in stage make-up.
Alongside the first new Blindspott single, a four-part album is on the way. Breaking the traditional way of releasing albums, the album will be released in four volumes each with three songs. The first volume is due out late October, 2021.
"It is our answer to how people consume music today," Shelton explains.
"Nowadays, if you put out an album, people tend to cherry pick and put some songs on a playlist. It's a shame in a way, as people miss out on a lot of the songs. So by releasing a four part album with three songs on each one, people get to absorb and enjoy each song more. Plus it keeps us fresh with new material to deliver on tour."
While the album's first volume is written and ready to go, Covid-19 restrictions have put delays on some of the music.
"I need to get up to Auckland to the studio for some sessions with the boys to put some finishing touches on the tracks but can't at the moment, but we will get there."
After New Zealand's last lockdown in June 2020, the band re-released their iconic self-titled first album 'BLINDSPOTT' on vinyl which went straight into the charts at #1 - making them the first band in New Zealand music history to have an album debut at #1 twice.
Fans can celebrate Blindspott's return with all the much loved songs as well as the new music when they hit the road this summer with their nationwide tour.
"We can't wait to get back on the road, it's our life blood. That is what I am so looking forward to - playing for the fans. Blindspott is back to take the f*****g throne!"
Blindspott – NZ tour
Friday, November 26 - Spark Arena, Auckland (The Rock Big 30)
Friday, December 3 - The Factory - Hamilton
Saturday, December 4 - Fly Palmy Arena - Palmerston North
Friday, December 10 - Glenroy Auditorium - Dunedin
Saturday, December 11 - Christchurch Town Hall - Christchurch
Tickets available HERE
Monday, January 3 2022 Mt Maunganui Bay Dreams Festival
Wednesday, January 5 2022 Nelson Bay Dreams Festival
Tickets for Bay Dreams are at https://www.baydreams.co.nz
Listen to the new single HERE and watch the video here.
More on SunLive...