Arataki rezoning win for school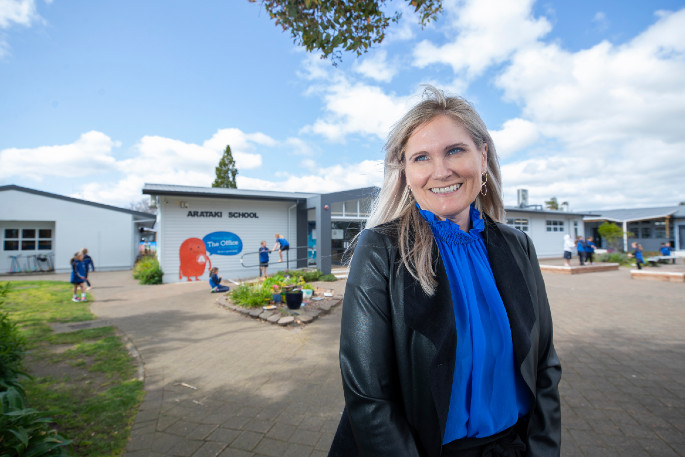 Teachers and parents in Mount Maunganui are celebrating after school rezoning plans were altered in the Arataki area.
Rezoning proposals put forward earlier this year regarding Arataki School would have seen the school's zone lose the area behind Bayfair, between Taupo Avenue and Concord Avenue, and most of Mangatawa.
The changes were made as the Ministry of Education look to accommodate ongoing and projected population growth in the area, as well as the opening of Te Manawa ō Pāpāmoa School next year.
However, losing part of the Bayfair area and Mangatawa was controversial, with familial and historical links meaning many parents wanted children from those areas to attend Arataki.
After a petition was launched and following extensive consultation between schools, the board of trustees, the Ministry and concerned parents, the rezoning plans were altered.
Mangatawa will now remain in the Arataki School zone, whilst a shared zone in the Bayfair area will operate with Omanu School.
"We are really happy because we have got historic connections with Mangatawa," says Arataki School principal Shelley Blakey.
"The shared zone with Omanu is still going ahead, but we have still retained our whole zone. Shared zones can be tricky, but it is still a much better outcome than losing it completely.
"This way it means families that want to stay with us can. It is a brilliant outcome and we are really happy."
Shelley was quick to praise the work of the Ngā Pōtiki, school whānau, the local community, principals at other schools and the board of trustees.
She also thanked the Ministry for showing flexibility on the initial plans.
"It just goes to show that the Ministry was willing to listen and work with us, which was really positive," she says.
"It means at the next review, in three years' time, it should be a different experience for us - a bit more collaborative."
Shelley recognises the difficulty the Ministry has with catering for the growing school population in Tauranga and the surrounding areas. But she is happy that they attended every hui on the rezoning issue and were responsive to concerns raised.
"It is a tough job on their part," she says.
"Putting lines on a map and dividing up areas looks fine. However, when you are dealing with people it is different.
"They were really good to work with us and it is a fantastic result."
Helen Hurst, the Ministry of Education's deputy secretary sector enablement and support, says that all 11 of the new and amended enrolment schemes for Mount Maunganui and Pāpāmoa have now been completed, with Arataki finalised last month.
"The proposed changes were to accommodate a number of changes to the education landscape in Mount Maunganui and Pāpāmoa and to ease enrolment pressure across both catchments," says Helen.
"Following consultation on the proposed schemes, and with the cooperation and collaboration of principals and boards as well as guidance from iwi, it was agreed that the Arataki School zone would remain unchanged."
But whilst Shelley is thankful of Helen and the Ministry's flexibility on the issue, others remain disappointed.
Vicky McGreal is a parent of two children at Arataki School and is chairperson of the Arataki Friends of the School organisation. She was a pivotal figure behind the petition and is thankful to the community, Shelley, the Board of Trustees and the other school principals for their support.
However, whilst Vicky is pleased with the eventual outcome, she remains disappointed in the Ministry process that led to it.
"I feel great about the decision," she says.
"It's the best outcome for a process by the Ministry that didn't initially consult with our wider Arataki whānau to begin with."
She says the community is upset at what they deemed as an initial lack of consultation - especially within the two primary areas that were to be impacted.
"It caught us off guard, which is why we knew we had to speak up," she says.
"Some of these families have generational links to Arataki School and are living in an area with skyrocketing costs of living, just so they can keep their children in the school.
"I'm pleased with the outcome, not necessarily the authorities."
More on SunLive...