Damage reports after 5.8 magnitude Melbourne quake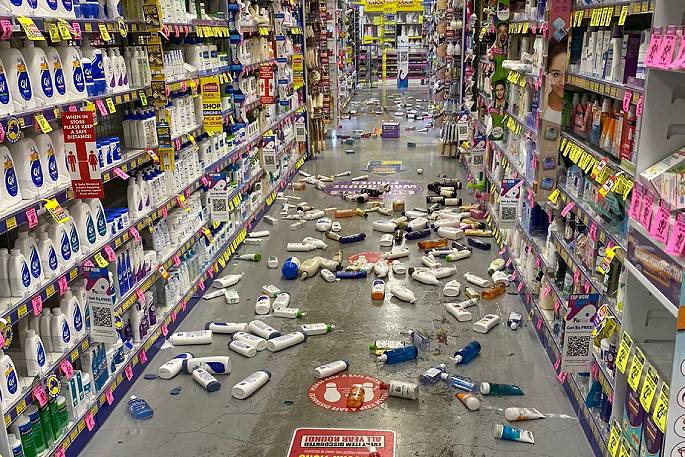 A magnitude 5.8 earthquake has rattled Melbourne this morning with reports of damage in the city and across Victoria.
Geoscience Australia said the earthquake was 10km below the surface about 150km east of the city.
The initial quake was felt 190km away in Melbourne, as well as in regional Victoria, Sydney, regional New South Wales, the ACT, Adelaide and Launceston in Tasmania.
Geoscience Australia said the quake was potentially the largest earthquake in eastern Australia, at least since European settlement.
A magnitude-4 earthquake was recorded by the agency nearby about 15 minutes later.
There are reports emerging of significant damage in some parts of Victoria, the ABC said.
Fire and Rescue NSW said there are no reports of major structural damage in New South Wales.
A resident in Victoria told SunLive he was in bed when the earthquake struck.
Dean Van Rysbergen, who lives in Warragul, says it was just a big rumble and the house was shaking.
"I was lying in bed, so I didn't get to see how it was outside.
"I quickly got up and pictures on the wall and pans sitting beside the kitchen sink were shaking."
​Dean says it lasted a minute or two.
Expert says aftershocks could continue for months
Seismology Research Centre head Adam Pascale said the epicentre of the quake was north-east of Aberfeldy and the Thomson Dam in the Alpine National Park.
"We are still refining it, but we think it's a magnitude 5.8 potentially at this point in Gippsland," he told ABC Radio Gippsland.
"It shook here in the northern suburbs of Melbourne for about 15-20 seconds so it's quite a significant earthquake."
Pascale warned there could be aftershocks to come and they could continue for months.
"There is a small likelihood that there could be a larger event but we'll see as we go," he said.
"The main things for people to remember is if they do start to feel some shaking. There's usually a primary and a secondary wave.
"The primary wave will give you a few seconds to get under a table and hold on."
-Additional reporting from RNZ.
More on SunLive...