Spot in red light district has bird's eye view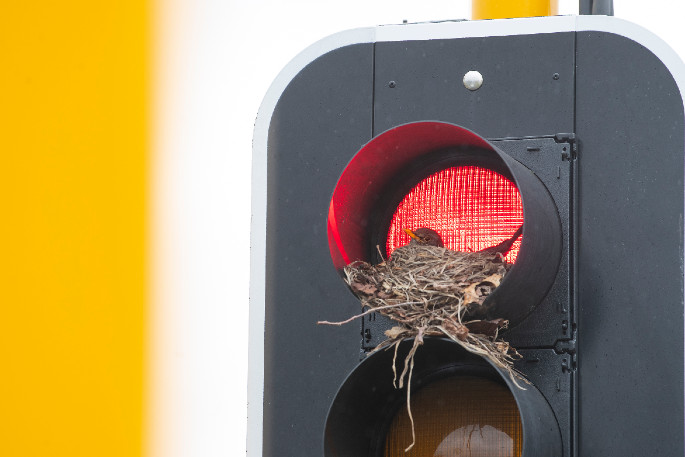 Vivien Knap was heading to her favourite coffee spot this week when she noticed that a bird has set up home inside a red traffic light at the Greerton roundabout pedestrian crossing.
Last year a blackbird was nicknamed Whero by Jannine Spiers, who first spotted it had built a nest in a red traffic light. Vivien had wondered if it would return this year.
"I looked up and, lo and behold, there she is," says Vivien. "This time she is facing the other side, towards town.
"Her little tail is perked up, as if she's saying 'hey I am in my top floor penthouse in Greerton Village'. Talk about a bird's eye view."
Last September Jannine named the bird Whero, meaning 'red', commenting at the time that 'a bird has moved into a red light district'. The name has stuck. Hundreds of motorists were able to observe Whero's nest when stopped at the traffic lights, including Vivien.
"I used to drive though in the morning and at night saying 'hello Whero' and 'good bye Whero'," says Vivien. "She sat up there looking so proud.
"After mid-September we were driving through and the next minute out came a little bird, flying from Whero's nest onto our bonnet.
"Luckily we were going very slowly. There was quiet a lot of traffic, so I drove at about zero negative miles per hour around behind where Winz used to be, and took the birdie over to the tree. I came home and took it back some food."
She's delighted to see that the bird is back.
"I get my coffees from McDonalds, on my regular 'to and froms'. When you go past during the day there's so many cars that you don't have time to stop and look."
The bird is thought to be a Eurasian blackbird, first introduced to New Zealand from 1862. The NZ Birds Online website states that blackbird eggs are laid from August to December. Three or more clutches of three-to-four greenish-blue eggs may be laid during a season. Incubation is shared by both sexes and takes 13-14 days.
When the lights turn red, Vivien is able to stop and look up at the bird.
"I must admit it is lovely to see. Everyone needs a bit of lightening up."
More on SunLive...