Covid: Waikato locations, truck driver wore mask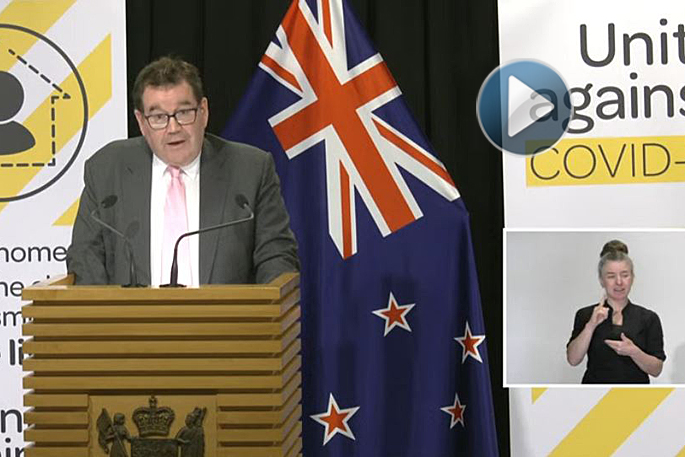 There are 11 new cases of Covid-19 in the community today, all of which are in Auckland.
Deputy Prime Minister Grant Robertson and Director of Public Health Dr Caroline McElnay are providing an update on the current Covid-19 outbreak.
Public health officials are continuing to investigate locations of interest from the Auckland-based truck driver, who came to Tauranga as part of his essential work earlier this month.
He visited Tauranga on September 11 and 14.
Three locations of interest in the city have since been identified.
Those who visited the locations are being asked to self-isolate for 14 days. Read more here.
McElnay says that they have been advised the truck driver wore a mask and maintained social distancing protocols at those facilities.
More locations of interest are likely to be added in the Waikato today and the truck driver is said to have visited a number of supermarkets in the Bay of Plenty - as well as Waikato and Auckland.
McElnay explains that the reason why the supermarkets visited by the truck driver have not been released as locations of interest is due to the nature of visits to those sites being for delivery purposes, in areas where the general public are not regularly present.
Staff who may have interacted with the truck driver have been stood down.
The truck driver has been transferred to a managed isolation facility with their partner.
The truck driver was a household contact of a positive case which has recently been discovered. He was tested as a result, and returned a positive result.
Robertson confirms that the truck driver travelled to the locations of interest prior to being aware of a household member becoming symptomatic.
"Obviously the locations of interest fell in the middle of that period," he says.
Further locations of interest have been added throughout the Waikato region and Auckland which are as follows:
• Z Bombay, on the Mill Road & Great South Road, Bombay, on Saturday, September 11 between 5:35am - 6:35am

• Z Hautapu Cambridge, on Victoria Road, Cambridge, Friday, September 10 between 9:40am - 9:42am

• Maramarua General Store, on State Highway 2, Maramarua, on Saturday, September 11 between 1:25pm - 2:40pm

• Ngatea Lotto & Foodmart Ngatea, on Orchard West Road, Ngatea, on Thursday, September 9 between 12:10 pm - 1:20 pm

• Tuck Shop Cambridge, 18 Albert Street, Cambridge, on Wednesday, September 15 between 8:50am - 10:00am

• GAS Paeroa, 25 Puke Road, Paeroa, on Thursday, September 9 between 11:20am - 11:28am
Those present at these locations at these times should self-monitor for Covid-19 symptoms for 14 days after being exposed at the location of interest. If symptoms develop, get a test and stay at home until you get a negative test result and until 24 hours after symptoms resolve.
The 11 new community cases announced today takes the total of cases in the current community outbreak to 1007. Of those, 542 have recovered.
There are nine epidemiologically linked subclusters. The three largest subclusters are the Māngere church group: 384; and Birkdale social network cluster: 79; secondary community transmission associated with the Māngere church group 164.
Currently, there are ten epidemiologically unlinked subclusters.
There are 14 cases currently in hospital, three of which are in ICU or HDU.
Yesterday's total of 13 community cases has since been updated to 15, due to a small lag in data reportage.
Robertson also announces that the Trans-Tasman bubble pause, due to end next Friday, will, as expected, be extended.
Tune into the livestream above to see what other developments there have been today.
More on SunLive...