Joining forces to preserve the environment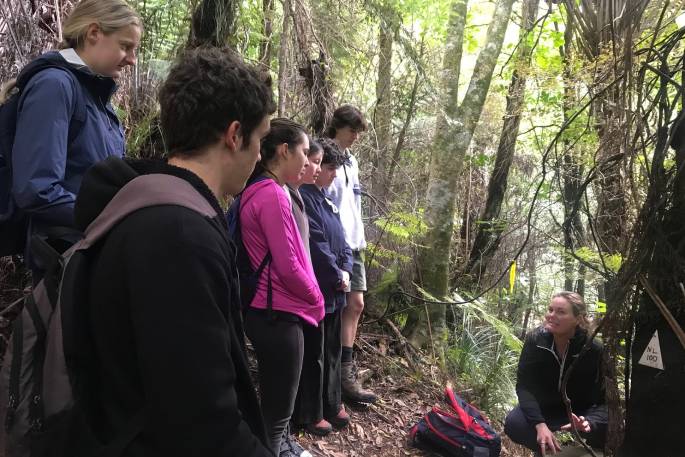 Climate change and the forest was the focus of a field trip at Aongatete recently.
Tauranga Sunrise Rotary, Bay Conservation Alliance and students from local high schools, joined forces to learn about the pressure on the NZ bush from introduced pests and predicted climate changes.
When Rotary International introduced a new environmental focus last year to add to the international service organisations' six other causes, Tauranga Sunrise created their own environment group and have developed several new initiatives.
One such initiative saw Tauranga Sunrise linking up with Isaac Jarden from School Strike 4 Climate Bay of Plenty to put together a series of events, organised outside school time, specifically for young people.
The aim is to support youth working hard to raise awareness of climate change and associated environmental challenges.
The events provide opportunities for students to demonstrate their commitment and convey powerful messages about the urgency of action to ensure planet Earth remains liveable over decades to come.
"These are dedicated, articulate high school students who represent the demographic likely to be most affected by climate change in the future so deserve to be listened to," says Michele Beaton from Tauranga Sunrise Rotary.
"We want to provide opportunities for them to demonstrate their concern through their actions and we all know actions speak louder than words."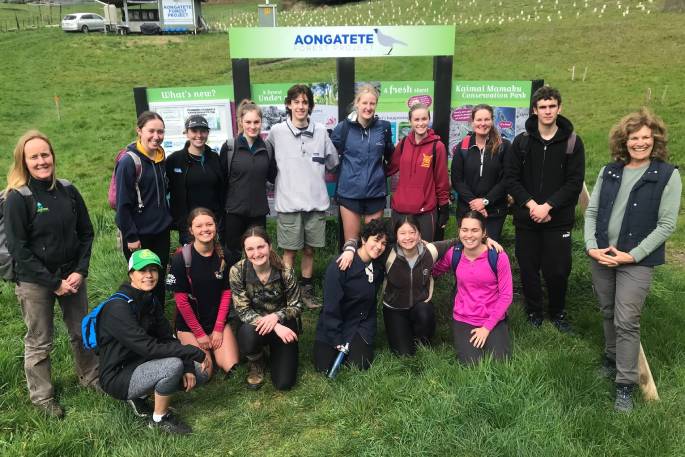 Aongatete conservation week field trip group.
Conservation week was the ideal time for an event in the bush, doing some conservation volunteering with Bay Conservation Alliance education team, Janie Stevenson and Emma Cronin.
The students from Papamoa, Tauranga Girls', Aquinas and Otumoetai colleges tramped along a forest track and tried their hand at setting a variety of predator traps that are common in conservation areas.
They also helped put plant guards around the newly planted natives at Aongatete Forest Project to protect them from rabbits.
There was lots of discussion on the evidence of climate change impacts on our native forest landscapes across New Zealand.
Stoats moving to higher altitudes due to higher temperatures and forest soils being lost during heavy rain were just two examples discussed during the bush visit.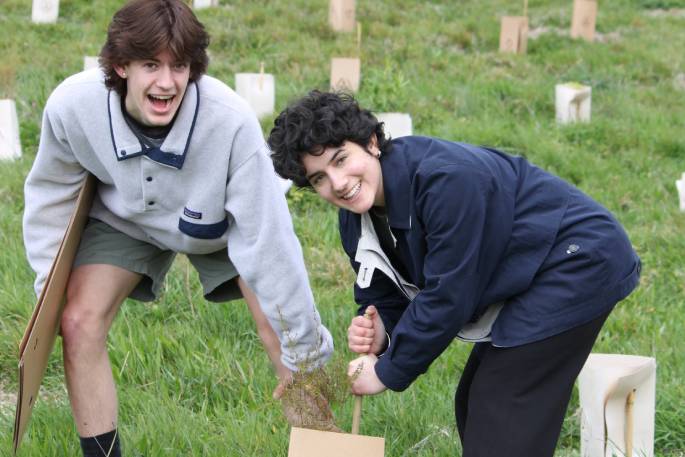 Isaac Jarden and Santiago Sanchez protecting a new tree with a plant guard.
"Our native environments all across Aotearoa are under attack due to the impacts of the climate crisis and introduced species," says Isaac Jarden from Schools Strike 4 Climate Change Bay of Plenty.
"It gives me a lot of hope to see the work done by awesome groups like Aongatete Forest Project to protect our bush and our taonga species. I, along with all of the other rangatahi who attended this event, left feeling inspired."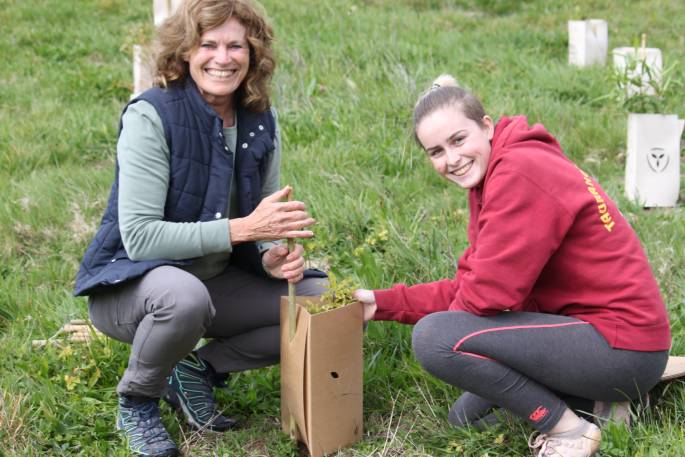 Michele Beaton and Riley Andrew placing a plant guard on a young native tree.
More on SunLive...