The highs and lows of quarter horse breeding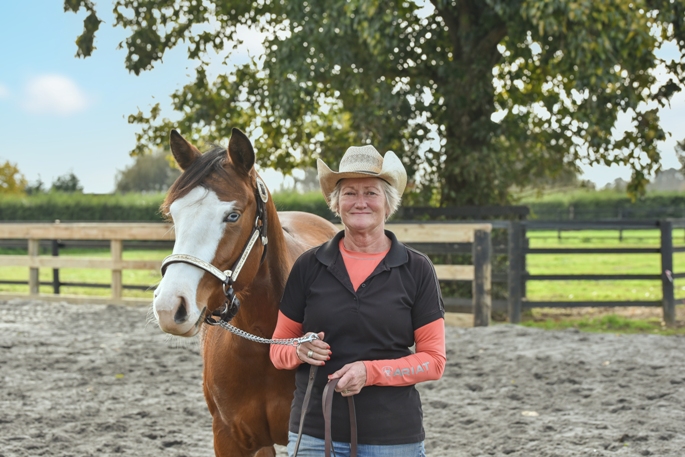 Breeding Quarter horses has been a rollercoaster ride for Adrienne Hodgson from Ohaupo.
Raised on a drystock farm in the far north, Adrienne rode as a child, doing stock work, Pony Club and eventing. Adulthood brought her to Auckland city life, and a business with her husband Robert.
"When we moved away from the business, I seized the opportunity to get a lifestyle block and a horse," says Adrienne.
She saw her first quarter horses near their new Kumeu home.
"Four women were riding, doing all sorts of cool stuff, and the horses were so calm and controlled."
The American Quarter horse is named for its ability to outrun other horse breeds in races of a quarter mile or less. Its distinguishing features include great speed over short distances, a short, refined head, muscular body, broad chest, and powerful rounded hindquarters.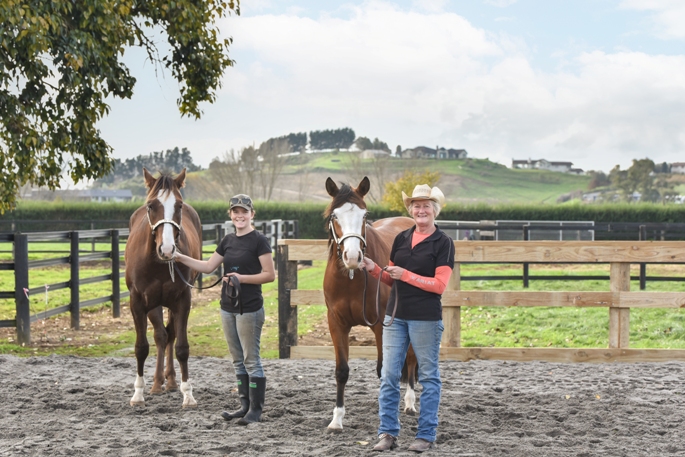 Lani Eccles (17), left, with AF Today's the Day, one of the farm's first offspring from the famous CP Surely the Best (Diesel) and Adrienne Hodgson, right, with one of her promising young horses, Gona be a Kiwi. Photo: Catherine Fry.
Entering the scene
After being invited to a club day, Adrienne really wanted to compete in the American western style riding sports scene, which includes classes such as reining, trail and pleasure riding.
Realising her Clydesdale cross wasn't the right horse for this sport, she bought her first trained Quarter horse in 2002 and Robert also starting riding.
"You need horses with a great temperament for this sport," says Adrienne.
"We wanted to breed our own, importing quality semen, and improving the New Zealand bloodstock."
The couple imported a mare and a weanling from Coronation Park Stud in Australia, and Argent Farm Quarter Horse Stud was born.
She Makes Me Happy won everything as a yearling. Tragically she was injured in a storm and had to be put down, leaving them both devastated.
After going to the 2012 American Quarter Horse Youth Association games in Germany, and seeing the "magnificent, versatile" horses competing there, they decided to try again.
"I'd been studying bloodlines and could see what needed to be introduced into New Zealand."
Coronation Park had been importing semen from RL Best of Sudden, a top stallion at Masterton Farms in Tennessee, USA. Using artificial insemination and embryo transfers, they were breeding with some of the own top USA imported mares.
"I wanted a foal by RL Best of Sudden, from their top mare, Sure a Pretty Blaze. CP Surely the Best, known as Diesel, was born on October 31 2012."
As a rising two-year-old, Diesel won everything in New Zealand, and was sent to TNT Training Stables Australia, where he won everything as a rising three and rising four-year-old.
The Hodgsons moved Argent Farm Quarter Horse Stud to the Waikato in 2013.
"We decided to bring him back to New Zealand to give him a break and collect semen."
Masterton Farms approached the Hodgsons to buy Diesel for their own breeding programme. He went to one show on the 2018 Arizona Sun Circuit and won many classes.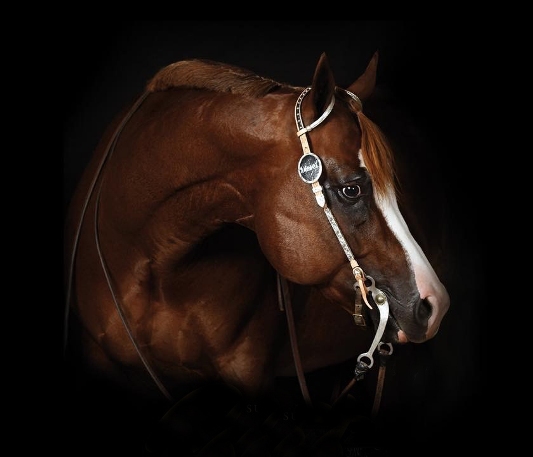 CP Surely the Best, known as Diesel, who sadly passed away young. Photo: supplied.
Another blow
Only four months after his arrival in the USA, tragedy hit once again, and Diesel passed away after a complication during colic.
"It was such a loss to us personally, but also to the Quarter Horse industry."
Both Masterton Farms and the Hodgsons had collected semen prior to his passing, and both now have foals on the ground from him.
Argent Farm also have two outstanding stallions to add to their own breeding programme.
QXH Stylish Jazz, from Xtreme Quarter Horses in Australia joined the stud in 2014 as a yearling.
"He is a very successful reining stallion, and excellent amateur horse, and spent time competing in Australia."
Adrienne has had semen collected from him, and he has now been gelded, so he can continue competing around mares.
"We bought HF Somethin Hot, from Australia in 2018. A mild temperament pleasure breed with a great reputation, including eight years in a row as the Leading Quarter Horse Sire in Australasia.
"He's known as the "great improver" as whatever mare he covers, results in a good horse."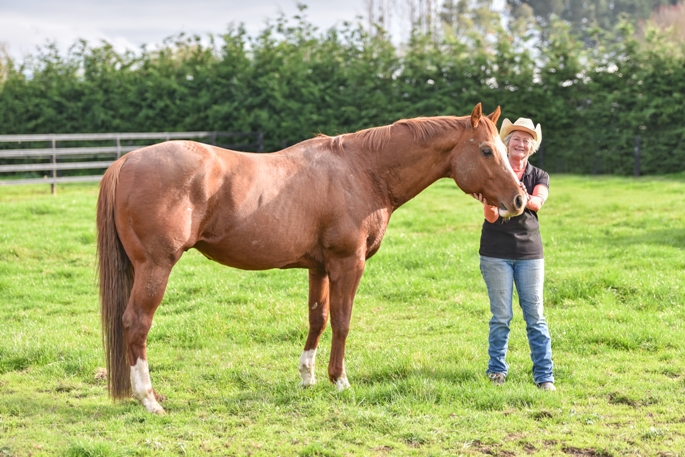 Adrienne with her pleasure breed stallion AF Somethin Hot, known as "the great improver" and still being used for breeding at 20 years old. Photo: Catherine Fry.
At 20 years old, Sam as he is known on the farm, is still used for breeding, and ridden occasionally by Adrienne.
All breeding is carried out using artificial insemination or embryo transfer at Equibreed.
"We never live serve with a stallion as they are too valuable to risk them getting injured by a mare during mating."
Adrienne is starting to train her first offspring from the semen collected from their beloved Diesel. She has six good breeding mares which have world-class bloodlines.
In March 2021, the Hodgsons moved to a 33-acre property at Mystery Creek outside Cambridge.
The ex-racing stables has a substantial stable barn, and within two months the Hodgsons have added an arena and a covered round pen.
Adrienne and Robert can now concentrate on their breeding programme and training their horses. Their facilities also allow for others to come and ride there, and experts to put on workshops and clinics, strengthening the New Zealand Quarter horse industry that has been such a huge part of their lives.
More on SunLive...