Security fall back after NYE riot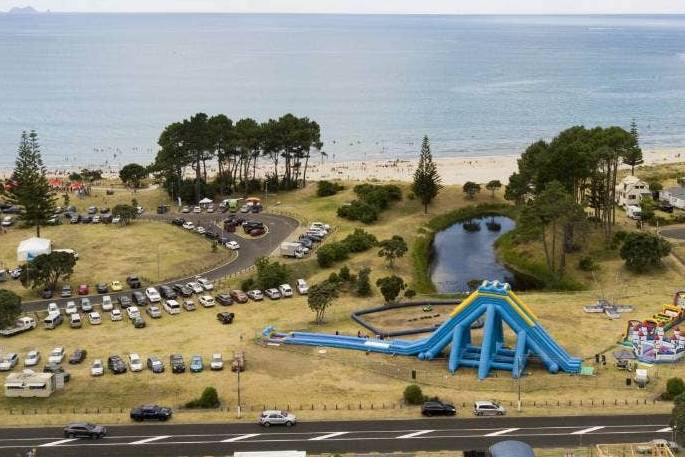 With an event to entertain troublesome teens now a flop, Whangamatā is falling back on security to cushion the blow of potential New Year's mayhem over summer.
Whangamatā Community Board members met recently to discuss employing security guards over the two most disruptive nights in the town, December 30-31.
While this discussion is an annual event, the need is extra poignant this year after an increased amount of vandalism last year, the worst of which saw a mob of drunk teens riot through Williamson Park, vandalising property and shooting fireworks at police.
Whangamatā board member Dave Ryan says while it's not council's job to "babysit" troubled youth, staff are going back to the drawing board.
"We have a responsibility to ensure the safety of council property, and that is the purpose of having the security guards over two nights to ensure that is maintained, but obviously we also have a much bigger issue here," Ryan told Stuff.
As a volunteer firefighter, Ryan was on duty with his brigade the night of the riot. He and the crew attended six incidents, most of which involved young people "worse off because of liquor".
A bourbon bottle thrown at the fire truck just missed the driver and hit the mirror, he says.
"Obviously that was just absolutely ludicrous behaviour."
It was the same night hundreds of young people caused major disorder outside Blackies Cafe in Williamson Park.
Bottles thrown into the crowd inflicted head injuries on a couple of girls, prompting police to use riot gear to disperse the crowd.
The disorder caused significant damage at the park, but other sites were also affected including Port Rd, Ocean Rd, The Esplanade, Achilles Ave, Lowe St and Island View.
The aftermath saw $3059 being spent to replace 18 damaged or stolen signs, $4895 on removing debris such as broken bottles from the road, and more than $200,000 for repairs to the nearby toilets.
In a bid to stop the same thing happening again, locals suggested that a DJ or concert might keep youth vandalism at bay, but that landed nowhere.
"When we looked at the costs of the only event company that applied, we found it was way out of our budget to put a function like that on."
Ryan says community members and the board were looking at other alternatives.
"It's disappointing, but it's also not our job to babysit youth. There's a very fine line [between] what we can do and the responsibility of parents.
"For now, all we can do is safeguard the assets we have."
The board was required to approve one of the following options: Not supply security guards for the protection of council assets in Williamson Park; supply security guards for the protection of council assets for two nights on December 30-31 costing $13,180; or supply security guard for three nights, December 29-31 at a cost of more than $14,987.
The board approved employing 10 security guards over two days from the Contract Community Services budget.
More on SunLive...