Celebrating a year of new opportunities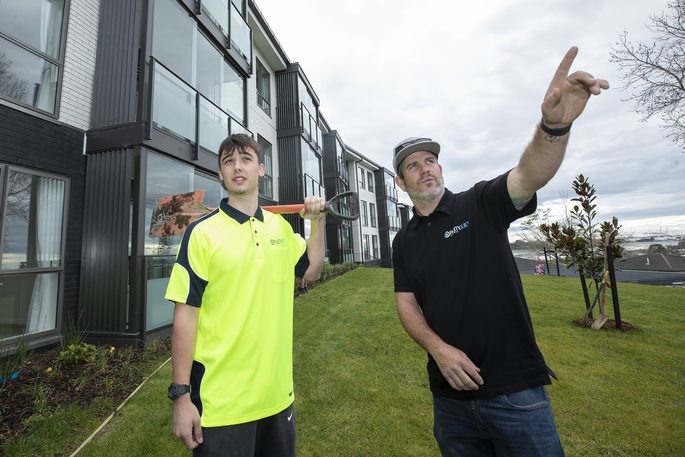 The mundane task of core drilling isn't something many tradies jump at, but Ethan Harris is quite happy to get behind the tools.
He is currently carrying out a plumbing apprenticeship and gets excited about work each morning. Even core drilling, which he describes as "good fun".
"It's real cool because you come to work every day and you learn something new," he says. "It's all about problem solving."
The 18-year-old landed the apprenticeship through the Imagine Believe Achieve (IBA) programme; a 13-week training programme run by the Bay of Plenty Youth Development Trust for 15-to-24-year-olds who are not currently employed or in education or training.
Ethan was a couple of weeks into the programme when he got the opportunity to do a one-week trial with Plumbuilt Plumbing Services. Due to his work ethic and honesty, it became a five-year apprenticeship.
He says if it wasn't for IBA, he wouldn't of had the contacts to land a trial with a plumbing company.
"I was super keen to get a job, and my goal has always been to be a tradie," he says.
Plumbuilt operations manager Damien Banks says IBA doesn't just put anyone up for a placement. They ensure they're the right fit for the job.
"I'm happy to recommend IBA to absolutely anyone," says Damien. "They're placing these kids in the right areas - that's the biggest thing.
"I think gateway programmes like IBA are the best steps forward."
IBA has been running for a year and has supported 51 young people across four intakes - 26 of which have been placed into employment, further education or training, including apprenticeships. There are 15 participants still going through the fourth intake.
Programme facilitator Andre Jay says one of the key things that makes the programme successful is having trust and connections with the participants.
"If they don't trust you and wholeheartedly believe in the process and who you are, it's not going to work," says Andre.
The other is the follow-up care facilitators have with the youths and employers for up to a year after they finish the course.
When they first place someone in employment, a facilitator will help them prepare for their first day, then have daily check-ins for the first week or two, says Andre.
This will be followed with weekly catch ups with both the employee and employer, and facilitators are always available to help.
"We can identify most of the barriers that potentially could be issues, rather than the kids having to go through it themselves," says Andre. "That seems to work really well."
IBA general manager Rebecca Roe agrees.
"If we did not provide support, some of our young people could get stuck over what we may see as little things," she says.
Some of those things could be about being sick, a family bereavement, or knowing how to raise things they might be struggling with, like their mental health.
IBA works closely with other organisations in the region, including Ara Rau employment hub, police, colleges, central government agencies and Good Neighbour.
"Our collaboration with the Piritahi Youth Collective enables good links with a wide range of youth providers and agencies across Tauranga and the Western Bay of Plenty," says Rebecca.
More on SunLive...