Pets fall victim to housing crisis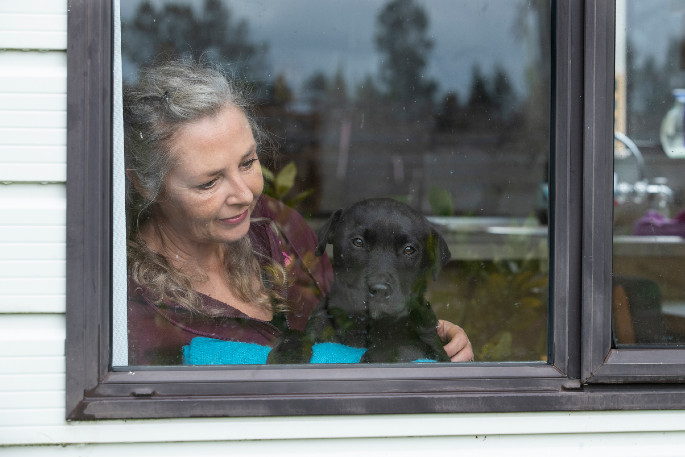 Pet owners are having to make heart-breaking decisions and choose between having somewhere to live and keeping their furry friend.
In some cases, pets are having to be euthanised because their owners have no other option.
"Dogs are literally being put to sleep because people can't find houses to have them," says Rescue Revive Rehome canine team leader Ronnie Mcallum.
The lack of rentals that allow people to have pets is tearing families apart because pets are family too, she says.
Ronnie says the animal rescue organisation gets at least five requests a week for rehoming pets, and around 80 per cent of those requests are because owners can't find somewhere to live that allows animals.
"I've lost count of the number of people that I've had standing on my driveway, handing over their dogs in floods of tears," she says.
One woman was so desperate she had been living in her car for six months with her two dogs because she couldn't find a home.
Ronnie and RRR helped her rehome one of her dogs, and the other went to the SPCA.
When Ronnie called her, she was in tears because she was at the vets speaking to them about having her dog put down. He has since been rehomed and his new owner is besotted with him, says Ronnie.
"People aren't being given a chance and there's lots of things that landlords and property managers can do," she says.
Some of those things are having a bond for pets, requiring renters have pet insurance and reference checks for pets.
"Pets aren't any more devastating to your property than kids," she adds.
One of the rescue's foster carers owns rental properties and she allows pets. She has told Ronnie renters with pets are often better tenants.
"People recognise the value of having somewhere that allows them to have pets," says Ronnie.
"Most people with pets are actually more conscientious, will look after your place better and will stay longer because they understand how lucky they are."
Ronnie says RRR's goal is to "prick the conscience" of property owners and property managers and get them to understand the issue from a tenant's perspective.
"It's their investment," says Ronnie, "but the people renting are paying to have a home for their family and their family includes their pets."
RRR is now in a difficult position because they can't take any more rehomes and are having to say no to people.
Ronnie says some people then turn to social media to try and rehome their pets, which is worrying because background checks and scrutinising the people taking on the new pets isn't as thorough as it would be through an organisation.
"Pets are often the forgotten victims of the housing crisis," she says.
More on SunLive...