This job's just the ticket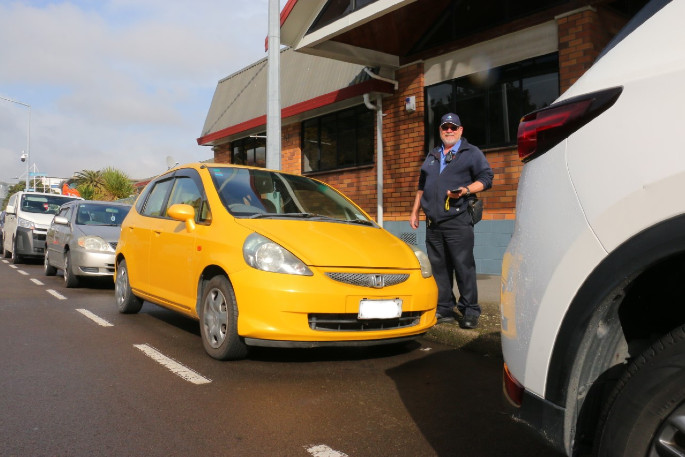 It was supposed to be just a fill-in job, to keep the pennies rolling in until something else came along.
But, 25 years later, Peter is celebrating a milestone of employment as a Tauranga City Council parking officer.
Peter joined Tauranga City Council in July 1996 after previously working as a tour bus driver across New Zealand and Europe. It was a job which afforded him the opportunity to meet many people from various walks of life, including his wife - a passenger on one of his tours.
After starting a family in Queenstown, Peter moved back to the North Island to be closer to relatives in Auckland.
He then found himself in need of a vocation more conducive to parenthood and married life. That's when the chance to become a parking officer materialised.
Peter did not envisage being in the same role a quarter of a century later, but working for the council has been a pleasure.
"This became available and I thought 'it's an earning, an income, until I find something else'," says Peter, with a chuckle, realising "something else" never tempted him away from his current role.
"But the council is a really good employer. They look after you. You do your job and you get looked after."
Last month, Peter's long-serving commitment to the city was recognised during a council meeting, with council commission chair Anne Tolley praising his "outstanding" longevity.
"What I get, from the discussion around you and this length of service, is that your knowledge and the way that you have conducted yourself in your role has been greatly valued, not only by your team and Tauranga City Council, but by the public at large," she says.
"You have treated them with respect when doing quite a difficult job on behalf of everyone."
During our chat, it became clear that Peter has undoubtedly become a well-known figure in Tauranga's CBD. Plenty of head nods, good mornings and knowing smiles are aimed in his direction.
It's the part of the job he likes best.
"I love being around people and chatting to people," he says.
"I am a parking officer and obviously I have got to do my job. But if I can educate and help people along the way to understand the system, that's much better. Everybody wins."
Of course, divvying out fines to the general public can, on occasion, make this a difficult job.
In the 25 years since Peter started, technology has helped make the role safer, with body cameras and man-down devices providing peace of mind.
But those advances still pale in significance to the best possible deterrent - Peter's sunny disposition.
"The trick is to just treat people how you would want to be treated," he explains.
"Sometimes just a friendly word or comment lightens the load a bit.
"Just keep it light. There is too much anger in the world."
More on SunLive...