LIVE: Eleven new Covid community cases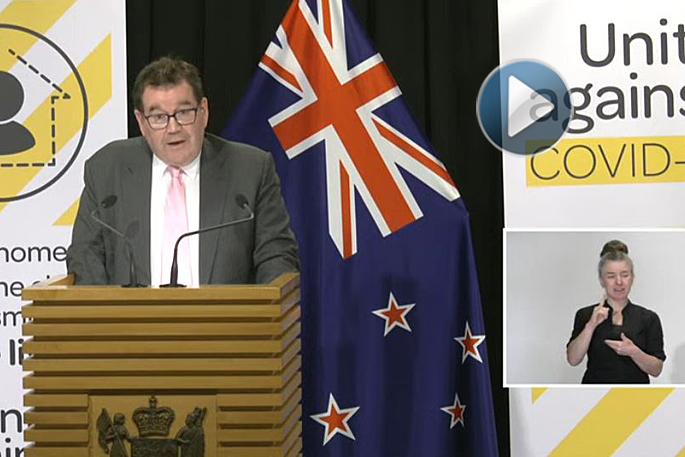 There are 11 new cases of covid-19 in the community today, with all of these in Auckland.
This brings the total number of cases in this outbreak to 879, with 288 cases recovered.
There are 27 people in hospital with Covid-19 and four of them are in ICU, all four of these people are on a ventilator, says Director-General of Health Dr Ashley Bloomfield.
Six cases of Covid-19 have been identified in managed isolation and quarantine.
New locations of interest have been added to the Ministry of Health website with one of these being th Crowne Plaza vaccination centre on August 23.
Dr Blomfield says the advice is if you have been at any of these location of interest on those day to get a test whether you have symptoms or not.
For those who have been at location of interest there is no need to isolate while waiting for test results unless they have symptoms, says Dr Bloomfield.
Scanning in, staying at home getting a test if you are unwell is important to overcome delta, says Dr Bloomfield.
There were 14,181 tests processed in the last 24 hours with 7,974 of those from Auckland.
Deputy Prime Minister and Minister of Finance Grant Robertson announced businesses affected by higher Alert Levels will be able to apply for further Resurgence Support Payments.
"The Government's RSP was initially intended as a one-off payment to help businesses with their fixed costs, such as rent. Ministers have agreed to provide additional payments to recognise the effects of an extended period of alert level restrictions," says Robertson.
"This will provide cashflow to businesses and support them in meeting their ongoing obligations as we come down alert levels and while Auckland remains at higher Alert Levels than the rest of the country."
Applications for the next RSP will open on Friday, September 17.
"Ministers have agreed that there will be another two payments after that, three weeks apart, so long as the conditions that trigger the RSP apply," says Robertson
The payment and eligibility criteria to qualify for the RSP remain the same, including that those applying must experience at least a 30 per cent decline in revenue over seven days, for this payment commencing 8 September, as a result of being at Alert Level 2 or higher.
The payment includes a core per business rate of $1,500, plus $400 per employee, up to a total of 50 full-time equivalent employees which is a maximum payment of $21,500.
Businesses with more than 50 FTEs can still apply but cannot get more than the maximum payment.
The scheme will be available until all of New Zealand returns to Alert Level 1 for one month.
EARLIER: Deputy Prime Minister Grant Robertson and Director-General of Health Dr Ashley Bloomfield will provide an update on the current Covid-19 outbreak.
More information is expected to be released about the positive case who presented to Middlemore Hospital's ED on Thursday.
The case was at the ED for a non-Covid related issue. Read more here.
A drop in the number of community cases was recorded on Thursday. A total of 13 cases were reported at the live media update.
This is down from the 15 cases reported the previous day and the 21 recorded the day before. All of the community cases this week have been in Auckland, which remains at Alert Level 4.
Tune in to the livestream above for more information about today's cases.
More on SunLive...