Port worker vaccine exemption time running out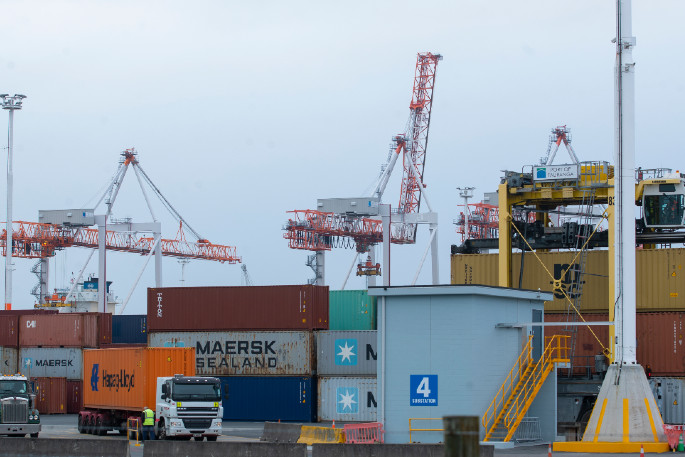 Critical borders workers who must be vaccinated against Covid-19 by the end of the month are able to apply for an exemption, but no one has yet done so.
The news comes as a small number of port workers in Tauranga resist getting vaccinated, citing their rights under the Human Rights Act.
Maritime Union figures suggest that at least 83 per cent of critical maritime workers have received the vaccine.
And Ministry of Heath figures show that 98 per cent of government-employed border workers required to do so are fully vaccinated, with a further 17 recorded as having had one dose.
Another 50 workers who were originally shown as unvaccinated were found on follow-up to have received at least one vaccination.
However, in the Bay of Plenty, only 70 per cent of Tauranga's active port workers had received at least one dose of the vaccine.
Compulsory vaccination rules were extended in July for ports and airports, as well as for those coming into contact with quarantining air crews.
The Maritime Border Order required all affected government employees to have their first dose by August 26, and privately employed border workers by the end of September.
After then, unvaccinated workers will not be able to do frontline work and they will "need to discuss options with their employer".
For workers who can't take the vaccination for medical or personal reasons, there is an "supply chain exemption" to the Vaccination Order, but the Ministry of Health has confirmed no one has applied for it yet.
Craig Harrison, chief executive of the Maritime Workers Union, thought it was unlikely many people will do so.
"They would have to have a role that no one else can do."
The exemption criteria sets a high bar. It can only be sought by an employer, on behalf of a named worker, and requires ministerial approval.
Applications would be reviewed by a cross agency panel within the Ministry of Transport, "with the minister making the final decision," a ministry website says.
Criteria includes the importance of the workers' job to the supply chain, the amount of contact with other critical border workers, the worker's reasons for rejecting vaccination and the information they had received.
The exemption is expected to help deal with the issue of critical workers who have health issues if they take the vaccine.
But it doesn't address the debate over whether other employers can compel their workers to take the vaccine.
Air New Zealand has announced it wants 4000 staff to be vaccinated and Auckland Airport has recently announced compulsory vaccinations for frontline and new staff.
Trucking unions support the vaccination programme, but say they will represent members who refuse to take it.
"People have the right to refuse medical treatment and it would require a legislation change to make that happen," says First Union national secretary Jared Abbot.
While the issue has yet to be fully tested by the courts, a decision by the Employment Relations Authority last week upheld the dismissal of a border worker for the Customs Service.
The worker was dismissed along with eight other frontline border staff who refused to be vaccinated in May.
One man claiming to be a truck driver that regularly went to and from the Ports of Auckland told Stuff his employer had required him to be vaccinated, even though he did not think he came into contact with anyone working directly with the ships.
The man, who asked not to be identified, says his company had told him he needed to undergo regular testing every 14 days under the Maritime Border Order and had to wear masks.
It seemed "so unfair" when there were port workers that did not seem to need to do the same, he says.
Harrison says he could not see why a truck driver at the port would need the jab.
And not everyone who worked on the port was compelled to get one, either.
"The easy way to look at it is if your work involves going up the gangway or being on a ship, you must have your first vaccination by September 30."
Ports of Auckland spokesman Matt Ball says the vaccination order is being "well observed" by port staff and that in the higher risk roles, all its marine pilots and 95 per cent of stevedores had had one dose.
There are 310 staff on the Border Worker Testing Register at the port and at least 83 per cent are vaccinated.
All visitors to the port are being asked to wear a mask, he says.
Ball also confirmed that a crew member on a ship which berthed at the port recently tested positive for Covid in MIQ.
The crew member went straight into MIQ before the current lockdown.
"Only a small number of our staff worked on the ship, they were all notified and received appropriate follow-up," he says.
Meanwhile, the Ministry of Health is turning its attention to vaccinations in the businesses sector, saying district health boards will be contacting large firms to advise workers on how to book vaccines set aside for essential workers.
Smaller businesses would also be able to tap into this facility and the ministry is also working with Whakarongorau (a telehealth service) to set up a process for small and sole operator businesses.
More on SunLive...