Litter busting banter by lockdown locals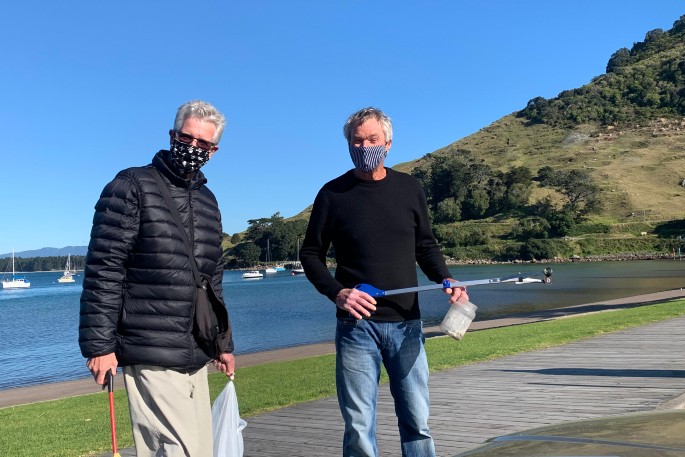 Peter Morris and Paul Ronayne have not let Alert Level 3 hold them back from making sure their local backyard is kept free of litter.
On Friday they strolled from one end of Pilot Bay to the other using their pick-up litter grabber tools to collect any rubbish on the ground.
"I'm cleaning it up so it looks good for the weekend," says Paul.
Last year during lockdown, Paul joined the local Coast Care group for Pilot Bay. Most Coast Care groups are involved in sand dune restoration.
"I was at home, got bored, so joined the group." says Paul.
Members of Paul's group take it in turns to walk the stretch from Salisbury Wharf to the boat ramp below Mauao, combing the beach, boardwalk and grassed area for any wayward pieces of litter. Paul heads out on his allotted day, each Friday.
He roped in Peter to give him a hand, and clearly it was as much for the company and banter, as it was for the help.
"Peter's baby is the Mount," says Paul.
Peter has been an ardent 'picker-upper' of litter on the climbing tracks to the summit of Mauao, and is well-known for encouraging others to join in, by purchasing and giving away more of the long claw-ended tools.
"It's a bit of a bugger as we can't go up the mountain for a while," says Peter. "The track is closed."
Paul grins at him as he plucks another piece of paper off the ground.
"But Pete, that means there'll be no litter," says Paul.
"We've worked out that it's people that make the litter."
"We stay sane teasing each other," says Peter.
He waves his stick around and points towards the water.
"But what a place to work. It's a fab office," says Peter. "If I'd known someone was going to interview us and do a story, I would have worn a more fashionable mask."
Anyone interested in joining a Coast Care group or learning about volunteer projects that help with dune restoration and planting can contact Bay of Plenty Regional Council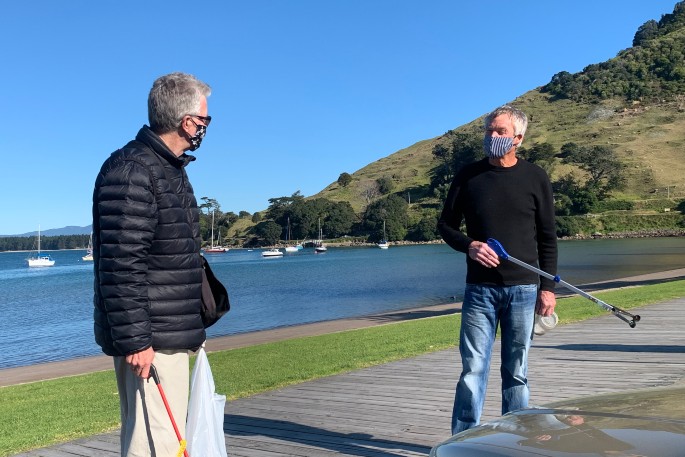 Peter Morris and Paul Ronayne cleaning up in Pilot Bay. Photo: SunLive.
More on SunLive...