Tech allows Fathers' Day café treats in lockdown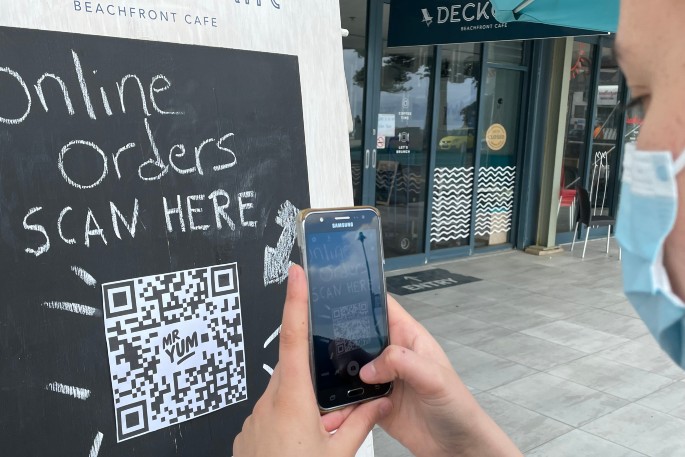 Technology is enabling people to treat their dads to café fare this Fathers' Day despite Covid-19 Alert Level 3 restrictions, as local hospitality businesses take up new contactless QR-code ordering systems.
Mount Maunganui's Deckchair Café is one of many Bay of Plenty hospitality businesses which have had to change the way they operate during the current Covid-19 outbreak.
Owner Kiri Prentice says the challenges of the pandemic have inspired innovation and technology uptake in the industry; taking customers from ordering face-to-face with a counter person or waiter to using mobile phones, tablet computers, or any device with a digital camera/QR scanner to place their order. She sees benefits for customers and business-owners alike, both now and in the future.
For Kiri and her staff, continuing to operate at Level 3 has meant working with point of sales technology company POSPro to set up a new internet-based ordering system, supplied by Australian tech start-up company Mr Yum.
"The system is great because customers don't have to download an app, they just visit our Facebook page and there's a link to www.mryum.com/deckchaircafe, or they can scan our QR code and they will be linked to the online ordering system," says Kiri.
The online menu includes photos, descriptions and prices for each item and secure payment is made online via credit card.
The ordering system asks customers to select a pick-up time, which is helpful under Alert Level 3's contactless transaction requirements. Kiri says the system will continue to be useful at lower alert levels too.
"You'll be able to come into the café, sit down at a table and order straight away, without having to wait in a queue at busy times if you don't want to.
"Or if you're sitting at a bar table, you can just order another beer and it will be brought to you without having to stand in a queue. There'll be more time to spend catching up over food with friends and family."
At Alert Level 2, where table service with a single server is required, each table can have a unique QR code.
"It's never going to replace personal service – it's a complement to that, especially for those who like technology. And an insurance, for us as a business, to have this tool that allows for safer contactless ordering and payment."
POSPro director Richard Craft says QR code ordering systems have become very popular in Australia during the pandemic, with most food outlets in Melbourne, Sydney and Brisbane having some form of QR code ordering system now.
His team works throughout the Waikato and Bay of Plenty and Richard says sales of these systems have increased dramatically, up to 400 per cent in the last couple of weeks, as businesses try to find ways to continue serving customers under Level 3 restrictions.
More on SunLive...