Police ramp up Auckland region border checks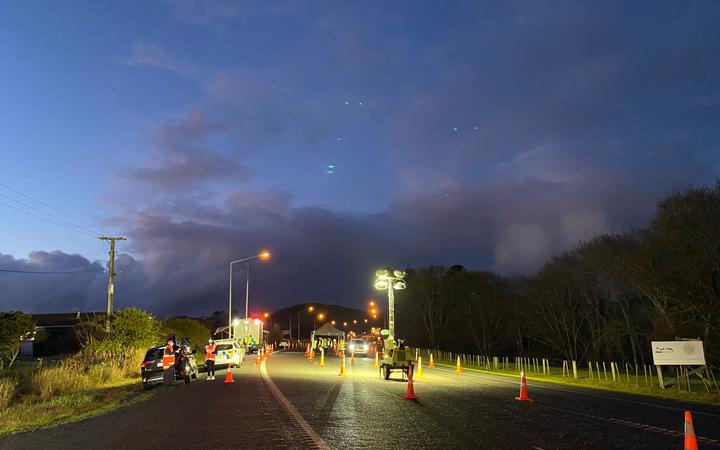 Boundary officials at a checkpoint north of Auckland say they have not had to turn away any cars this morning.
Northland is now at alert level 3 while Auckland remains at alert level 4, and police are checking people are only travelling north for essential purposes.
The Twin Coast Discovery Highway checkpoint, near the Mangawhai turnoff, is one of five set up overnight.
There's been a steady stream of cars and trucks through the checkpoint this morning, where a dozen police officers have been working out of a portable building and marquees.
Vehicles in either direction are being stopped by officers in protective equipment, who are looking at people's paperwork.
Police say it has been a smooth operation so far.
Earlier police said they had turned around about four in every 100 cars south of Auckland, at the border with Waikato.
They say examples of non-essential travel included some motorists attempting to exit Auckland to get takeaways or to pick up items purchased online.
Police have reported lower volumes of traffic through the southern checkpoints compared to February, when Auckland was last at alert level 4.
The northern Auckland checkpoints are at:
SH1/Mangawhai Road (Twin Coast Discovery Highway)
Mangawhai Road, north of Coal Hill Road
Black Swamp, west of Rako Road
Mangawhai Road and Cames Road
Mangawhai Road and Ryan Road
Note: Mangawhai Road also known as Twin Coast Discovery Highway
The southern Auckland checkpoints are at:
SH1/Mercer off-ramp - southbound traffic
SH1/Oram Rd - northbound traffic
Mangatawhiri Rd/SH2
East Coast Rd - Waharau Regional Park
SH22/Pukekawa-Churchill Rd and Logan Rd
Iwi leader Hone Harawira says his community is planning to set up about half a dozen border control areas around Te Tai Tokerau.
He says they were working with police to create information points for the community to help keep people safe.
"I'm glad they're [police] there, I hope they stay there until the crisis is over.
"I feel for the people of Auckland, and that's unfortunate, but we need to make sure that everywhere outside of Auckland is well protected and for me, that means Te Tai Tokerau."
Harawira says hundreds fled from Auckland to holiday homes when the nation first went into level 4 lockdown.
He says that caused Northland to have cases of Covid-19.
"You can put up a hard border and you can still let people come home.
"I would hope that a lot of the officers up here would be focusing on identifying where those Aucklanders are, turning them around and sending them back."
He says fewer people in Northland would mean a shorter list of contacts to trace. Aucklanders should be living in their "real home".
"That's why it's important to have police on the borders, and that's why it's important to have a hard border so that all the b******t artists who were just running away from Auckland can be turned back to the real home.
"People don't live in two homes, they live in one. They come up here just to do the runaway."
"Some [Aucklanders] are turning up to get tested, vaccinated and taking up precious little medical resources in our territory.
Regional economic development agency Northland Inc chief executive Murray Reade says going from level 4 to level 3 was great news.
"People can start planning, which is really good because we're heading into our spring-summer season, which is really important for that particular sector.
"Secondly, the big thing it does is give us a bit of confidence that we're getting this issue of Covid-19 under control.
Cafe Cinema director Therese Wickbom in Kerikeri says the business would be able to get through.
"We rely on the community to support us and they rely on us to be here, so we'll do the best we can do.
"I want to acknowledge the restaurants and cafes that have chosen not to open at level 3 because last time was just so hard. And I know that they'll be feeling really distressed and worried about their customer base."
She says her staff were ready, and all the protocols of masks and sanitisation were in place.
More on SunLive...