Live: Alert level 3 confirmed for midnight Tuesday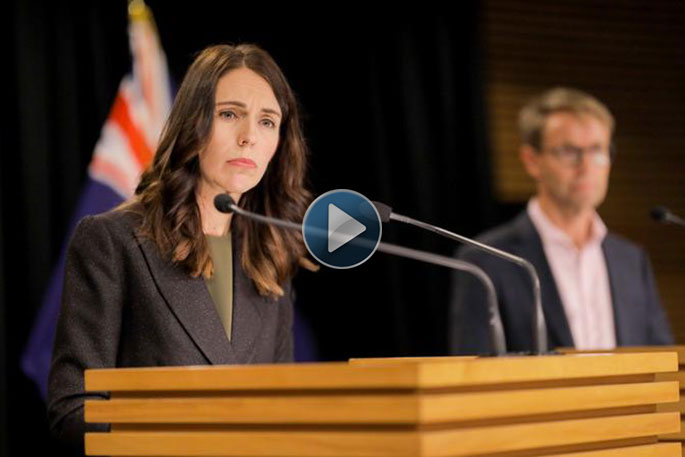 The move to alert level 3 at midnight tomorrow has been confirmed by the Prime Minister.
Jacinda Ardern has announced the confirmation at a post Cabinet media update this afternoon.
Ardern says the lower number of covid cases today, with 53 announced, is encouraging but it's "too premature" to say this is a trend.
She says level 4 is making a difference but the job is not yet done.
"Level 3 doesn't mean freedom, it means caution. It means staying in your bubble, it means contactless."
She reiterated that there is no interregional travel in level 3 aside from for essential work.
Ardern says Cabinet is comfortable moving the country south of Auckland to Level 3 because wastewater in Christchurch has not tested positive since last week so it is most likely linked to a case in managed isolation,
Also there have been no other positive cases in Wellington aside from one that is linked to a household case.
Level 3 will remain in place for one week and will be reviewed by Cabinet again on September 6, says Ardern.
Northland will likely join the rest of the country at alert level three from 11:59pm on Thursday, says Ardern.
Cabinet has also confirmed Auckland will remain at alert level four until 14 September and it will consider next steps for the region on 13 September.
Speaking about today's case numbers, Director-General of Health Dr Ashley Bloomfield says while it is 30 fewer cases than yesterday, it is just one data point.
However, he says 52 per cent of the 83 cases reported yesterday were household transmission, and 72 per cent did not create any new exposure events.
"So of those cases reported yesterday ... only 28 per cent are considered to have been infectious in the community, which may simply have been a visit to a supermarket ... or may be an essential worker."
He says 101 of the total cases are essential workers, just four of them who have been infectious in the workplace and seven who were infected at work.
All of the new cases announced today were detected in Auckland.
Earlier: Prime Minister Jacinda Ardern and Director-General of Health Dr Ashley Bloomfield will update the media today at a post-cabinet press conference at 4pm.
The PM is expected to talk about how long New Zealand will be at alert level 3. The country is expected to shift from 4 to 3 at 11.59pm on Tuesday.
Auckland and Northland are expected to remain at level 4. How long this will be is expected to be announced this afternoon.
The numbers as at 1pm today:
There are 53 new cases of Covid-19 in the New Zealand community today.
All 53 cases are in Auckland, says a statement from the Ministry of Health.
This brings the total number of active cases in the community outbreak to 562.
The total number of community cases in Auckland is now 547 and in Wellington it is 15.
"There are 522 cases that have been clearly epidemiologically-linked to another case or sub-cluster, and a further 42 for which links are yet to be fully established.
"There are currently seven epidemiologically-linked subclusters identified within this outbreak. The two largest clusters are the Birkdale Social Network cluster (79 confirmed cases), and the Mangere church cluster (280 confirmed cases)."
Of the current community cases, 37 cases are in hospital – 32 are in a stable condition on a ward and five cases are in a stable condition in ICU.
Two cases are in North Shore Hospital, 20 are in Middlemore Hospital, 14 are in Auckland City Hospital, and one is in Wellington Regional Hospital.
"There are appropriate isolation and infection prevention and control plans in place at all hospitals where these patients are being managed," says an MOH spokesperson.
"In addition to two recovered community cases in Auckland, one other case in a MIQ facility has now also recovered.
"Therefore, the total number of active cases being managed in New Zealand is currently 603."
More on SunLive...