PM to deliver Covid-19 update at 1pm today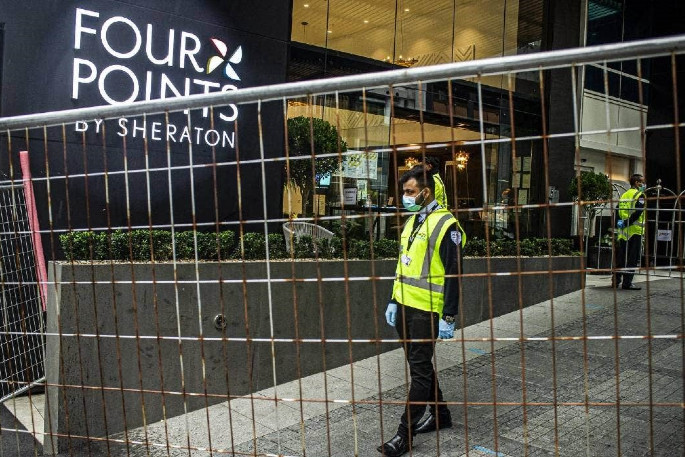 A staff member at the Four Points managed isolation and quarantine facility in central Auckland has tested positive for Covid-19.
The Ministry of Health says investigations are underway but the case may be linked to the current Delta outbreak that has all of New Zealand in lockdown.
Auckland Regional Public Health Service says there were just a small number of close contacts with the person while infectious.
News of the worker comes as Covid modellers Shaun Hendy and Rodney Jones on Saturday argued that, because case numbers had not fallen yet, we should be concerned about the current outbreak.
Numbers should have started to "flatten and drop off from about now", Shaun says.
"I had hoped to see them really plateau."
Prime Minister Jacinda Ardern will deliver a Covid-19 update this afternoon.
The majority of the country - except Auckland and Northland - is gearing up to move down to alert level 3 at midnight on Tuesday.
There were 82 new cases – the highest daily total to date – on Saturday, totalling 429 cases in the current outbreak over just 11 days. Today is day 12.
Auckland University student Freeman McCall has been stuck inside a 4-metre by 2.25-metre room at a hall of residence since August 22. He was regarded as a close contact of a confirmed case so got a test, which seemingly got lost.
"There's not a lot of room in here," says Freeman. "I'm dying to get out for a run."
New Zealand, south of Auckland, goes into alert level 3 - dubbed level 4 with takeaways - at 11.59pm on Tuesday. Auckland and Northland are expected to stay at level 4 for two more weeks at least.
Global toll
Globally, Covid-19 cases have passed 215 million, and 4.49 million people have died, according to data from Johns Hopkins University.
The United States continues to lead the recorded global toll, with 38.7 million cases and 637,138 deaths.
India has seen 32.6 million cases and 437,370 deaths, while Brazil has seen almost 20.7 million cases and 578,326 deaths.
However, looking at the number of cases in the past 28 days, the US still leads, with India second, and Iran in third place.
More than 5.1 billion doses of the vaccine have been administered around the world.
What should I do?
Anyone who wants to get tested can find their local testing centres by visiting the Ministry of Health website.
Quarantine-free travel from Australia has been suspended.
The country is at alert level 4, with masks mandatory for people over the age of 12 when accessing essential services such as supermarkets. A list of exemptions around mask use can be found here.
People should use the Covid-19 tracer app. Some helpful tips on using the Covid tracer app can be found here.
If you are sick, call your GP before you visit, or Healthline on 0800 358 5453.
To avoid contracting and spreading the virus, wash your hands properly, cough and sneeze into the crook of your elbow and throw tissues away immediately.
Reach out, find support from people who care, and connect with your community via phone or internet.
More on SunLive...