More SunLive readers supporting Daffodil Day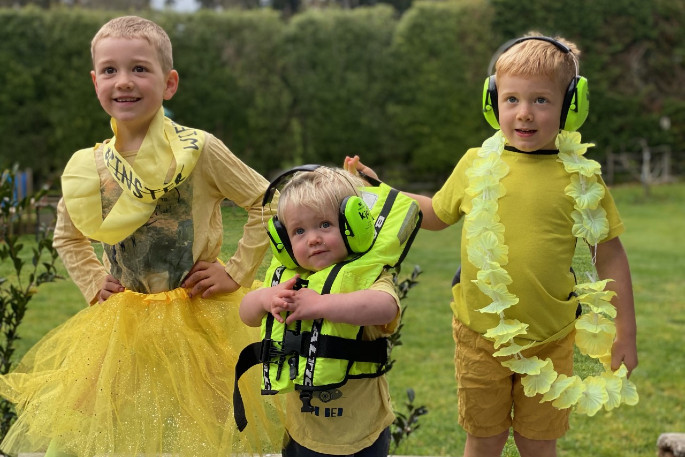 SunLive has asked readers to help us support Daffodil Day by sending in photos of how you are recognising the day.
Photos were received and published on SunLive on Saturday with more photos then being sent in from readers.
The Cancer Society's annual appeal Daffodil Day had to go online this year instead of having street collectors.
To show our support SunLive is donating $5 for each photo entry to the Cancer Society.
Sun Media owners Claire and Brian Rogers have been supporting the work of the society for years.
"Cancer affects so many people in our community and we want to support the Cancer Society to continue the incredible work they do," says Claire.
A donation of $25 will enable a driver to get a patient to and from treatment, $58 will help provide counselling for someone affected by cancer and their whānau.
People from the community have been doing their bit by getting crafty or creating fun for families during lockdown.
Rachel Cooper says her family dressed up for Daffodil Day.
"And [we] think your $5 contribution is awesome!" says Rachel.
Her three boys Benji,6, Jasper, 4, and Fergus,1 all dressed in yellow, including headphones, a tutu, tee shirts, shorts, a garland and a life jacket.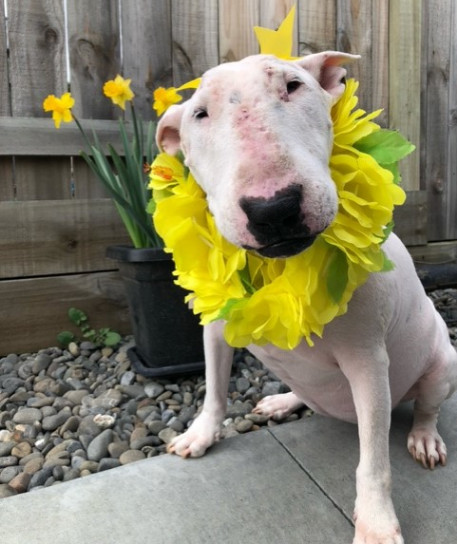 Spirit the dog. Photo: Gina Brooker.
"Our dog Spirit enjoys hanging out in the garden with our lovely daffodils," says Gina Brooker. "Thanks for supporting such a great cause."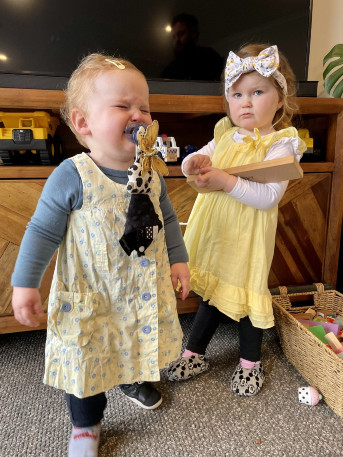 Stacey Gwynne sent in this photo of George, 18 months, and Evie, almost 3, dressed in yellow. Photo: Stacey Gwynne.
"George wasn't too impressed playing dress ups," says Stacey Gwynne.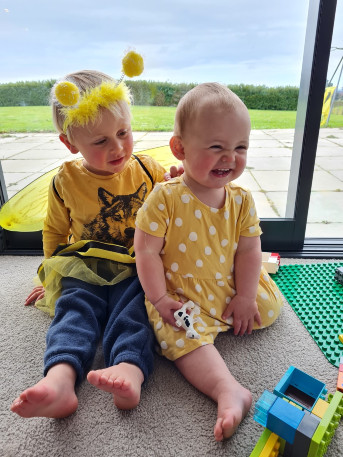 Isaac, 3, and Taylor, 11 months. Photo: Melissa Shute
"Tauriko Playcentre had a daffodil day dress up competition," says Melissa Shute who sent in a photograph of her two sons Isaac,3 and Taylor who is 11 months old.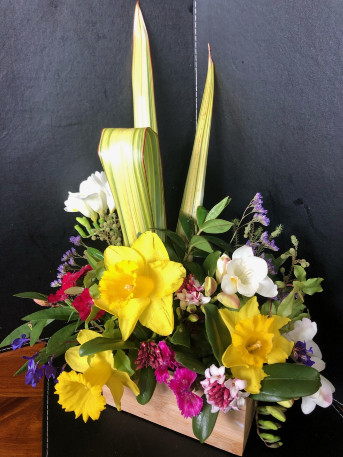 A spring collection flower arrangement. Photo: Sarah White.
"My daughter Pippa and I created a spring collection to brighten up the house and support daffodil day," says Sarah White.
Waikato Bay of Plenty Cancer Society chief executive Shelley Campbell says Daffodil Day is the society's largest annual appeal, raising vital funds that enable them to support people with cancer and their families.
"The street collection is cancelled, but Daffodil Day isn't."
The charity asks the community to take their support online and make an urgent donation at www.daffodilday.org.nz
SunLive thanks readers for sending in their photos and helping to support Daffodil Day.
More on SunLive...