Risk of Covid spread too high for full bin service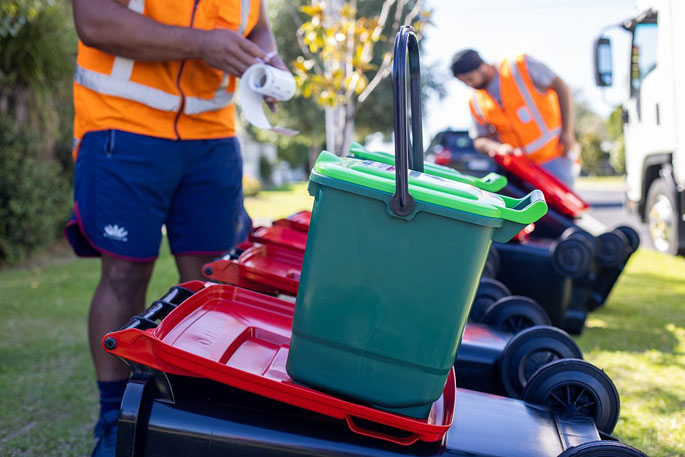 Residents in Tauranga and the Western Bay can expect their kerbside collections to return to normal when New Zealand drops down to Alert Level 3, according to both Councils.
However, at present, the potential for spreading Covid-19 is considered too high to do so, with increased collections costs meaning no refund for any change to the rates-based service is likely.
New Zealand's move into Alert Level 4 saw both Tauranga City Council and Western Bay of Plenty District Council suspend certain kerbside collection services.
Tauranga City Council put a hold on food waste and glass bin collections, as did Western Bay, who also confirmed that yellow bins will go to landfill under the current restrictions.
Both councils suggested at the time of the announcement that any sorting by hand made these services difficult to sustain safely during the current community outbreak of the Delta variant in New Zealand.
However, some residents have expressed disappointment at the decision, with the implementation of the relatively new service already contentious since its July inception.
Now, both Councils have explained further why the changes to the service had to be made.
Tauranga City Council's sustainability and waste manager Sam Fellows says he understands how frustrating the changes must be for residents. However, he says every precaution must be made to keep workers and the community safe.
"As food scraps and glass bins are collected by hand, as opposed to by truck, this poses a health risk," says Sam.
"Drivers could potentially spread the virus from bin to bin unless they changed gloves after each collection, which is not feasible. Glass and food scraps also contain saliva residue, which would put our drivers at risk."
He says that food scraps and glass collections will be collected once again should New Zealand drop to Alert Level 3, with Te Maunga Transfer Station also reopening at that stage.
A decision on Alert Levels is due in this afternoon's post-Cabinet meeting at 3pm.
"Until this time, we encourage residents to store their glass until it can be recycled again, and to consider what really needs to go in the rubbish bin," says Sam. "Of course nappies and food scraps will need to be disposed of as soon as possible, but things like soft plastics or packaging could be stored until Alert Level 3."
Western Bay of Plenty District Council deputy chief executive and group manager of infrastructure services Gary Allis says the health and wellbeing of employees, contractors and customers is the priority.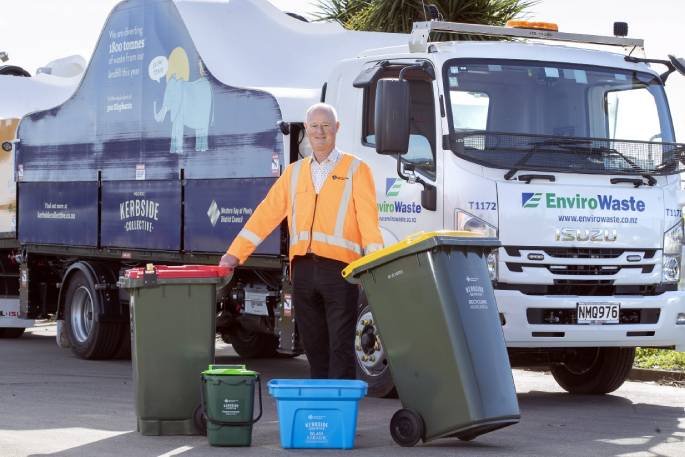 Western Bay of Plenty District Council deputy chief executive and group manager of infrastructure services Gary Allis. File Image.
"Given the highly contagious nature of the Delta variant, PPE such as masks, gloves and hand sanitiser would not guarantee the safety of operators, even if changed or sanitising between addresses," says Gary.
"An infected operator could go on to spread Covid to every household on their route for the day."
Gary also details why residents cannot expect a refund on the services impacted during Alert Level 4, stating that costs have actually increased for Council in lockdown, due to facility closures.
"There is no plan to refund residents on affected services," he says.
"We note that while the processing of some kerbside materials has reduced, Council cost for disposal has increased, with recycling facilities temporarily closing, and having to divert collected recyclable materials to landfill."
Sam also states that Tauranga City Council are not currently planning on offering refunds to residents due to the "collection costs involved" during Alert Level 4.
The cost of the full kerbside collection is roughly $4 a week.
More on SunLive...