Tauranga set for futsal fever under new coaches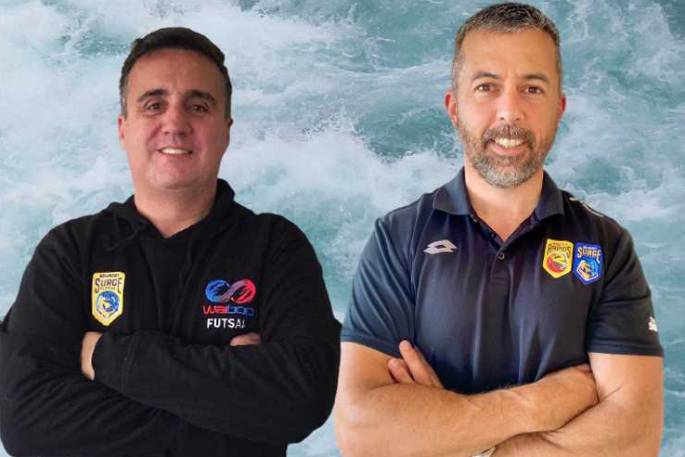 The Waikato, Bay of Plenty Football Federation have announced their head coaches for the 2022 NZF Men's and Women's Futsal SuperLeague.
Mario Ramos will lead the BOP Surge men's side in next year's competition, which runs from February-April, with Kieran Mischewski in charge of the WaiBOP Power women's team.
Mario, who helped guide Tauranga Boys' College futsal to a national futsal title back in March, is excited to continue the growth of futsal in the region with a young and exciting Surge team.
Winning the title is not on his radar, given the relative youth of the team and programme in the Bay of Plenty region, Mario is keeping expectations realistic. However, he believes they will surprise people with their performances and can pick up some wins this season. From there, the team will build.
"I am very excited about it," he says.
"We are still starting and building a team but we have a team that can get some good results now.
"Next year, we hope to arrive in the final series with a chance of making the top four and after two or three years we will be playing on the same level as every other team in the country."
Kieran has been coaching futsal in the area for about five years now and is excited about a WaiBOP Power team which will likely have a blend of youth and experience for this season's Super League series.
"I am pretty pumped about it," he says.
"It is a new coaching line-up so a fresh start for the group. We have some big ideas and big plans."
Like Mario, Kieran has a long-term plan for futsal in the area, even if he does admit a desire to get some positive early results.
"Look, I like to win," he admits. "Sport is more fun when you win and when I look around and see some of the players that we have around the region the skill level is really high.
"We've probably underperformed in recent years so the plan will be to rectify that and over the next couple of years elevate the quality and structure of female futsal in the region."
The highlight for local futsal fanatics will be the weekend of March 5-6, when the Northern Series comes to Tauranga's Baypark Arena.
Futsal is one of the fastest-growing sports in New Zealand and on Wednesday nights hundreds of players descend on the same location to play a social version of the fast-paced, entertaining sport.
Both head coaches believe it will prove a big hit when teams from across the North Island head to Truman Lane.
"A few years ago we played Waikato Rapids here in Tauranga and the arena was packed," says Mario.
"So it is great to have it back here. People will be very excited to go watch and I think it will be really good for futsal in the area."
"It will bring a great buzz when it comes to Tauranga," says Kieran.
"That's a lot of high-quality teams packed into one arena and it should be great for the spectators. "
Meanwhile, Wesley Hendricks has been named head coach for the Waikato Rapids, national champions in 2019 and runners-up in 2020.
"All three head coaches have been involved in the game in our area for a substantial amount of time and are well-known within local circles," says Cliff Harris, WaiBOP Federation development officer
"They have completed, attended or are about to attend the highest-level Futsal Coach Education Award currently offered in New Zealand. We look forward to working with and supporting our head coaches and their support staff, who will be named shortly.
"We ran a robust and challenging appointment process and we'd like to thank everyone who applied and interviewed for these important and high profile roles."
Cliff says that the Federation are pleased with the "solid growth" both the Surge and Power have enjoyed in recent years.
"We are grateful for the hard work put in by everyone who has been involved in futsal and we look forward to helping your continued development," he says.
"We have some exciting things planned for our future futsal, players, coaches, managers, and officials."
The Futsal SuperLeague gets underway on February 19, 2022.
More on SunLive...