Tauranga plumber takes out regional title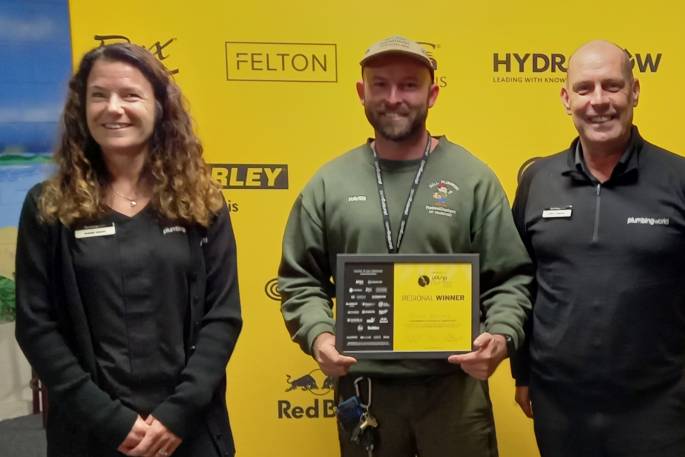 Tauranga plumber Haven Bellamy of Bell Plumbing has been named as the Bay Of Plenty/Central Plateau regional finalist for the Young Plumber of the Year 2021 competition.
The competition, held prior to lockdown at the Tauranga Plumbing World branch, saw 10 local plumbers compete for the chance to represent their region at this year's finals, along with the chance to win an impressive prize pack.
Participants completed a series of 11 plumbing disciplines, which are assessed by a panel of judges, in addition to a written test.
The competition recognises excellence among young plumbers, who must be aged no more than 31 years old to compete and fosters camaraderie and pride within the industry.
As a regional finalist, Haven is among the top ten plumbers from across New Zealand who will participate in the national finals held in Hamilton later this year.
Haven is elated to have won and is looking ahead to the national competition.
"The standard of all the competitors this year was really high, which is great for our region. I'm super excited to have won this time around as I've competed a few times before, so now I'm really looking forward to heading to the finals later on this year to represent BOP," he says.
Mt Maunganui Plumbing World branch manager, Matt Withington, says it's a very well-deserved win and a reflection of Haven's skills and expertise.
"Haven is exceptional both on and off the tools and we're stoked to see him make it to the top level of Young Plumbers. Watch out, Haven can take this out!"
Regional winners receive a prize pack including $200 Prezzy card, $250 worth of NZPM shares, a 17pc Holesaw set with bonus BBQ knife set, Rothenberger Tool pack system, a Coast USB pure beam headlamp along with other great prizes.
In its fourth year, the national competition, held by Plumbing World New Zealand, supports young and up-and-coming talent in the New Zealand trade industry.
Supporting and encouraging fresh talent to enter and thrive in the industry is imperative to the industry at a time where New Zealand requires a surge of new plumbers to meet the increasing demand.
Newly qualified plumbers stand to earn up to $55,000 per year, dependent on their location across the country with huge earning potential as their career progresses. A fully qualified young tradesperson can earn in excess of $75,000 per year.
The national finals will be held at Wintec Hamilton, on October 6.
The winner stands to receive a share in $55,000 worth of prizes, including $5000 in cash, a $8600 Toolware prize pack, a $5000 Milwaukee prize pack, $1500 in NZPM RPS shares, tools, gift vouchers, and a one-year subscription to NZ Plumber Magazine.
For their support, the winner's employer will receive a prize including a $1000 in NZPM RPS Shares, a $750 Puma Golf voucher, d a $500 fuel voucher towards the running of winners' van and a one year supply of Red Bull.
More on SunLive...