Tauranga Council services during extended lockdown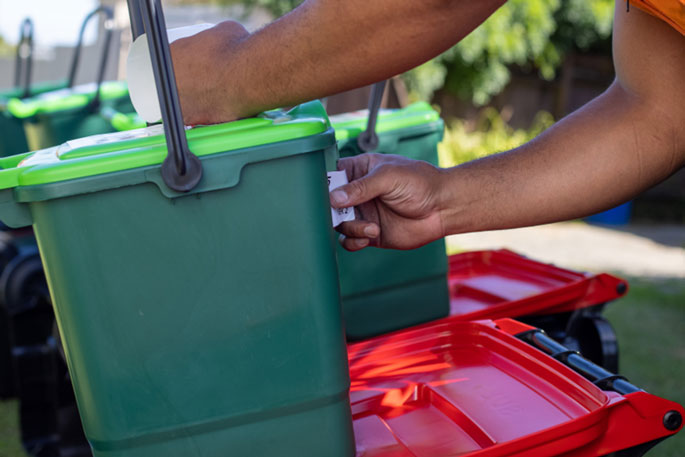 People are being reminded to stay off the walking tracks on Mauao, and that food scraps and glass recycling are not being collected under Alert Level 4 restrictions.
Under the current, nationwide lockdown provisions, Tauranga City Council staff are focusing their efforts on maintaining essential community services.
Chief Executive Marty Grenfell says that means access to many facilities and services has been affected, but under the circumstances, the health and safety of staff and the wider community have to be paramount.
"We understand that it's frustrating to have to stay away from our favourite walking tracks on Mauao, and other spaces where people can't physically distance adequately, and to have to hold on to our glass recycling and food scraps until they can safely be collected again.
"Most people appreciate that these are unavoidable impacts of the lockdown and on behalf of the organisation, I would like to thank our communities for their efforts in helping to stop the spread of the dangerous Covid-19 Delta variant.
"I would also like to thank the staff and contractors who are keeping the city running during lockdown. For many of them, it means leaving the safety of their bubbles to provide the city with the essential services it needs. Their ongoing efforts are vital and are much appreciated."
What you need to know:
Waste collection
Waste and recycling collection and disposal are an essential service so collections will continue to take place in the safest way possible.
The safety of our workers and community are still our highest priority during this time. While rubbish and recycling services remain unchanged, our assisted service is operating.
Food scraps and glass bin collections
Council remains unable to collect food scraps and glass bins as they must be picked up by hand as opposed to being lifted by a truck, which poses a health risk to our drivers and the community.
"We're encouraging residents to hold onto glass recycling if possible, but glass can go in the red-lid rubbish bin or yellow-lid recycling bin as a last resort, but it won't be recycled," says Grenfell.
"Food scraps will need to be placed in the red-lid rubbish bin. Under no circumstances should these be put in your yellow-lid recycling bin as they will contaminate the recycling truck."
Under Alert Level 3 or lower, Ministry of Health guidelines will allow us to safety collect glass and food scrap bins.
Parks, playgrounds, sports fields and courts
All playgrounds, skateparks and pump tracks are closed, and we ask people to avoid touching any playground or sports equipment.
Picnic tables and public barbecues are also closed.
Under Alert Level 4 you can still exercise but avoid spaces where you cannot practice safe social distancing. More information on what play, active recreation and sports is safe under Alert Level 4 can be found on the Sports NZ website.
"As most of the track up and around Mauao are narrow and people are not able to safely maintain social distances, all Mauao tracks will remain closed. McLaren falls and some other parks will also be closed to the public," says Grenfell.
"Under the current alert level, storm water reserves, parks and reserves cannot be weeded or mowed as it is not an essential service."
Customer Service Centre
The customer service centre is closed but the call centre is available 24/7. You can reach them on (07) 577 7000. You can also do many of the things you need from us online – please visit our 'Do it online' page at www.tauranga.govt.nz
Essential service works
People may see staff and contractors out and about – the work they're doing is essential to keeping the city running so we ask people to please give them a wide berth and maintain a safe two-metre distance, says Grenfell.
Projects on hold or delayed
Under the current alert level, only essential works is permitted. As a result, the start of some projects are on hold or they may have been delayed.
Tauranga City Libraries
All Tauranga City Libraries are closed. If you have any library items, please hold onto them for now. An extensive collection of eBooks, eNewspapers, eMagazines, and other online resources is available twenty-four hours a day, seven days a week through the Digital Library.
Art gallery and venues
Tauranga Art Gallery, Bay Venues Limited (BVL), BayCourt Community and Arts Centre will remain closed.
Transportation
Council will continue to deal with immediate safety issues like dangerous potholes and debris on the road. CCTV cameras will still be monitored, and streetlights will still function.
Building inspections
There will be no building inspections under Alert Level 4. Inspections that were planned over will be rescheduled.
Animal Services
Animal services will continue to manage the Pound and respond to dangerous and wandering dogs.
Community welfare
Emergency welfare and support services are being coordinated by Civil Defence Emergency Management, for which Council has an essential role alongside partner agencies and organisations.

For a full update on Council services and facilities, visit: tauranga.govt.nz
For updates on CODI-19 visit: covid19.govt.nz
More on SunLive...