Eager kiwi chick hatches at Alert Level 4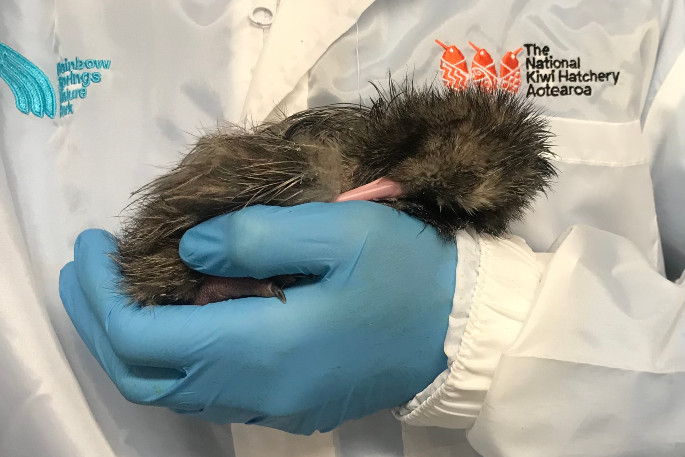 The newest kiwi chick in the Bay of Plenty is already breaking record, hatching a day earlier than usual.
After four days of hatching, a kiwi chick emerged out of its eggshell at the National Kiwi Hatchery in Rotorua early on Sunday morning.
This is the earliest date a chick has hatched at the hatchery in the last ten years and the average hatch time is usually five days.
Assistant Hatchery manager Carole Dean was first on the scene.
"As we are in Level 4 lockdown, we are working with reduced staff and Carole is working solo at the hatchery for the next four days," says Kiwi Hatchery manager Emma Bean.
"We candled the egg the night before and could see everything was tracking ok with the egg, we determined that we didn't need to come back after hours to help as we knew he/she would hatch just fine on their own."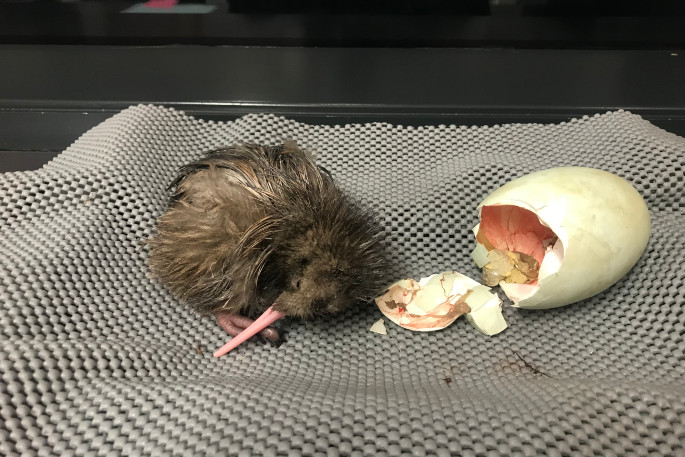 The newly hatched kiwi chick soon after it had broken out of its shell at the National Kiwi Hatchery in Rotorua. Photo: Supplied.
The egg arrived at the hatchery on August 15. The exact time of hatching is unknown, but it was before 8am on August 22, with a hatch weight of 293.4 grams.
Hatch time is classified from the moment they poke their bill into the air pocket at the blunt end of the egg and breath air for the first time, also known as 'internally pip', to the first signs of cracking on the shell, known as 'external pip', to actually hatching out of the shell.
Emma says it's not possible to tell if the newly hatched is female or male.
"Kiwi chicks have no 'external features' - to put it politely - for us to be able to tell if this chick is male or female, we need to take a couple of feathers and send them away for DNA testing to find out," says Emma.
"We can do this as soon as possible, Covid permitting, although we usually batch these samples. Results are usually returned within a week.
The chick has stayed in the hatch room for two days, before being moved into the brooder room, where he/she will get daily health checks.
"They will spend three to four weeks in there until he/she has established onto food and has re-attained hatch weight, before heading to our outside habitat area." says Emma.
"They lose weight for the first week or so as they utilise the yolk they internalised prior to hatching, then once they're eating the weight goes back on again."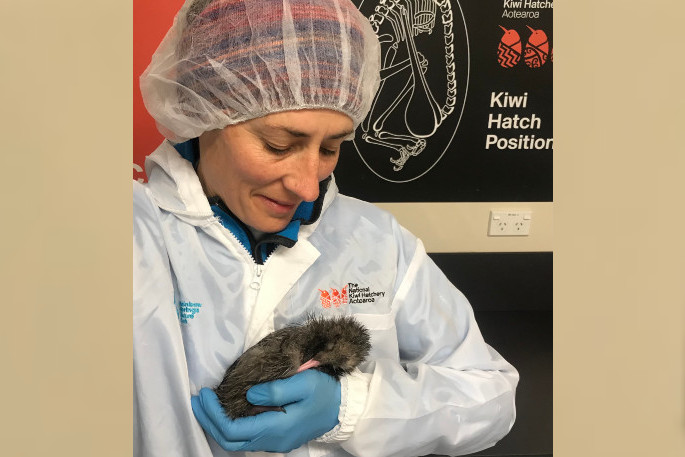 The newly hatched kiwi chick at the National Kiwi Hatchery in Rotorua. Photo: Supplied.
Emma says kiwi are precocious, which means they hatch fully feathered miniature adults with their eyes open.
"He/she was already trying to crouch when Carole arrived this morning and is already vocalising lots," says Emma.
"In the wild they usually only stay with 'Dad' for a week, then head off on their own. They have a large yolk in their tummies which gives them nutrition while they practise how to feed, but probing and foraging is instinctive, so it doesn't take long for them to learn!"
Unfortunately this also makes them incredibly vulnerable to predation by introduced mammals, says Emma.
"Only five per cent kiwi chicks survive to six months old. That's why our work at the National Kiwi Hatchery is so important – we keep them safe when they are most vulnerable, releasing them into the wild at a 'stoat-proof' weight of 1kg increases their survival rates to over 65 per cent."
The egg came from the Otanewainuku Kiwi Trust, one of the 15 different projects that the National Kiwi Hatchery works with across the North Island.
"Interestingly, the sire - Dad kiwi - Myfie also raised heads when he hatched with us, as he was the smallest chick we've ever hatched by far, and his records remains unbeaten," says Emma.

"It's the male kiwi who are monitored in the wild, as it's the male who incubate the eggs. The female brown lays four eggs a year, and they're one of the largest eggs to body size, so she's already done her hard mahi by laying them! This chick will be released back into the Otanewainuku Forest when he/she reaches a 'stoat-proof' weight of 1kg. This usually take about five months."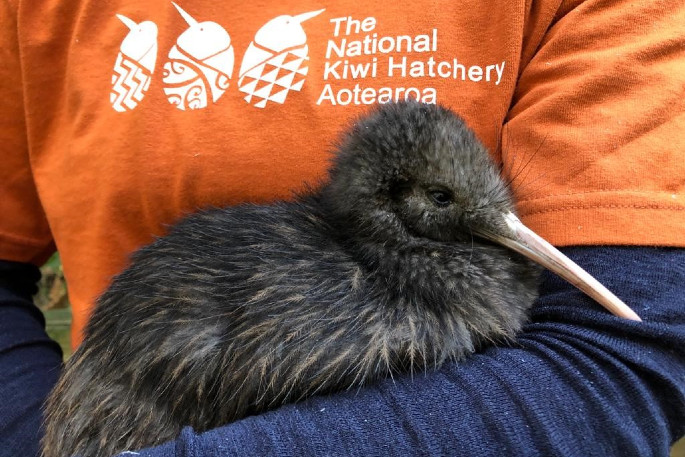 Sticky Beak the last chick for the 2020-21 season being released. Photo: Supplied.
The last 10 years of data for the first hatch of the season show that this year, this newly hatched kiwi has broken records for the earliest a chick has hatched at the hatchery.
Previously the earliest date was August 24, with most years the first chick hatching in September. It takes about 78 days to incubate a kiwi egg, so this egg was laid in early June.
"The peak hatching season is October to February, across both first and second clutches, but we have a handful hatch in September and March/April too. We have chicks on site much longer, as they need to grow to 1kg. We only just released the last chick from the 2020-21 season last Sunday," says Emma.
There is speculation as to why the egg was laid so early in the season.
"Last season's second clutch was quite small, probably due to it being a hot dry summer, reducing food supply for the females – insects go deeper into the ground. So this could be an indication that we'll have a bumper first clutch – but I've been in this game long enough to not predict anything when it comes to wildlife.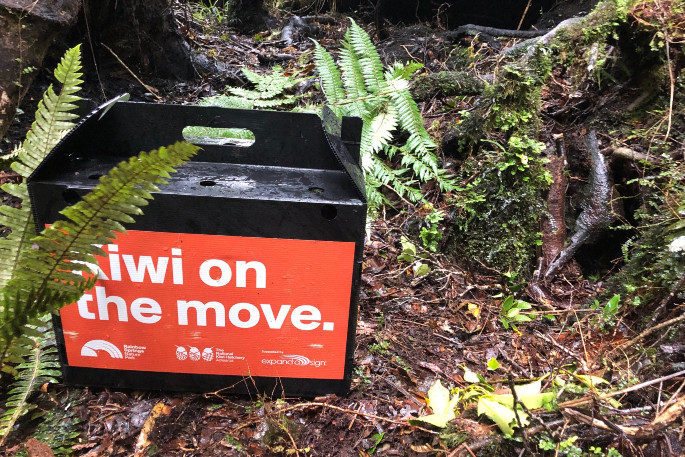 Ata about to be released onto Mt Taranaki. Photo: Supplied.
The National Kiwi Hatchery has received other accolades too, in having also just won the Zoo Aquarium Conservation Award, which acknowledges their mahi and leadership in conservation across Australasia. The Conservation Award recognises exceptional outcomes in conservation in the wild, particularly species restoration and minimising the impacts of key threatening processes on biodiversity. Judges assessed the hatchery's conservation gains, their measurable conservation outcomes and their contribution to biodiversity.
"We've also been nominated as a finalist for the TIA Conservation Award," says Emma.
The TIA Conservation Award ceremony will be held on November 29.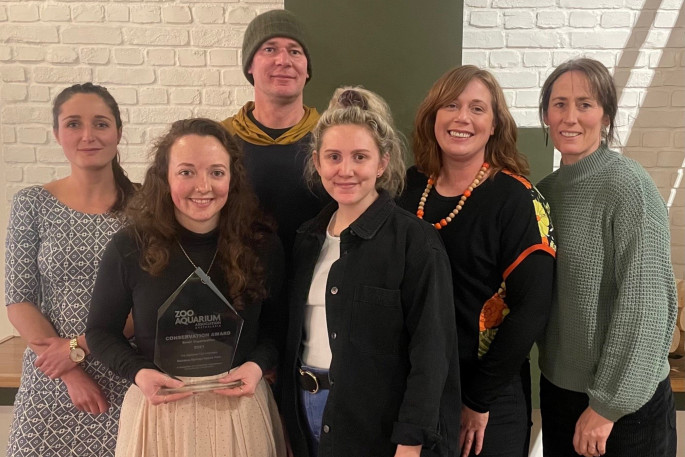 Abby Harding, Blake Cole (at back), Emma Kelman, Gemma Bell, Emma Bean and Carole Dean - National Kiwi Hatchery kaimahi with their ZAA Conservation Award. Photo: Supplied.
The National Kiwi Hatchery is based at Rainbow Springs in Rotorua. The wider park remains in hibernation post-covid.
"The National Kiwi Hatchery has been able to remain open thanks to government funding from STAPP and DOC WIRF," says Emma.
Check out updates from the National Kiwi Hatchery: https://www.nationalkiwihatchery.org.nz/
Follow updates from Rainbow Springs Nature Park: https://www.rainbowsprings.co.nz/
More on SunLive...