Paraglider seen over Mauao during alert level 4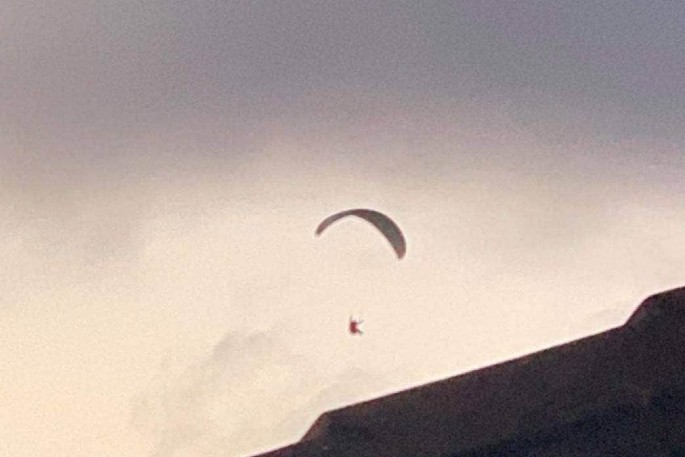 A paraglider has brazenly flouted the alert level 4 lockdown rules by flying over one of the most visible landmarks in the Bay of Plenty.
A person was seen paragliding at about 5.45pm on Monday, circling the top of Mauao for about 15 to 20 minutes.
Engaging in any outdoor activity that could potentially put someone in need of rescue and hence into close contact with others, is forbidden under level 4. The local paragliding club is so annoyed they are trying to find the rogue pilot to dob them in.
Bay of Plenty resident Sarah Crisp says the person then headed closer to Rita Street, most likely to land on the beach.
"At first I thought he might have had some special permission to be paragliding, so I didn't want to jump to any conclusions. But I started thinking that was unlikely and thought – wow that person sure has some balls to be paragliding over the Mount where everyone can see them
"You would think at the very least they'd try to be covert about it if they're so blatantly breaking the rules.
"I wasn't angry personally but started to feel bad for the surfers and people who are probably itching to get out in the water but aren't because they're at home following the rules."
Bay of Plenty Hang Gliding and Paragliding Association president Kevin Wylie said he was told about the paraglider by someone who was in the vicinity at the time and saw them.
"Paragliding is not permitted under level four lockdown, and we strongly oppose the actions of this individual pilot," Wylie says.
"We have been making an effort to try to identify who it was, with a view to passing their details on to the national body for disciplinary action if we are able to identify them. At this point, we haven't been able to get a positive identification."
He said the paraglider was seen late Monday afternoon, just before sunset.
"We've got some photos, but they're not particularly close up."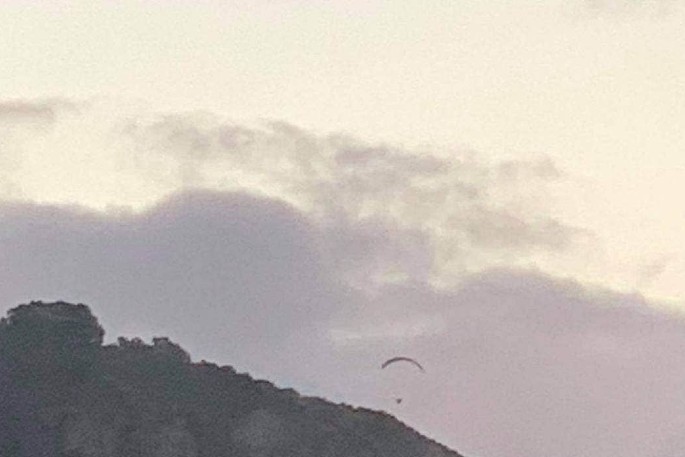 A paraglider was seen flying over Mauao at Mount Maunganui on Monday evening. Photo: Sarah Crisp.
Wylie told Stuff the association's members were "very opposed to the actions of this individual".
"We are annoyed because we feel it reflects badly on us, and it's certainly not the actions that our members think are appropriate."
He said they were doing what they could to ensure "this person faces the appropriate action, and it doesn't happen again".
Wylie said the association was concerned about fallout from this incident.
"Because we respect the privilege that we have of being able to fly the Mount, and we don't want this to jeopardise that, and we're concerned that this individual action potentially could."
He said they were hoping to keep it in perspective, "that it is one individual's actions, and it is not a reflection of our membership as a group".
Police said on Monday night they had no reports of a paraglider from anyone.
A police spokesperson says they are reminding people that exercise should be in your neighbourhood.
"Adhering to social distancing, and any recreational activity that could lead to a rescue or emergency response is not permitted.
"That includes, but is not limited to, activities such as surfing, snowboarding, tramping, fishing and whitebaiting."
They say police will maintain a visible presence in communities across New Zealand, including actively stopping vehicles to ensure travel is for essential purposes only.
This comes after police commissioner Andrew Coster said on Monday that a mountain biker in Taupō fell on a bike track had to be winched out by rescue helicopter and taken to hospital.
"Police will be speaking to the biker at a later date and enforcement action for breaching restrictions will be considered," says Coster.
Also in Wānaka seven men are facing charges after being allegedly caught jet boating on Friday.
Police say the seven men were from six separate bubbles and one had travelled four hours from Dunedin to join the group.
The men are aged between 22 and 30, and are expected to appear in Queenstown District Court on September 13, each on a charge each of failing to comply with a Covid-19 order.
More on SunLive...