BOP cricket sensation handed Development Contract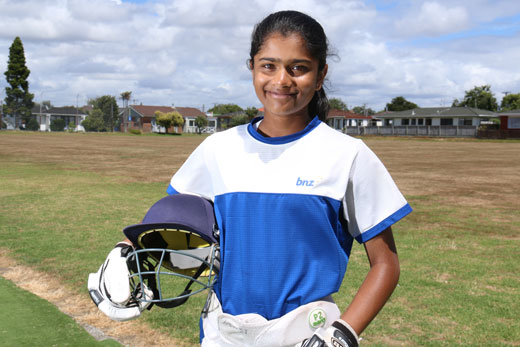 One of the Bay of Plenty's most talented young cricketers has been rewarded for their excellent form with a New Zealand Cricket Women's Development Contract for the 2021-22 season.
Nensi Patel is one of eight young cricketers handed a Development deal, with high hopes those given this chance can go on to become White Ferns internationals.
The Northern Spirit all-rounder was named the Gillette Venus Cup Player of the Year for 2020-21 for her performances with Tauranga Girls' College and joins club team-mate Kate Anderson as a first-time contract recipient.
Patel, who made her NZC Major Association debut for the Northern Spirit aged just 14 years and 153 days old in 2016, has already represented New Zealand at T20 level, in a New Zealand XI side against England, taking two wickets at a cost of 39 runs.
"These contracts give up-and-coming female cricketers a chance to learn, grow and develop not only as players but as people too," says NZC's head of women's high performance Ant Sharp.
"Part of the criteria for these contracts is picking players with potential to earn White Ferns contracts in the future."
Claudia Green and Molly Penfold have also been handed Development Contracts and are currently touring England with the White Ferns, whilst Anderson and Gabby Sullivan were in the national squad for clashes with England and Australia last summer.
Bella Armstrong and Fran Jonas are handed their second Development Contracts with Sarah Asmussen of the Canterbury Magicians also joining the list of talented cricketers.
Women's Development Contracts 2021-22
Kate Anderson (Northern Spirit)
Bella Armstrong (Auckland Hearts)*
Sarah Asmussen (Canterbury Magicians)
Claudia Green (Central Hinds)
Fran Jonas (Auckland Hearts)*
Nensi Patel (Northern Spirit)
Molly Penfold (Auckland Hearts)
Gabby Sullivan (Canterbury Magicians)
*Second Development Contract
More on SunLive...