Rural women speak up about 'silent killer' cancer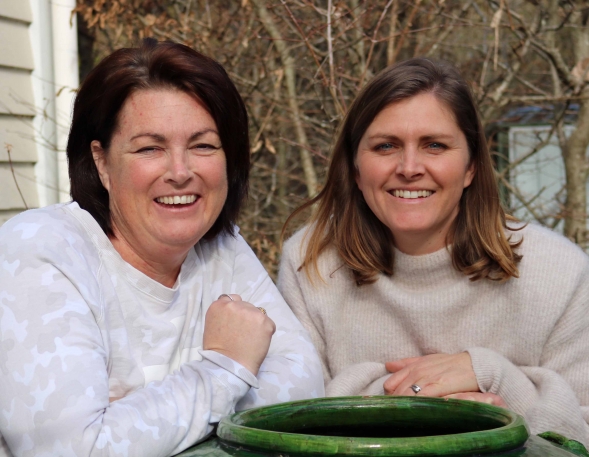 Debbie Robins and Sjaan Fahey are two young women living life to the full – but on borrowed time.
They shared their gynaecological cancer journey at a Rural Women New Zealand event on August 20 aimed at starting a conversation about cancers 'down there'.
Sjaan Fahey was diagnosed with cervical cancer when she was 33 and given a 40 per cent chance of making it to her 40th birthday. The 35 year-old farmer/grower and trail park owner with husband Luke, is also mum to children aged 3, 5 and 6.
"I feel super grateful that I have been able to live the life I have had so far," she says, but her eyes fill with tears when she voices her greatest fear, "That my children won't remember me when I'm gone."
But Sjaan rarely gives herself time to dwell, using her spare time, and love of gardening to grow 2000 daffodils to raise money for Cancer Day on August 27.
"Thinking of the amazing support my family received from our community makes me emotional," says Sjaan. "And I want to pay that kindness forward".
Misdiagnosed
Debbie Robins feels the same. Diagnosed with ovarian cancer in 2019 and given a life expectancy of up to nine years, Debbie is using her horticulturist's green fingers to grow flowers to give away and "brighten someone's day".
Debbie, who lives on a dairy farm/kiwifruit orchard with husband Adrian and their three teenagers says her new motto is "to live the life I have left to its fullest and do what I want to do today, not put it off until tomorrow".
Both Debbie and Sjaan were misdiagnosed, which delayed their cancer diagnosis.
Tash Crosby, who will also be speaking at the RWNZ event, says this is not unique, as gynaecological cancer symptoms may be vague and variable. "Four out of five women will be misdiagnosed with IBS, constipation, stress, depression, or a UTI.
"I was diagnosed with ovarian cancer in 2017 and the only reason I am alive today is because, on the third time being discharged from the emergency department with some Panadol, I begged for further testing and refused to leave.
"Women shouldn't have to beg for their lives."
A need for change
A recent survey by Cure Our Ovarian Cancer found 90 per cent of women couldn't name a single symptom of ovarian cancer before their diagnosis and most experienced difficulties in accessing the necessary tests. More than 85 per cent of women diagnosed have the disease detected too late.
Debbie is one of these women. Following a seven hour surgery, she had all of her 'women's bits' removed and part of her intestine as well.
Tash Crosby says that unlike Australia, New Zealand has no national framework to diagnose gynaecological cancers, meaning the approach from doctors can vary significantly.
"At a government level New Zealand doesn't fund anything to raise awareness and most years there is no research. Although it is the fifth biggest killer of women in NZ it is one of our least-funded cancers. We need this to change."
For more information, visit RWNZ Tauranga on Facebook, Twitter or Instagram.
More on SunLive...