Surprise that Lime scooters continue to operate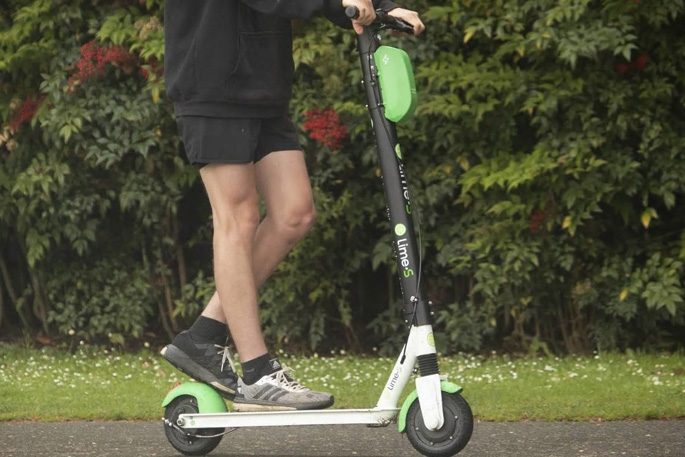 Surprise has been expressed by some Tauranga residents at the continued use of Lime scooters around the city while the country is at Alert Level 4.
Under the Ministry of Health and Ministry of Transport guidelines, Lime scooters are able to operate under the current alert level as they are classed as shared micromobility, says a Tauranga City Council spokesperson.
"Seems like a super spreader at a time when we are being careful to keep our distance," says a SunLive reader who noticed a lime scooter left lying near their property.
"We have one scooter dumped on our corner in Matene Place and saw many of them on our walk to Papamoa Beach this morning and around Fresh Choice.
"They clearly are still being used and don't have cleaning equipment supplied."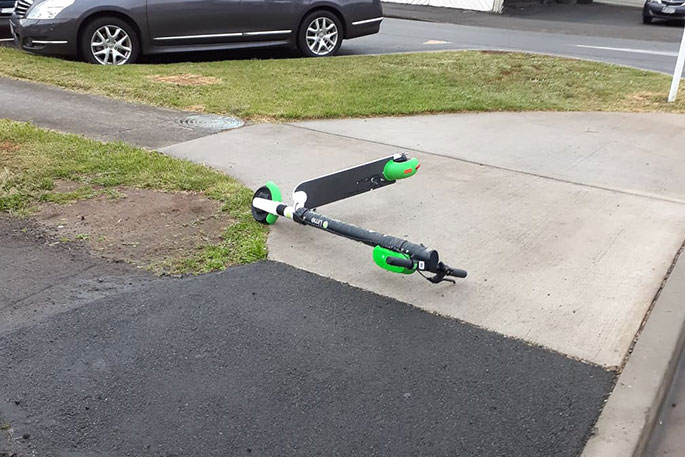 Lime scooters are classed as 'shared micromobility'.
"Shared micromobility services are permitted to operate under Level 4," says Lime Director of Government Affairs in New Zealand and Australia Lauren Mentjox.
"Lime's focus is on providing a safe, socially-distanced form of transport for those who must travel during this time.
"Our scooters are cleaned regularly in line with Ministry of Health guidance, with an extra focus on frequently touched areas such as handlebars and brakes," says Lauren.
"We also have in-app messaging reminding riders to adhere to appropriate hygiene protocols before and after riding, and a link to the Covid19 website for the latest information on essential travel."
According to the Ministry of Transport, modes of transport and service such as private vehicles, rental vehicles, small passenger services such as taxis and rideshares, car share, and shared micromobility are all classified similarly at Alert Level 4.
You cannot use these vehicles, which includes Lime scooters, unless:
• Travelling for work only if:
- to provide an Alert Level 4 service or business listed in Schedule 2 of Order; or
- as a person who is exempted from the Order, pursuant to clause 23;
- or as an enforcement officer; or
- to do necessary work as defined in clause 18
· Travelling to provide care only if:
- maintaining a shared bubble arrangement or shared caregiver arrangement; or
- providing urgent care for a child; or
- providing urgent care for a person in a critical or terminally ill condition; or
- providing childcare for the children of workers, who are permitted to leave their home to provide alert level 4 services, if there is no one else in their immediate bubble who can provide childcare and the person providing the child care treats it as a shared bubble; or
Travelling to return home/relocate only if:
- leaving or relocating a home, or place of residence, on court order; or
- travelling to a home, or place of residence, after detention or determination; or
- relocating to a temporary or emergency residence (for example, for care while sick or to seek refuge in women's refuge accommodation); or
- returning home after arriving in New Zealand (and after completion of isolation/quarantine where applicable); or
- collecting a person who has returned to New Zealand and is returning home (and after completion of isolation/quarantine where applicable) noting the person doing the collecting from MIQ must have a formal letter from MIQ authorising the travel; or
· attending an appointment with a health service (including scheduled vaccination appointment); or
· attending Court, tribunal, New Zealand Parole Board hearing or another judicial institution; or
· leaving New Zealand (including travelling to a managed isolation or quarantine facility immediately before leaving New Zealand); or
· travelling to preserve life or safety; or
· accessing local Alert Level 4 businesses or services, or exempt businesses or services (within the same territorial authority, or if it is the nearest service of its kind); or
· accessing low-risk recreation (that is readily accessible to your home or place of residence); or
· undertaking customary gathering, to the extent permitted by clause 16; or
· providing care, or enable care to be provided, for pets or other animals (that you are in charge of, and are in the same or adjacent territorial authority); or
· assisting or accompanying a fellow resident for the travel listed above, but only to the extent permitted for that fellow resident under the Order.
The Ministry of Transport website states that you should not travel if you: have been requested to self-isolate/quarantine, have symptoms of Covid-19, or are awaiting Covid-19 test results - except for travelling in a private vehicle, for medical treatment, in accordance with advice from Healthline, a public health official, or your doctor.
You cannot travel, if the travel would breach an order/direction made under the Covid-19 Public Health Response Act 2020 or the Health Act 1956.
This will likely be the case if you have arrived in New Zealand from overseas in the last 14 days, or you have otherwise individually received from a Medical Officer of Health a direction under s 70(1)(f) of the Health Act 1956.
For those modes of transport listed, including shared micomobility such as Lime scooters, public health and physical distancing measures apply.
This does not apply for private vehicles.
Vehicles other than private cars must be cleaned regularly in accordance with MOH guidance.
According to the Ministry of Transport website people using Lime scooters must wear a face covering unless exempt.
For more information please see the Ministry of Health's guidance on face coverings.
QR codes must be displayed on small passenger services such as Lime scooters. Those riding them are encouraged to scan QR codes using the NZ Covid Tracer App, or manually record their travel.
More information on the rules can be found on the Ministry of Transport's website. https://www.transport.govt.nz/about-us/covid-19
More on SunLive...