Covid-19: What the different alert levels mean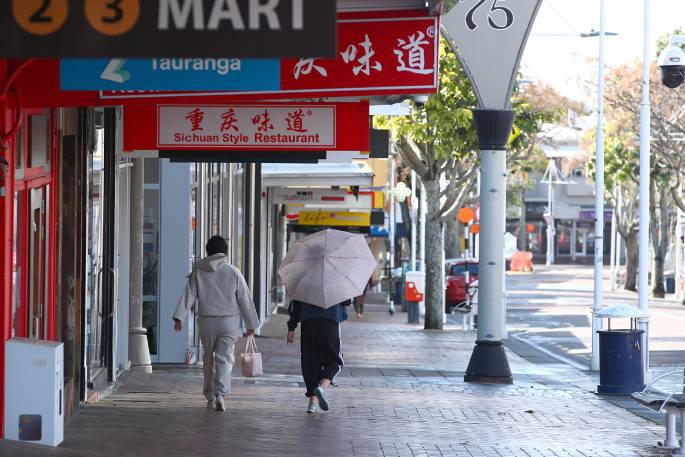 A new Covid-19 case in the community was discovered on Tuesday, August 17, prompting a New Zealand-wide alert level 4 lockdown from 11.59pm.
Prime Minister Jacinda Ardern and Director-General of Health Dr Ashley Bloomfield addressed New Zealanders after a case was discovered in Auckland, and announced all of New Zealand would move to alert level 4 initially for three days, with Auckland and Coromandel to remain at level four for a further four days.
New Zealand's three day lockdown was then extended to a full week, as more cases emerged. We find out today if there will be another extension.
There are some things that are required across all alert levels, including wearing masks on public transport and on domestic flights, practising good hygiene and keeping a safe distance from people when out in public.
People are always encouraged to use the Covid-19 tracer app, or keep track of where they have been.
There are also some big differences, and the following is an explanation of what is involved in the different levels.
Level 4
Level 4 means it's likely Covid-19 is not contained from spreading in New Zealand and there could be "widespread outbreaks" or sustained community transmission.
People must stay at home in their bubble unless for essential movement, including for essential work, to go to the supermarket, clinics and pharmacies, for example.
All businesses must close except for essential services, including those mentioned above, petrol stations and lifeline utilities. Travel is severely restricted.
People can exercise in their local community, but playgrounds are off-limits. All gatherings are cancelled, educational facilities and public venues are closed.
The Ministry of Health says in alert level 4 supplies may be rationed, facilities can be requisitioned and health services re-prioritised.
People are advised to get tested if they have symptoms or have been at a location of interest, and keep a safe distance from others.
Anyone working at or visiting essential services and aged 12 or over is required to wear masks, including petrol stations, supermarkets, pharmacies, bus terminals and in taxis.
Level 3
At level 3, people must stay within their household bubble whenever they are not at work or school.
The bubble can expand to include close family and whānau, caregivers and support isolated people.
People must keep 2m away from others in public and 1m in schools and workplaces.
People can travel locally, for example going to work or school, shopping, or getting exercise.
Travel between regions is restricted, but people can apply for an exemption in special circumstances.
Gatherings are also restricted and allowed only for weddings, funerals and tangihanga and limited to 10 people. All public venues are closed.
Staff must work from home if they can, and businesses can only open to the public if they are contactless. Staff must be 1m apart.
Children and young people must study from home, but can go to school or educational facilities if there is no supervision at home.
Level 2
In level 2, borders remain closed to most travellers, but people can travel locally. Gatherings, including weddings, civil union ceremonies, birthdays, funerals and tangihanga are limited to 100.
People can exercise if they can do so safely, and businesses can open, but must follow public health rules. All early learning services, schools, kura and tertiary education facilities are open.
Older people and those at higher risk are advised to take extra precautions.
Level 1
Life is relatively normal in level 1, but there are obvious reminders that isn't the case for the rest of the world.
Controls at the border remain, people are advised to stay home if unwell, call Healthline if they have symptoms to see if they need to be tested, and wear masks on all public transport and domestic flights.
People are encouraged to practice good hygiene, socially distance from people they don't know and keep track of where they have been using the Covid tracer app, but data shows the use of the app has been 'abysmal'.
This is an official COVID-19 ALERT.
From 11:59pm tonight 17 August, ALL OF NEW ZEALAND moves to COVID-19 Alert Level 4.
The Alert Level will be reviewed after 3 days for all areas EXCEPT Auckland & Coromandel Peninsula which is likely to remain at Level 4 for an initial period of 7 days.
A community case of COVID-19 has been identified.
STAY HOME where possible & follow the Alert Level 4 guidelines. This will stop the spread of COVID-19 and SAVE LIVES.
Everyone is asked to:
Wear a mask and keep a 2 metre distance from others whenever you leave your home
If you are sick, call your doctor or Healthline on 0800 358 5453 for advice about getting tested
Keep on scanning QR code's whenever you leave your home
Practice good hygiene - wash hands often.
Services including supermarkets, pharmacies, clinics & petrol stations will stay open at Alert Level 4.
For more information on Alert Level 4 go to www.covid19.govt.nz.
More on SunLive...