Butchers plead with government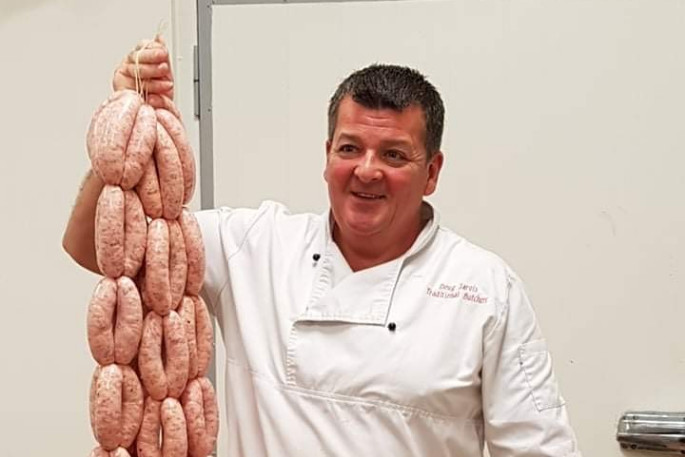 Butchers across the country are urging the government to allow them to reopen under strict Covid protocol and serve their communities.
Currently under Alert Level 4, independent butchers are only allowed to operate contactless deliveries – a position not viable for many operators.
Tauranga butcher Doug Jarvis who has built up a strong following through word of mouth, social media and return customers, is providing an online ordering service during Level 4, after having to close both his Papamoa and Owens Place stores.
"Well we are here again in lockdown and it seems that this won't end anytime soon," says Doug.
"We have been doing our contactless deliveries over the last couple of days. Please don't select store pickup as pickup on Level 4 is not an option I'm afraid…we will bring it to you."
"We have an online service with contactless deliveries. Orders placed before 11am will be same day delivery while orders received after 11am will be delivered the next day," says Doug.
"We also supply hospitals, retirement villages and rest homes. We have been here before last year so we are pretty good at it. I have limited staff on board due to distance regulations and all hygiene standards are to be achieved. It's a bit of a struggle but we are couriering all over the North Island at the moment, and local deliveries from Te Puke to Bethlehem."
Doug's deliveries to Papamoa and Mount Maunganui are free, with a small fee charged to other local areas. He is unable to provide a courier service to rural addresses or to the South Island.
For other butchers, operating contactless deliveries is just not viable. Compounding the issue is that supermarkets are under increasing pressure, not just from record concentration of customers needing to source their essential supplies but for many supermarkets, they are a location of interest forcing many of their staff into isolation and some stores even shutting.
Reuben Sharples, from the Aussie Butcher New Lynn, is one such butcher who is seeing his community under siege from multiple locations of interest, but is virtually powerless to help them.
"New Lynn and Green Bay are doing it tough right now, with Delta rife in our community, many are feeling vulnerable and exposed. Coupled with that is our only local amenities are under immense pressure to keep their head above water – you know I really feel for them. I have reached out to our local supermarket to offer assistance in any way I can, but the best thing I could be doing right now is to get my shop operational.
"Where my store is based, we have a really great produce shop, fishmonger and bakery next door, all of whom could be servicing the community from their front door; outdoors, safely and socially distanced. It seems madness that the government is going to continue to force Kiwis back into supermarkets when we know Delta is so deadly indoors."
Kit Arkwright, from Retail Meat New Zealand – the membership body for Kiwi butchers – is imploring the government to change their stance as soon as possible to give retailers a chance of survival.
"The reality for many of our members is an extended lockdown could sign the death sentence for their businesses," says Kit. "The losses many of them suffered during last years' lockdown and a wage subsidy that – although greatly appreciated – is only a sticking plaster, we could see an eventuality where many of them don't open up again. The government has to consider the long term impacts this will have on food security, particularly for rural and regional communities that rely on their local butcher to keep them fed.
"Our members acknowledge that the whole country is feeling the impacts of this latest lockdown, but know they can do their part to keep Kiwis fed at a time of national crisis."
More on SunLive...