Supermarkets swift to enforce new mask rules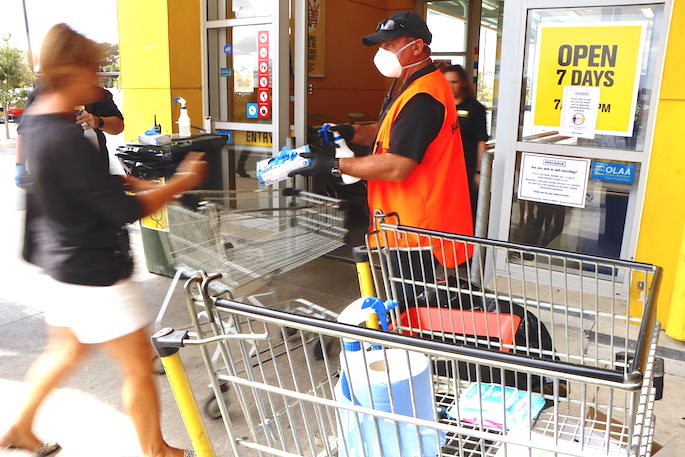 With face masks now mandatory when accessing essential services, supermarkets are enforcing the practice, with one chain providing masks for those that come without one.
Countdown and Fresh choice supermarkets have masks available and there are greeters ensuring people wear one before entering the store.
Countdown general manager corporate affairs, safety and sustainability Kiri Hannifin says in stores today customers will see signage reminding them that masks are a condition of entry.
"We have been vocal advocates for the mandatory use of masks in supermarkets as an extra layer of safety for our team and customers," says Kiri.
"If customers become aggressive and refuse to wear a mask, the advice from the New Zealand Police is that our supermarket team members should not enforce this as it is simply too dangerous.
"We strongly hope that all New Zealanders will do the right thing and wear masks so that our team aren't put in this position."
New World and Pak'nSave supermarkets will not allow people in store if they are not wearing a face covering, says Foodstuffs head of corporate affairs and CSR Antoinette Laird. Foodstuffs own New World and Pak'nSave stores.
"It is a government requirement that unless a person has an exemption, our staff and customers wear a face covering while in-store and our teams will be managing this on entry to the store.
"At alert level 4 stores are required to manage the number of people in store at any one time so asking customers to wear a face covering on entry will simply be another action they will employ."
Antoinette says police have advised them if a customer refuses to wear a face mask, stores should contact the police.
"Should a customer refuse to wear a face covering and not fall within an exemption then we would encourage them to try our online offering."
"Our advice is #maskupNZ, it's the best way to keep yourself, your family and our teams safe."
A SunLive team member visited Countdown Bethlehem yesterday, before the use of face masks was mandatory and they say most people shopping were wearing them.
Some people were wearing them incorrectly with their noses not covered and one woman had her mask hanging off one ear, they say.
More on SunLive...