Molasses spill on SH29 after truck crash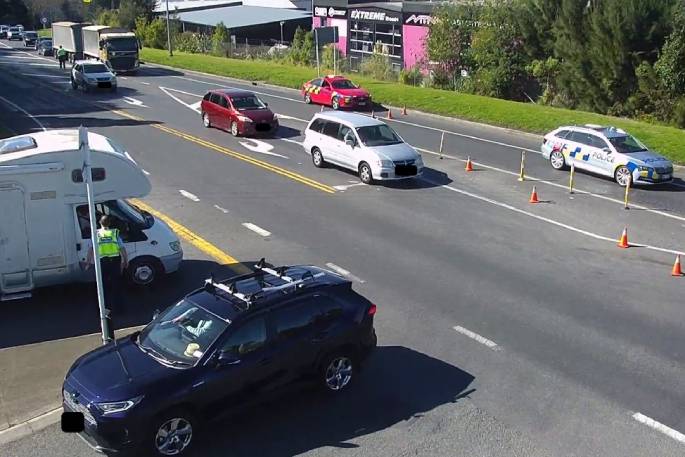 A truck crash, causing a large spillage of molasses, is being reported on State Highway 29.
Reports are coming in of a truck hitting a bridge, near Omanawa Road, and the road is blocked.
"Police are responding to a crash on SH29, between Omanawa Road and Belk Road, following a report of an overturned truck," says a police spokesperson.
"The truck is believed to have been carrying molasses, which has spilt out on to the road.
"Traffic is reported to be building up in the area."
Police report that no injuries have occurred as a result of the crash. No injuries have been reported.
Tauranga City Council is advising that the truck and trailer roll has caused a spillage of about 30 tons of molasses over the road.
"Due to a truck crash between Belk Rd and Omanawa River Bridge, the road is blocked," says a Waka Kotahi NZTA update.
"Expect delays, delay your journey or use alternative route."
Waka Kotahi advises the following alternative routes.
Northbound traffic: left onto Poripori Rd, Crawford Rd, Wairoa Rd, right onto SH2, right onto Moffat Rd, Cambridge Rd, left onto SH29.
Southbound traffic: From SH29 use Cambridge Rd, Moffat Rd, left onto SH2, left onto Wairoa Rd, Crawford Rd, Poripori Rd, right onto SH29.
Due to New Zealand being Level 4 lockdown there shouldn't be too much traffic on the road, but those that do have to travel are being advised to avoid the area or expect delays.
SunLive is working on getting more information and will provide an update when we can.
At the scene?
Call 0800 SUNLIVE or email photos to newsroom@thesun.co.nz
Please only email photos if you are at the scene already, we are not encouraging people to leave their bubble to head out and take photos of the scene.
More on SunLive...